<!EpnHeading8>KEDO girls define economic emancipation<!EpnHeading8End>
Source:
The Sangai Express
Imphal, September 22: Clad in shirts and Phaneks of sky-blue colour, a group of young and energetic girls visit one vendor to another selling tea, snacks and other eatables easily earning anywhere between Rs 150 to Rs 200 every day as income of their service.

These exemplary girls are the Women Wing members of Kanglei Economic Development Organisation (KEDO) which is on a mission to redefine work culture among educated unemployed youths of the State who are either whiling away their time in petty indulges or are brooding over their fate.

After the success of the KEDO boys in motivating their compeers, the KEDO girls also began their mission under the motto of 'Work for Identity' since August 20 this year.

One may not fail to see these girls in blue going around the busy market place of Khwairamband Bazar or Lamlong Keithel from one vendor to another selling anything from a cup of steaming hot tea to a glass of refreshing fruit juice, from sweet smelling agarbati to candle sticks, etc, that are required by our busy and hard working women vendors.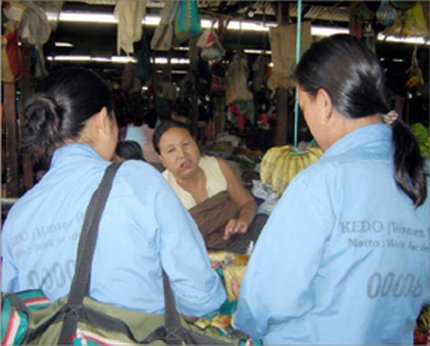 KEDO girls doing a round of the market place
'We have come out to work, not because we do not have anything to do at home.
But to show that there are lot of works that can be done and earn money outside the home if one is really determined', Thouroijam Chingkheinganbi, a member of KEDO Women Wing said.
These KEDO members are drawn from various walks of life.
Talking to the media in connection with their mission at the godown of Khwairamband Nupi Keithel today, Chingkheinganbi said 'one should respect the dignity of work and should not feel ashame of taking up any work, whether big or small.
It is only when we do a job along with understanding of our own identity that the notion of shame or indignity would ultimately dispel'.
For the first phase, in all 13 girls are engaged in the mission of spreading the message of 'Work for Identity' by selling the products made by 71 other girls at their respective homes.
Contrary to the popular perception of being illiterates, the KEDO girls are educated.
Among them there are many who are still pursuing their studies in schools and colleges as well.
Out of the 13 girls in the field, three of them are sportspersons including one who has made her mark at the National level.
'In order to bring about development in our society, we, the youth should work hard tirelessly.
Only then we would be able to make decision of our own', Chingkheinganbi stated firmly.
Coming from different parts of the State, KEDO girls set out from their houses every day at 6.30 am for their work shed, and after necessary briefing of the day's work, they are out in the market places selling their wares along with a missionary zeal.
The future of KEDO girls are very bright.
Out of their daily income, these girls have been contributing Rs 10 each every day for some bigger future plan.
'When the amount of our saving is sufficient enough, we are planning to use for some bigger and meaningful purposes', Chingkheinganbi disclosed, adding that although the KEDO girls are presently catering to the needs of the women vendors of Khwairamband and Lamlong Bazar, they intend to expand their business and cover all the market places in the State in future.
Th Shanti, a woman vendor of Khwairamband Nupi Keithel who was also present during the press conference, appreciated the service of the KEDO girls and said earlier women vendors used to depend on other people for their needs but now they are depending on the service provided by 'our Thounaleibi Ichanupishing'.
Seeing the KEDO boys and girls doing their service, all the Keithel-phambis are very happy.
We like to encourage other young boys and girls to emulate them', Shanti said.
Some of the volunteers of KEDO disclosed that the elders in their families did not appreciate their work initially and used to put so many questions on the nature of the work they are doing while some others used to tease them.
But now e people appreciate their service and the quality of the goods they are selling.
It may be noted here that around 50 male volunteers of KEDO are on similar mission and doing various jobs including that of porter since April 20 this year.
* Comments posted by users in this discussion thread and other parts of this site are opinions of the individuals posting them (whose user ID is displayed alongside) and not the views of e-pao.net. We strongly recommend that users exercise responsibility, sensitivity and caution over language while writing your opinions which will be seen and read by other users.
Please read a complete Guideline on using comments on this website.