<!EpnHeading1>Mission schools steal the lime light again with Nirmalabas taking the lion's share<!EpnHeading1End>
HSLC results out, highest pass pc scripted in last 10 years<!EpnHeading1End>
Source: The Sangai Express
Imphal, May 20 2013: Results of the High School Leaving Certificate Examination 2013 conducted by Board of Secondary Education Manipur have been declared today with Miranda Mongbijam of Nirmalabas School securing the top position.

Born to M Iboyaima and Nongmaithem Premila of Thangmeiband Lairenhanjaba Leikai, Miranda scored 480 marks out of 500 .

Keisham Luxmirani of Little Flower School grabbed the second spot on the merit list scoring just one mark lesser than the topper.

Ratimanjuri Devi of Nirmalabas School was placed in the third position with 478 marks, two lesser than the total mark scored by Miranda Mongbijam.

All the first three position holders scored letter marks in all five subjects.

This time, it is Lamding High School, Wanjing which saved the face of all Government schools.

Nongthombam Khagemba of Lamding High School secured the 23rd position with three other students placed in the same position.

Meanwhile, Education Minister M Okendro has announced that Government schools which can make it to the merit list would be given incentives as well as extra attention.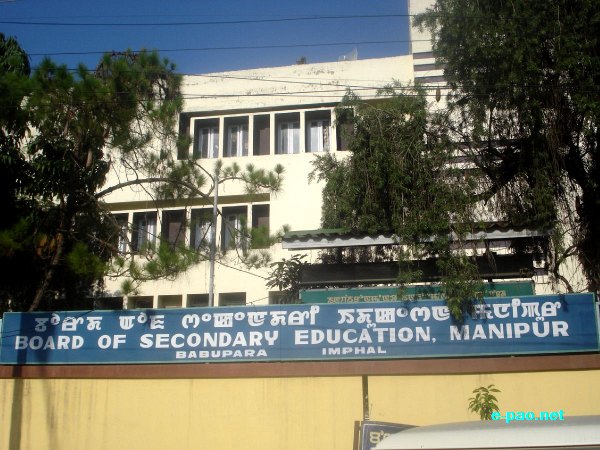 Board of Secondary Education Manipur
Students of Nirmalabas School and Little Flower School overwhelmed the merit list.
Altogether 13 students of Nirmalabas School made it to the top 25 while Little Flower School had 10 students in the merit list.
St Joseph's School secured five positions among the top 25 .
Out of 33579 students who appeared in the HSLC Exam 2013, 24267 candidates cleared the exam taking the pass percentage to 72 which is the highest in the last 10 years.
Last year's pass percentage was 70 per cent.
Whereas most of the top positions in the merit list are clinched by girls, boys are slightly better in terms of pass percentage.
Pass percentage of male candidates is 78 per cent as against 71 per cent of female candidates.
Notably, 51 students scored 100 out of 100 in Mathematics.
Keisham Luxmirani secured highest mark in English with 98 out of 100 as Thangjam Rocket of St Joseph's School topped Manipuri with 95 marks out of 100 .
Nongmaithem Babytina of Bishnupur Public School is the topper in Higher Mathematics with a score of 70 out of 100.Arnold Athokpam and NG Lyazii Christopher, both students of Tiny Tots' Unique School scored 100 out of 100 in Computer Science making them joint toppers in the particular subject.
Jelina Ashem of Imphal Public School is the topper in Science with perfect score of 100.Scoring 84 out of 100, Dimngaihnem of Rayburn High School, Churachandpur topped in Commerce subject while Themreichan Ngaleknao of Maringmi Memorial School, Ukhrul is highest mark scorer in Home Science at 89 out of 100 .
Chanambam Mokaju Meitei of Khuman Maheikol, Mayang Imphal topped Social Science with a score of 97 out of 100 .
* Comments posted by users in this discussion thread and other parts of this site are opinions of the individuals posting them (whose user ID is displayed alongside) and not the views of e-pao.net. We strongly recommend that users exercise responsibility, sensitivity and caution over language while writing your opinions which will be seen and read by other users.
Please read a complete Guideline on using comments on this website.