Biography of His Highness Maharaja Bodhachandra (Last King of Manipur)
- Part 3 -
Wahengbam Pathou *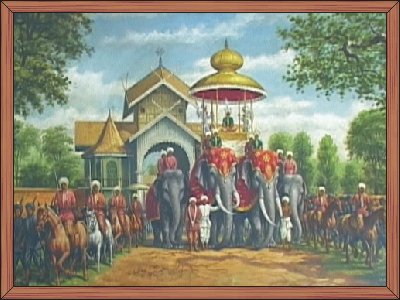 Jila Durbar in the Kingdom of Manipur in early 1900s
Warning: These images CANNOT be reproduced in any form or size without written permission from the RKCS Gallery


On 21 September, 1949 Maharaja Bodhchandra appended his royal signature on Merger Agreement. The stroke of His Highness pen on the merger agreement paper dealt a death blow to the sovereignty of Manipur. Committing a tragedy of errors, Maharaja Bodhchandra ceded sovereignty of Manipur to Dominion of India by signing the merger agreement under state of duress. In fact, the merger agreement document was the graveyard of Manipur's sovereignty that Maharaja Bodhchandra was forced to sign under unremitting coercion.

On hearing the news that Maharaja Bodhchandra had signed merger agreement, Chief Minister Capt. M.K. Priyabrata convened a session of Manipur Legislative Assembly on 28 September, 1949. The Assembly passed a resolution to denounce the undemocratic and illegal manner in which the Government of India had concluded merger agreement with Maharaja Bodhchandra. The resolution clearly underlined that 'the Assembly will not abide by the agreement' and 'Manipur will have no relation with India'.

On 15 October, 1949, Manipur was merged to Dominion of India. The administration of Manipur was taken over from Maharaja Bodhchandra by the Government of India. On this fateful day, Manipur lost sovereignty that it had recently attained and enjoyed for a brief spell of two years after the lapse of British paramountcy.

Curtains came down on the two millennia old institution of monarchy in Manipur on 15 October, 1949. Maharaja Bodhchandra was dispossessed of his royal powers as ruler of Manipur. Government of India abolished institution of monarchy and Maj. Gen. Rawal Amar Singh was made Chief Commissioner of Manipur on the day Manipur was merged to India. Soon after assuming office, Rawal Amar Singh unceremoniously dismissed democratically elected government of Manipur led by Capt. M. K. Priyabrata and dissolved the elected assembly. All the powers vested in the council of ministers and legislative assembly were usurped by the Chief Commissioner.

15 October, 1949 was a sad day for democracy in Manipur. Dismissal of Capt. M. K. Priyabrata government was travesty of democracy. Dissolution of the elected assembly was bonfire of democracy.

Manipur was made a Part C state by Government of India having no elected government and legislature in stark contrast to constitutional monarchy having a democratically elected government and legislature under Maharaja Bodhchandra's rule. Entire Manipur was placed under the hands of one man – Chief Commissioner who would in turn unleash autocratic rule over the people of Manipur. The raw deal meted out to the people of Manipur in their first tryst with Indian democracy is crude and shocking.

Loss of kingship set in twilight years for Maharaja Bodhchandra. Gripped by devastating grief and agony, His Highness renounced the world, went on a self exile in an ashram at Nongmaiching hills and led the life of an ascetic. He was deeply saddened by loss of Manipur's sovereignty and was extremely guilt ridden that he was responsible for this sad plight of Manipur.

He strongly felt that future generations would cast aspersions on him for surrendering the sovereignty of Manipur. To atone for the sins he imagined to have committed on Manipur, he became ascetic and renounced worldly pleasures. The splendour of regal life no longer attracted him. Whenever he returned to Imphal from his hermitage at Nongmaiching hills, he refused to stay at royal palace. Inside the premises of Sana Konung, Maharaja Bodhchandra had a straw and bamboo hut constructed for him where he would stay and lived with bare necessities completely detaching himself from the pomp and comforts of royal life.

Thus, the twilight years of Maharaja Bodhchandra was indeed tragic. Having once strode over as the ruler of Manipur in his heydays, Maharaja Bodhchandra plunged into deep distress and agony over his decision to sign the merger agreement, the death warrant of Manipur and as a result went on a self imposed exile leading an isolated, secluded existence renouncing the world.

Finally, Maharaja Bodhchandra expired in his palace ashram in the morning of 9 December, 1955. The cremation of His Highness was however deferred from early morning to late evening because according to Meitei tradition, the funeral rites of a deceased king could not be conducted until an immediate successor to the deceased king is publicly announced. So a hunt went on to find the immediate successor to Maharaja Bodhchandra.

A marathon meeting was convened at the residence of the then Chief Commissioner P.C. Matthew attended by Capt. M. K. Priyabrata, former Chief Minister of Manipur and Customs Secretary to His Highness the Maharaja of Manipur and Waikhom Chaoba former Durbar Member and guardian tutor to Maharaja Bodhchandra during the time of his Yuvrajship to select the immediate successor.

The succession issue was decided in favour of machaibungo Okendrajit, eldest son of Maharaja Bodhchandra born to Rani Kamlavati (popularly known as Papal Sangai) who was accordingly recognized by Government of India in a crash wireless message flashed from New Delhi.

After the successor was announced, the mortal remains of Maharaja Bodhchandra was laid to rest. The lifeless body of His Highness was cremated at Kangla. An unprecedented huge crowd thronged to witness the last rites of the Maharaja.

The pala singers chanted the following hymns in sad remembrance of the departed Maharaja:
'Chatloko hey! Athouba, pukphaba, dharma chenba, Iningthou
Nahakna chatkhibadi khunai asigi aroiba numit takhibanido'

'Hey noble and religious and courageous king of Manipur!
We all bid adieu to you on your great soul's departure journey to heaven
Your departure from us do mark, indeed, the setting of the last monarchical sun of this hoary land'.

A biography of Maharaja Bodhchandra was long overdue. The saga of Maharaja Bodhchandra was long waiting to be told. If M.K. Binodini or better still M.K. Priyabrata had written his biography recounting their memories of association with Maharaja Bodhchandra, it would have been a lot more insightful than the present work.

Concluded..


---
* Wahengbam Pathou wrote this article for The Sangai Express
This article was webcasted on December 05, 2013.
---
* Comments posted by users in this discussion thread and other parts of this site are opinions of the individuals posting them (whose user ID is displayed alongside) and not the views of e-pao.net. We strongly recommend that users exercise responsibility, sensitivity and caution over language while writing your opinions which will be seen and read by other users. Please read a complete Guideline on using comments on this website.