ReCycle - The Award Winning band from Manipur



ReCycle Profile: ReCycle is an alternative rock band based in Imphal, Manipur in the North Eastern region of India. The band was formed in November 2006. It's a four member band and the band bursted into the Imphal Rock scene with a lineup consisting: Bishwajit Thongbram as the vocal, Michael Mayanglambam as the bassist, Bode (pronounced Bodey) Paonam on the rhythm and Lead guitar and Somendro Soram on the Drums.

The band has metamorphosised since then and the current line up includes a new versatile Lawrence Chandam on vocals; Deepak Ningthoujam handling the Bass works; Bode Paonam and Somen Soram are still handling their earlier responsibilities on Guitar and Drums.

Michael was the only married man in the band. He holds an MCA degree and is employed at Shija Hospital as a Network Engineer. The responsibilities demanded by the job and family made him to take the decision of retiring from active jamming and the band.

Bishwajit had an Honour's degree in English Literature and is employed with the Central Government. He too decided to give up the active jamming and the band.

Bode has a degree in Business Management and is working to start a studio of his own which he plans to name: "Chumthang Studio". He and Somendro has been the mainstay of the band.

Deepak Ninghoujam has a law degree and has handled bass duties in bands such as 'Dazzle City' and 'Uttam Band'.

Lawrence Chandam has been a resular in the Rock circuit of Delhi having served the Vox duty with a Delhi based Alternative Rock band called Livitikas. He was employed with Zoom/lifestyle channel of The Times of India but he would like to pursue his dreams in the visual effects space.


Collage of performance from ReCycle
Musical Genre: ReCycle is into alternative rock music for quite a while now. They are more into the mold of bands like Irish band U2, Stone Temple Pilot, Cold Play whose songs have a sort of melodious, sublime and idyllic feel to it with a sense of detachment, of something remote and isolated, and philosophical.

Genesis: ReCycle was formed in 2006 in November. The story how the band started was something like this, most of the members in the band had all been outside their home state of Manipur and when they came back home they found getting employed tough, so they decided to do something with the experiences they had while away from home and with musical talent they had gathered while at school. So they decided to form a band by pooling all their talents that had been lying ideal like scrapes and junks, and recycled them to produce something good, that how the name "ReCycle" came about.

Musical background: During the late 80s Bode had a late brother in a band call "Dark Domain" during the times of band like "Hells Angels" & before the days of "Phynx". He used to play the drums, so Bode was influenced by him and inspired him into rock music. Then Bode met Michael as a student in Manipur Public School and took to the stage for the 1st time in 1991 at the Rock Yatra festival and then started playing as a band in 1993 in a band called "Dark of Ages". Actually they started playing Rock Music in late 80s when they were in class VII or VIII. Bishwajit started singing around early 90s in school competition and gradually broaden his vocal talent taking part in talent shows.

Bishwajit actually had a passion for singing from an early age. But he does not see singing as a full time profession considering the various limitation the rock music faces, he feels it's unpredictable, for time being he is doing it as a hobby he is very passionate about. While Bode too started out as a hobby and then became very passionate with guitar playing and yet he now feels that since he is in a band he must be professional and be serious about the music.

Lawrence Chandam, the new vox of the band, used to sing with another alternative band based at Delhi called Livitikas. While he is from Thangmeiband Meisnam Leikai, he has been based out of Delhi for long and is now looking forward to studying Visual effects in New Zealand.

Deepak Ningthoujam is not new in the Imphal Rock circuit as he has shouldered Bass duties in several other bands and even moonlights as a bassist in many occasions.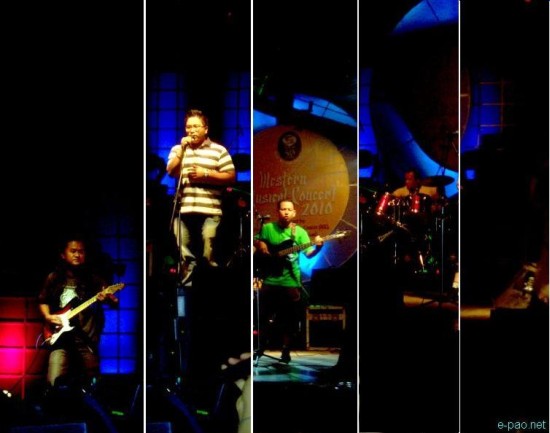 The new line-up performing at Guwahati in June 2010
But the reality is that at the moment the band members can't say exactly whether they are doing rock music as career or as a hobby. It's both, they admit. These guys are in fact taking a big calculated risk for one thing they love that is to do rock music as career, but in this part of the world reality bites you hardest for money is hard to come by, so they cannot let themselves to have very high expectation and be complacent that money will just come along the way. It's a tight rope to walk. The guys are not na´ve considering the declining popularity of the rock music in Manipur. But passion for rock music is big in them.

Idol or Guru/ Musical Inspiration: Bishwajit started singing on his own; there was no particular person / musical Idol that really influenced him, though to some extent he likes the vocals of Steve Tyler of Aerosmith, Bono of U2, Chris Martin of Cold Play. His late father who was music lover did influenced and exposed him a lot and introduced him to varied musical genre.

Bode is a self taught guitarist, but his late brother did influence him a lot. He refers for quick guitar tip/lesson from available video VHC in late 80s and early 90s. But now he avails guitar tip through the internet......

Musically Bode draws his influence from like legendary guitar gods like Jimi Hendrix, and Jimmy Page, and U2 guitarist David "The Edge" Howell Evans and Michael Einziger of INCUBUS. His playing style is mostly inclined towards alternative rock guitar sounds.

Michael, the bassist in the band first started out as a drummer, he started drumming in class VIII with a second hand drum kit. At that time they had a band with Bode at the guitar, Kiran, a close friend, at the vocal, with two other guys Narendra and Hari. Michael had his drum set kept a Kiran's garage, where they used to practice, and it turns out that Kiran had a feel for drums and he took to drumming and Michael had no choice but to do the bass and he in turn took playing bass like fish to water.

Michael was first inspired by Gun n' Roses bassist Duff McKagan, cool and detached, whose playing style had a groovy feel, the timing he provides to band's music while doing slow or hard rock really drew Michael to do the bass after he left the drums.

Song Composition: In term of song composition, ReCycle has so far produce three studio recorded songs but a lot more are in the planning stages and will be ready for studio recording very soon. The track 'Tell me why' is about the current scenario prevalent in the Manipuri Society, it's about political crime, terrorism, extortion, corruption and extra judicial killings. "Changes" on the other hand look at the brighter side of life; it's about optimism, about positive changes taking place in our surroundings inspite the problems and various difficulties that 'tell me why' questions.

ReCycle wants that its lyrics appeal to people faced with everyday situation, uncomplicated and easily understood. They want that their lyrics to talk to the people and that people can relate the lyrics to their own life experiences. Their lyrics are more about socio-political issues. They have plans to diversify their lyrical content of their music but not at the moment and already they have some lyrics ready but it's nothing to do with romance or high philosophy stuff.

Moreover, the lyrics are sudden and spontaneous creation that way the band feels that it's easier to be in touch with their music and able to "talk" with the crowd. The lyrical composition is done mostly by Bode, the guitarist, and for musical composition the band pools in. 'Tell me why' was composed by Michael and brother Sanju.

Cover Songs: ReCycle is very particular when doing cover songs. They are always improvising and if they do get a nice feel from it they incorporate the improvise sound to their own songs.

At represent, the band is focus only in English but the thought of doing alternative rock in meitei language is not far from their mind. At the moment they have some 4 to 5 songs which they plan make it as a bilingual song- English and Meitei- with chorus in Meitei lon. But a complete Meitei alternative rock song is for the moment a complete number.


The crowd loves them !!!!
Recording and Stage Experiences: ReCycle has had a studio recording experience with Shallow River, a recording studio in Imphal. The recording of two of their songs (changes & Tell me why) were done in exactly three days time. The band got the two songs recorded liksee a true profession after a lot of jamming sessions and solos and moreover the expertise that the recording people provided was a new experience for them. At the Hornbill festival, the band was able to produce the studio sound of refined "Change", and that was the reason this band scored points over other bands during the competition and Michael was awarded the best bassist too.

ReCycle was selected to represent Manipur at the reputed Hornbill Rock Festival after a grueling competition with 4 to 5 other bands. Looking from a perspective, comparatively with other states with more sophisticated gadgetry, ReCycle did quite well to win the best vocalist award (Bishwajit) as well.

Since then, ReCycle had recorded an original song for the CD compilation called "Rock 4 Life" at Shillong. This was in relation to the 'World AIDS day. Apart from ReCycle from Manipur, the compilation consists of original works from the NE India bands such as Soulmate (Meghalaya), Digital Suicide (Assam), Scavenger Project (Mizoram), Alive (Sikkim), Native Rising (Nagaland), Horjwlai (Tripura), and Alien Gods (Arunachal Pradesh). The bands performed to a huge enthusiastic crowd at Shillong too. It was sometime earlier to this event that Michael was replaced by Deepak.

Lawrence and Deepak has had studio recording experiences with their earlier bands. Deepak even has a full fledged album recorded and published.

Recently the band has participated at the ROYAL RIDERS MANIPUR Presents 'Airtel GREEN CONCERT' @ B.O.A.T. on June 5th for World Environment Day. The Event was managed by ORIENTAL PUMPKIN.

ReCycle took part at the DD-Live Musical concert held in Guwahati on 27th June 2010 as part of the Silver Jubilee celebration of Doordarshan along with Soulnate, Mami Varte and others.

Currently the band is working on their dream EP project of five tracks at Shallow River Studio, Imphal. They are hopeful that the EP would be released during the Roots Festival in October 2010.

Memorable moment on Stage: As a group the most memorable occasion was at the Hornbill Rock Festival and the Singjamei Rock Concert sponsored by Nokia in later December 2008 organized as Christmas Rock Festival on the Christmas Eve that year. On both occasions the band felt the energy they shared together as a band and with crowd overwhelming and ecstatic.


ReCycle jamming with an Israeli's rock band DUB LFO



While on stage ReCycle performance is all about interaction, a connection with the crowd. They want the charm of their lyric which is about everyday situation to create a sort of vibe, a connection with the crowd faced with so much uncertainty and hardships.

At the Hornbill Festival other musician from States like Mizoram and Nagaland were appreciative of the band and their stage performance. It was one motivating experience for the band and it really encouraged them to be different in a musical sense.

Collaboration: The band shared the stage for the first time with Boomerang, Aizawl based rap-metal/Funk rock band at the BOAT, Imphal on 21st April 2007. The band has also done fusion rock experimenting with traditional and native sound, especially with the "Pena", a single stringed Meitei musical instrument played like a violin. The band played "Pena" maestros like Tamo Lokeshwar and Tamo Bhagat.

The band took part in the Root Music Festival workshop and had jamming session with an Israeli band "DUB LFO". The experience was very fruitful and a lot of musical ideas were exchanged.

Rock Scene in Manipur: From the perspective of a rock band, ReCycle feels that rock scene in Manipur is at a decline from its heydays in the 80s and 90s but at the same time they also notice that unlike in the past the present generation of bands and rock musicians are more enterprising and creative. They compose and share their own unique experience through their lyrics and not through some cover version of a song from the west.



This artist's sub-site was first updated on 30 June 2010.