"Tigress - Don't Chicken Out"
Robert Lanky *

In 1973 after Manipur attained statehood, when the Manipur Peoples Party led Government was toppled due to defection in the party, women of Manipur were first to agitate against it and shouted slogan of 'anti- defections'. The strength of Manipur women historically was evident during 'Nupi Lan'.

But during the, 60s, women became active against social injustices and women organizations at Leikais (Localities) were formed and institutionalized as Meira Paibis.

The present state of affairs in Manipur is characterized by a high degree of social, economic and political instability. The instability is dominated by fragmentation and fractionalization of polity and society. The innumerable participants, each espousing its own cause, have complicated the political and economic scenario of the state.

The 1980's and early part of the 1990's have presented the most common features of inter ethnic clashes and undertones of insurgency activities. To counter such threats the women of Manipur have taken up the lead and responsibility in the form of Meira Paibi.

Meira Paibi got its name as an organization about three decades ago, but the organization has a long history in another name 'Nisha Bandi'. An uprising that began around the mid 70's against the sale and consumption of liquor and intoxicants. In the year 1991-92, their efforts finally paid off. A prohibition order on sale and consumption of liquor was passed and Manipur was declared a dry state and is still in vogue.

Meira Paibi uprising can be taken as the logical outcome of the rise of insurgency and counter - insurgency policy in the state. To counter the menace arising out of this dialectic, the women started spending nights outside the comforts of their homes, patrolling the streets and guarding their locality against any surprise attack by UGs and search operations carried out by the armed forces.

They took up the "Mira" an improvised bamboo torch and it became the symbol of their movement, and thus lead to what is known as "Meira Paibi Uprising".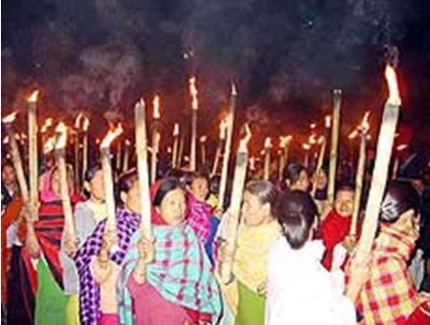 Meira Paibi
To spend the night outside in the streets they needed a shelter for rest and as a meeting place. This led to the construction of improvised shed, now popularly known as '
Meira Shang
'. Today all the localities have Meira Paibi organization and almost every locality has their own '
Meira Shang
'.
'The Meira' at a first glance may appear to be just another source of light in the dark. But if we look deeper, it has a significant meaning of its own. Holding the lit up Meira , the Meira Paibis feel confident to face any untoward incidents. It is a symbol of their dignity and moral strength. It is sacred to them for it gives them strength and inspiration. It is this reminder of the sacredness that they took to fighting injustice. And above all 'the
Meira
' is the mascot of solidarity amongst all Meira Paibi groups across the state.
The socio - cultural and political tradition of Manipur has legitimized the women of Manipur in whatever task they undertake. The legitimacy is based much more on social and moral approval than on legal sanction.
This torch bearer group of the society has been fighting for justice against security forces, human right violations, AFSPA and for
Nisha Bandi
and they have been successful to a great extent. But in the present scenario where there is total political chaos and socio economic turmoil and when not a day have passed without a 'Killing', we expect our Meira Paibis - whom I refer to them as 'Tigress' to take up the cause of fighting injustices and social evils and not to chicken out from such Social responsibilities.
As women folk are referred to as 'neck' and men as the 'head' , rightfully 'the neck ' should twin 'the heads' of their men and bring them on the right path. Concurrently there is a need to synergies the efforts of Meira Paibis towards a common goal unitedly.
It would not be an exaggeration to say that the problems of this trouble torn State of Manipur to large extent can be solved by 'Meira Paibis' given the inherent strength of Meira Paibi movement, They would be able to combat against lawlessness, militancy and social evils like corruption and bribery and other important issues confronting the people of Manipur, if all Meira Paibis work in unison.
Consequently it will usher in an era of peace and prosperity in the state, where the people irrespective of their religion, caste or creed would be able to enjoy the fruits of development and march along the path of progress towards a bright future".
---
* Robert Lanky (freelancer based in North East India) contributes regularly to e-pao.net. He can be contacted at robertlanky [AT] gmail [DOT] com
This article was webcasted on June 14th, 2009.
---
* Comments posted by users in this discussion thread and other parts of this site are opinions of the individuals posting them (whose user ID is displayed alongside) and not the views of e-pao.net. We strongly recommend that users exercise responsibility, sensitivity and caution over language while writing your opinions which will be seen and read by other users. Please read a complete Guideline on using comments on this website.