Uttam and his upbringing:


Uttam
Uttam Mayanglambam, or Uttam as he is popularly known as, is a face of the new age Meiteilon popular music. Though most of his fans in Manipur is unaware of his genre, he fixes the genre of his music to Fusion-Progressive Rock. He presently resides at Kwakeithel Moirang Purel Leikai.

Born to Mr Mayamglangbam Mani Singh and Mrs. Mayanglangbam-ongbi Binokumari Devi at Sugnu Khaidem Leikai, he has been surrounded by music from his early days. Uttam's mother, grandfather and his uncle are "note sankritan" artists. His other two uncles Hirachand and ShyamKanhai are hindustani classical vocalists. He learnt Hindustani classicals from these two uncles.

His father, possibly the only one in the family who is not into active arts, wanted his son to be an engineer or get into administrative services. Uttam did not get into engineering line and he was sent to Pune for higher studies. He graduated and completed his masters in arts in 2003. In this course of time, he has learnt to play the guitar too. Despite his traditional upbringing in music, he also listened to popular singers of Manipur and the western rock acts out of which he idolizes Sanaton, Black Sabbath, Dio, Judas Priest, Bon Jovi and GnR. Unaware to his parents and even to himself, he seem to have unconciously chosen his calling as the music.

Uttam's rock journey probably started when he heard and liked "Temple of the King" by the "Rainbow" while still in standard VIII. He has been part of singing competition since standard III till he completed his XII, and it seems that the stage fright was conquered a long time ago. Druva of "Holy Rider" influenced him to hard rock music.
Uttam says "my influences are my family and friends".


Uttam's music and initial sucess:

Uttam as a solo artist has a unique style of music and performance which is a blend of his traditional upbringing and his many western influences. He has been in the music circuit of Manipur for quite sometime. He was part of bands such as Dracula, Lily Chinks, Romie Band and Eeeriema. He worked on his own compositions as a solo artist and came out with the debut, "Lamdam Tamna" in 2005. This album had a special song "Chingee Leirang" which was about the brutal killing of a minor school girl Lunglila Elizabeth. The lyrics spoke about the brutality of the murder and the uselessness of a such demonic act and the inability to book the guilty by the powers that be. His singing style blended with traditional war cries and instruments backed by a powerful lyrics sat fire in the hearts of the audience in every stage he performed. A video for the same song was also released with actual footage of the family and friends of the deceased girl child which was quite a hit in the local cable airplay.

In his future concerts, he was always introduced by this particlular song. This song reached it peak and was the most popular song of the year 2005, reaching to every nook and corner of Manipur and even outside the state. With this song Uttam carved a place for himself in the Manipuri Rock Scene and Manipuri Matam Eesei world.

After performing some big concerts in Karaoke, Uttam formed "Uttam Band" in the same year and gave his first gig at BOAT on 19th Nov 2005 with a strong crowd attending it. The band was formed with famed rockers like Paras on drums, late Pravin Raj on guitars, Kenan on bass and Sorri on keyboards. With this Uttam has performed more than 100 shows in a short period of time in and outside Manipur along with the same line up of this Uttam Band.

Uttam's breakthrough concert was the 2005's East meet West concert. Even though he has performed as Tapta's guest and along with other known Manipuri and Indian acts like Brother, Arora Jane, Eastern Dark, Recycle, X-Cannibals and Pin Drop Violence(Mumbai), he feels his most memorable stage performances were in the East meets West concerts in 2005 and 2006.

Uttam has worked with known personalities of the Manipuri music world like Jiangam, Pravin Raj, Sorri, Bobby, Mangsava etc. They had been guiding lights which helped Uttam bring out a unique style of his music. He believes that language has no bar in music and that quality music only can help him set an identity in the world.
"We need to put up our own traditional music and tunes in the rock music."
He belive only this way we can set a place in the international stage too.

The band members draws their influence from bands like Black Sabbath, Metallica, Sepultara, Dio, Iron Maiden, Bon Jovi, GNR etc.
"Progressive fusion music is what the band is doing. But we are always working to adjust with the changing centemporary rock style of music."


Uttam's second album:

On 20th April 2007, Uttam released his second solo audio album caled "Kanglasha", with a big concert. It includes hits like "Uttam Eidi Ngoure", "Meetchi", "Kanglasha" and "AFSPA". This second album has more serious and strong lyrical elements and heavier melodies than the first one. Using traditional music instruments like Pena, Moibung, Sembung, Langdren etc and the tune of Manipur Folk songs in his songs gave an unique sense of a new music style.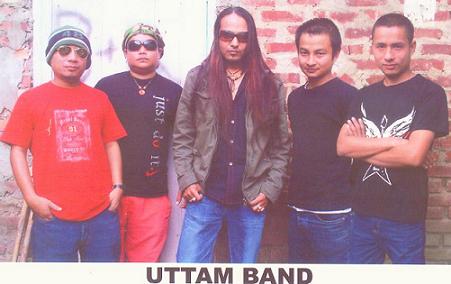 L-R: Boss, Bobby, Uttam, Mickey, Naocha
Guitar, Drums, Vocals, Guitar, Bass
The future:

Writing about the current issues and message to the people through songs is what Uttam and his band desire to work for. Now Uttam is working for his 3rd solo album "Bhoot".

After Sorrie Senjam left the band, Mr Boss a well known guitarist joined the band. There is a slight setback to the band after Pravin passed away in July 2007. Uttam band is looking forward to go abroad with their version of Rock Music. This band is working to fuse a sense of patriotism and humanism into their music. They want to promote Manipuri language and want to set an identity for Manipur in the world through their music.
"Even though there are hurdles of poor economic conditions, unstable political tensions in the state of Manipur the band is struggling to realise the version we set for."


Uttam and his world of music:

On asked why did he choose Music, Uttam explains, "God's gift! that why every gifted person is singing." with a wide smile. About the current music scene at Imphal, he says, "its better in terms of Money and structure of the show. Its very much improved from its earlier days."
"The Need of the hour is exposure and back up."

Uttam feels Rock is reviving not only in the world stage but also in Manipur. His parent's acceptance of his career and the Manipuri Rock has boosted his self confidence too. Uttam feels he is still learning and is always willing to teach too. "Without learning, just to make music and becoming commercial is not good." Many kids are coming to learn the basics of the rock music from him and "We are all human being, we have to live with the soceity, let's be more human". Uttam feels that "Not competition - but co-operation" is the way to enjoy and lift up the music scene.

Uttam says he want to dedicate his life on music as "Music has full of life."





This artist's sub-site was last updated on 18th October 2008.