"CLEAVE" of the people, For the People & By the people



Cleave is a band with a bold difference. They are a group of young men from varied backgrounds all drawn towards each other by single purpose - love of rock/metal sound with progressive elements. They experiments with different metal sounds with other forms of music have resulted in producing a sound which falls into the genre of 'Seclusion Metal'. They define their 'seclusion metal' sound as a fusion of traditional native Meitei musical element with rock/metal sounds - progressive metal sounds like those of DREAM THEATER. They are also a big fan of AC/DC, Iron Maiden and rock n roll sounds of Smokie, whose covers they would often do at small shows and concerts.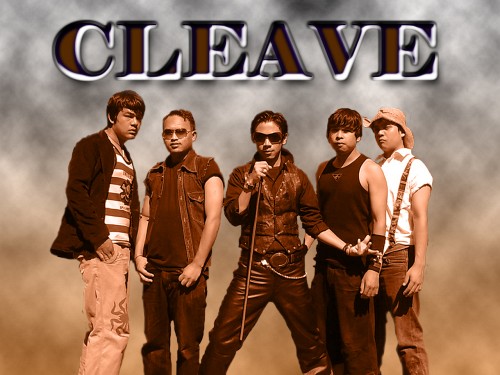 Cleave - standing tall!



Yet, they have managed to stay faithful to their original sound and it often shows while doing covers of these bands, that SELCUSION METAL sound is never far behind. So far, they have managed to provide a kind of fresh air to the music lovers in this small State of Manipur in the north eastern region of India. Sounds of CLEAVE is now being adopted by upcoming bands, what highest form of praise can one ask or crave for.



HISTORY:

Cleave was formed out of the ashes of another band called CYGNUS, the present lineup except for the vocalist and the guitarist are all ex-CYGNUS members. Cygnus disbanded due to irreconcilable differences with other members of the band with its erstwhile vocalist. The members, being young and talented, itched to show off their individual talents. This caused lots of friction within the band. Eventually, frustrated, the band disbanded after a show at Kerala and no members made any contact with each another for months.

One fine day while leafing through pages of a book the drummer, Chongtham Khunjaoba chanced upon the word "CLEAVE", which means to split or cut something apart, or asunder, into two. The word "CLEAVE" perfectly suited the philosophy the band had towards life in general and more particularly in context of present Manipur society, and in the words of band members they have come with a purpose to bring positive changes to present society ailed by corruption, extra-judicial killings, insurgencies, unemployment and indifferent attitude of people with power and influence. So, the band with their brand of music wants to "crush" all things ailing the Manipuri society.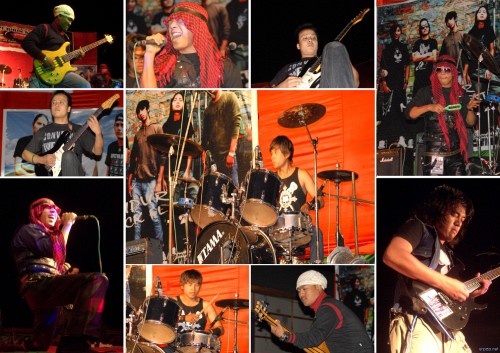 A collage of the Group performing in stage
THE BAND:

The band is composed of five members with Chongtham Khunjaoba on the drums, R.K Vabindra on the bass; Ningthoujam Billai on the lead guitar, Thoudam Bipin on the guitar and R.K. Tinky on the vocal.


THE BACKGROUND:

The members of the band had music in their blood from the beginning. Bipin, the guitarist of the band, started out as a Hindustani musician playing guitars at school functions when he was studying in standard VI. He knew nothing of rock music while his friends and contemporaries were all into the rock music scene performing in stage all over Manipur and some even managing outside the State. But it was not long until he had his date with some beautiful songs and wonderful guitar solos that coaxed him into rock music. Bipin had no formal guitar trainings, until he came to the band and was taught the finer points of playing rock guitar by another guitarist of the band. It was his brother who taught him how to hold guitar chords. He would just watch O. Geet, a popular Manipuri guitarist, play on stage.

The vocalist of the band R.K. Tinky was taught singing by his late brother R.K. Dabbi, who was already deeply immersed in the rock music scene and playing in many bands like the BLIZZARD, OLIO. He was heavily influenced by his brother's style and vocal range. So, he still considers him, inspite of there being various good singers around the world, the best vocalist the world has ever had. The vocalist also was first into Hindustani music while in school tutored by his music teacher at KV Lamphel, Imphal. He regularly stood either 1st or 2nd at any school music competition.

The drummer Chongtham Khunjaoba is from a family of arts and sport lovers and himself a multi-talented guy, who happens to be National "SEPAK TAKRAW" player. He has had the opportunity to represent the state of Manipur in this sport and still pursues the sport religiously. Music, it seems flows in the family. While he was only in Kindergarten, his brother, studying in Calcutta at the time, brought a drum kit and he fell in love with it at first sight. Seeing his eye glitter with immense joy and eagerness, his brother introduced him to basics of drumming in the few years to come. Once, he mastered that, thereon he needed no teacher.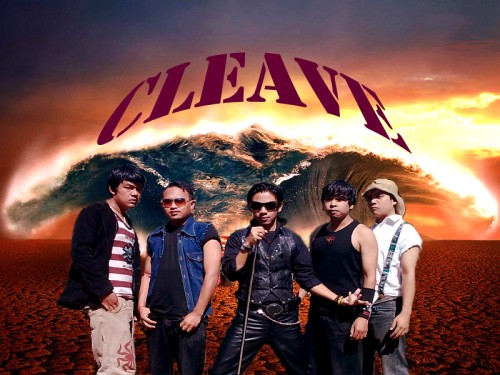 Cleave - pose for the camera



In fact, coming from a family with no dread of musical talent, it seems to be of no great deal at all for him. He has two brothers playing drums and another brother a guitarist playing in a popular Manipuri band "ROOP RAAG" and with so much musical instrument in the house he could be playing anything but he fell for the drums. At class II he was performing at Gauhati, in the State of Assam (in the north eastern of India) and by the time he was in college he was getting laurels and stood 1st for three consecutive years as the best drummer in inter-college rock fest competitions. It was at the time in college that he met up with other like minded musicians and formed CYGNUS.

Billai, is the lead guitarist of the band. It's his sound that capture the mood of the band. It was on the meitei festival of NINGOL CHAKOUBA, while Billai was studying in standard I or II, when he went with his mom at his late uncle's home that he had his first fascination with the guitar. He saw his uncle and friends doing a jam session at their garage.

Billai first took to guitar playing seriously and passionately by the time he was in class VII. Seeing his nephew's passion Billai's uncle had gifted him a guitar a year earlier which he took to like fish to water. From thereon he mastered basic guitar playing like fish to water. Under the guidance of the classical Guitar master Aribam Uttam, he learnt the secrets of classical and rock guitar.

Motto : LeT's hOpE mOre

to be continued......





This artist's sub-site was last updated on 07 April 2010.