Manipur to the world



Lenin Yangambam *



Manipur, a state in North East part India, is a rich state of culture and tradition. She is also gifted with the natural beauties.

The Loktak Lake, one of the largest fresh water lakes in India is situated here. Keibul Lamjao National Park, the only floating national park in the world, is the only natural habitat of Sangai, the dancing deer of Manipur. Manipur is also rich in flora and fauna. The Lt. Pundit Jawaharlal Nehru said," Manipur is the jewels of India".


Loktak Lake



Culture and tradition have been playing an important role in introducing Manipur to the rest. Manipur is a land of cultural and religious diversity. One will find different culture and tradition for different religion and different community.

Learning one's culture and tradition has always been an interesting subject. And when we are talking about a culture and tradition of a particular region like Manipur you couldn't help yourself, but you will be curious to know more and more.

Manipur has shared many of her beauties to the world in the form of dances, plays, cinemas, sports, and literature and so on.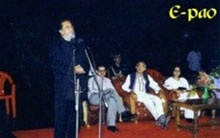 Ratan Thiyam speaking at the opening of 'The Shrine'.


Writer, Director, Designer, Musician, Painter, Actor and also Padma Shri Awardee, Ratan Thiyam, has been known for his contribution in Theater not only in Indian Theater but in all over the world. He is renowned for his disciplined performance practice, spectacular aural and visual aesthetic, and potent thematic explorations.

Mr. Thiyam's work has placed him in the company of such figures as Suzuki, Brook, and Grotowski. And also he has been a Director in NSD, New Delhi in the early 80's. His plays have traveled from Manipur to the other part of the country and then to the rest of the world.

We all know that Yanni had performed at Acropolis or the Herrod Atticus. But actually Mr. Thiyam had been there much before, staging an Indian play in Manipuri attire before a record audience of 10,000 Greeks.

This is not finished but he has been quoted as a "Genius" in the New York Times. He is also an awardee of many awards, such as Indo-Greek friendship award (1984, Greece), Sangeet Natak Akademi Award (1987), Fringe Firsts Award, from Edinburgh International Theatre Festival (1987), Diploma of Cervantino International Theatre Festival, Mexico (1990), and Padma Shri (2001).

Manipuri cinema comes to being very late comparatively to the Hindi cinema. But it occupies its own position in the industry soon.



Yengkhom Roma in "Matamgi Manipur
Picture Courtesy: Kshetrimayum Vimol



"Matamgi Manipur" is the first Manipuri feature film and till now the Manipuri film industries bring 9 international and 10 national awards.

In 1982 "Imagi Ningthem" (My precious son) bagged the Grand Prix Awards for best feature film in the festival Des Three Continents at Nanes in France and the best child actor award of National film festival-1982.

Another Manipuri feature film- Ishanou won a special mention award for the main actress- selection officially in the Cannes international film festival, France, in the section "Prix Un Certain Regard" (Uncertain Regard) 1991. This film also won the national award in 1991.

Manipuri short film Pebet begged the best short Film (Non Fiction) in the international short film festival held in Calcutta (now Kolkata) in 1985.

And in 38th International Film Festival recently held in Goa, two Manipuri feature films and two short films were shown. They are Aribam Syyam's Ishanou, Makhonmani Nongshaba's Yenning Amadi Likla (spring and dew), Haobam Paban's 19-minutes film Ngaihak Lmbida (along the way) and Aribam Shyam's documentary film "Rajarshi Bhagyachandra of Manipur".

Manipuri Dance has been a favorite to those who love Art and Culture. There are many artists who have been known for their talent and even awarded with Sangeet Natak Akademi Award. There are verities of Dances in Manipur.

There are different dance for different occasions and different communities too. Some of the famous dances in Manipur are Ras Leela, Maibi Jagoi, Khamba Thoibi Jagoi, Pung Cholom etc. Ras Leela is among the 8 classical dances in India.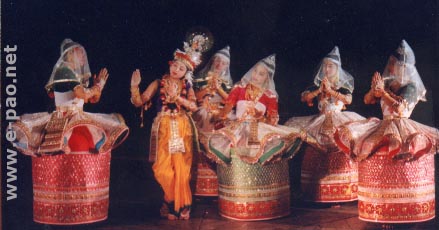 Raas Leela - Radha, Krishna and the Gopis.



Ras Leela is very much religious and associated to Vaishnav cult of Hinduism. The people of Manipur are very religious and are exclusively attached to the Hindu deities Radha and Krishna, who are the main characters depicted in the Ras Leela.

There is a great contribution of Maharaja Rajarshi Bhagyachandra that we can see the form of Ras Leela now. It is only since early 20th century that Manipuri Dance has been presented on stage. It became better known outside the region through the effort of Rabindranath Tagore.

Thang Ta (sword and spear) is a Manipuri Martial Art which each and every Manipuri used to practice. It is really deathly.

It is the only weapon that the Manipuri Freedom Fighter fought against the British in the Freedom Movement. But presently it has changed some of its form and has been presenting on the stage in the form of art.


Thang-Ta



Every year the artists are invited in different part of the world for the stage performance of Thang Ta. Now art has become a media in exploring the Manipuri culture in every corner of the world.

And when we talk of the contribution in the field of sport there are many personalities in the field of Football, Hockey, Weightlifting, Boxing, Cycling, etc. Many players represented India and they proudly contributed to the medal tally.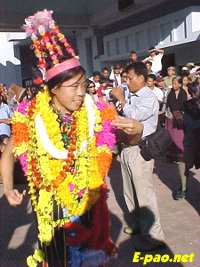 Mary Kom celebrating her World champion win


But it is really disappointing that less of them or known by the people here in India. Who knows Mary kom, who is three times consecutive World Woman Boxing Champion for 46kg category.

People have seen Chak De India the film based on the story of Indian Women Hockey team in 2002 Commonwealth Games Hockey champions.

But nobody knows Tingonleima Kshetrimayum, a Manipuri Woman Hockey Player who was the captain for the Indian Women Hockey team in that particular championship. Who know Dinku of Manipur, who was the gold medalist of the Asian Games 1999 in the event of boxing?

There are many more players from Manipur who has contributed but their contributions are less visible to the people. The recently held 33rd National Game 2007 proved that Manipur occupy better position in the world of sport.

Beside all these there are many traditional games in Manipur. Kang and Yubi lakpi are some of the most famous traditional games in Manipur. Moreover Manipur is the birth place of international game - Polo.

Now we at least know her (Manipur) potential and contribution for the country. Therefore, it is right time for each and every individual to know the factor that lay behind the clouding of such talented people and beautiful site from the public and to find a solution for it.


---
* Lenin Yangambam contributes regularly to e-pao.net . The writer can be contacted at lenin_yangam(at)rediffmail(dot)com . This article was webcasted on 18th December 2007.



* Comments posted by users in this discussion thread and other parts of this site are opinions of the individuals posting them (whose user ID is displayed alongside) and not the views of e-pao.net. We strongly recommend that users exercise responsibility, sensitivity and caution over language while writing your opinions which will be seen and read by other users. Please read a complete Guideline on using comments on this website.