Loktak and Associated Wetlands

Loktak Development Authority(LDA) *


Wetlands within Manipur River Basin represented by several shallow lakes, locally called pats, occupy 6.8% (469 sq. km) of the basin and account for approximately 16% of its water availability.

Loktak, Waithou, Ikop, Kharung, Lousi, Khoidum, Lamjaokhong, Pumlen and Lamphel are important wetlands of the basin. The people of Manipur depend on these wetlands for their livelihoods. Loktak, the largest wetland, is characterized by presence of floating lands called phumdis.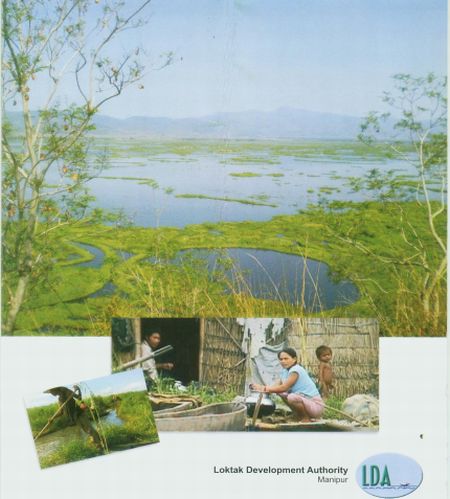 Its southern part supports globally endangered ungulate species, Cervus eldi eldi. Water from the lake is used for hydro-power generation for a highly power deficit northeastern region. Based on its high biodiversity value and socio economic importance, Loktak was designated as a Wetland of International Importance under Ramsar Convention in 1990.
Sectoral development within Manipur River Basin with focus on hydro-power generation and agriculture development without realizing the basic characteristics and multi-functionality of wetlands have led to their rapid degradation and concomitant impacts on livelihoods.
Realizing the importance of wetlands, Planning Commission involved Wetlands International - South Asia for formulation of management plan.
Integrated Water Resources Management (IWRM) approach was adopted to develop strategies and actions for integrated conservation and management of wetlands at river basin level. The key management issues identified were:
Enhanced soil erosion leading to wetland sedimentation primarily due to shifting cultivation and loss of vegetal cover in the catchments
Reduction in water holding capacity as a consequence of siltation, encroachments, and prolific growth of aquatic weeds
Flooding in peripheral areas leading to inundation of agricultural areas and damage to life and property
Decline in fish resources thereby affecting livelihoods of fisher communities
Degradation of phumdis in KLNP threatening biodiversity of National Park, particularly its flagship species
Poverty due to resource degradation and limited opportunities for livelihood diversification
Absence of policy, regulations and coordination with line departments for effective conservation and management

Management Planning Framework
The management of Loktak and associated wetlands aims at maintenance of ecosystem integrity and sustainable utilization of resources for benefit of stakeholders. Formulation of integrated management plan involved bringing together stakeholders at all levels considering their needs and aspirations.
The management planning framework was developed following Ramsar's New Guidelines for Management Planning which emphasizes on evaluation of ecological and socioeconomic features and identification of factors and operational limits for effective restoration and management of wetland ecosystems.
Goal
The goal of the Management Action Plan is conservation and sustainable utilization of wetlands at river basin level for ecological security and livelihood improvement of local communities.
Objectives
Control of soil erosion from degraded watersheds by enhancing vegetative cover in degraded watersheds and improvisation of shifting cultivation
Improving water regimes by enhancing water holding capacity, flood mitigation, water quality improvement and allocation of water balancing human and ecological purposes
Biodiversity conservation through habitat improvement of Keibul Lamjao National Park, water bird conservation and ecotourism development
Livelihood improvement and socioeconomic development of communities through sustainable fisheries development, economic utilization of phumdis .alternative income generation based on value added wetland produce and improvement of quality of life
Institutional development for effective coordination and management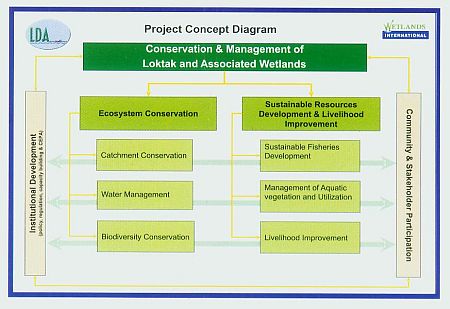 Implementation Strategy
Implementation will be carried out by Loktak Development Authority in coordination with line departments and other agencies through establishment of high level empowered committees / steering committee. Participatory processes involving user organizations, NGOs, CBOs and government departments and agencies is critical to successful implementation of the management plan.
---
* Loktak Development Authority(LDA) provided this info to e-pao.net . This article was webcasted on July 09th, 2009.
---
* Comments posted by users in this discussion thread and other parts of this site are opinions of the individuals posting them (whose user ID is displayed alongside) and not the views of e-pao.net. We strongly recommend that users exercise responsibility, sensitivity and caution over language while writing your opinions which will be seen and read by other users. Please read a complete Guideline on using comments on this website.