Ailing Koubru

Luminlal Kipgen *


The Koubru mountain range looks formidable from the National Highway 39 with Mt. Koubru at 8404 feet above sea level, one of the highest peaks in Manipur. They say the Meiteis settled the Imphal Valley from the Koubru; to this day the mountain holds an important spiritual significance to them, with annual pilgrimages to its peak.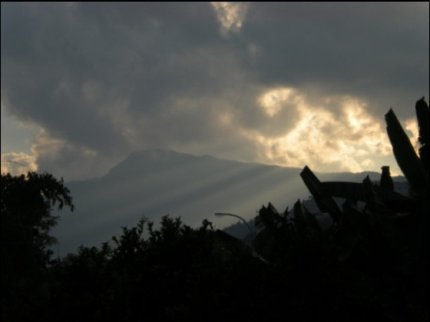 Koubru at Dusk
These mountains are rich in natural resources, the human settlements at every foothill bearing a strong testament. Many endangered fauna species are found here: the red deer, scaly ant eater, Indian giant flying squirrel and the clouded leopard to name some. There are many species of orchids and edible mushrooms.
The cold mountain streams are inhabited by a few species of fish, shrimp, frog and crab. In all, very little is known to science and the region begs for exploration and documentation.
The clear streams that flow down craggy ravines into the Imphal River (highway 39 runs parallel to it) are used to irrigate terraced rice fields in the narrow valley of the foothills.
Though agriculture is the mainstay of the local economy, it is heavily supplemented by forest produces. Therein lies the problem, the forests are over-exploited.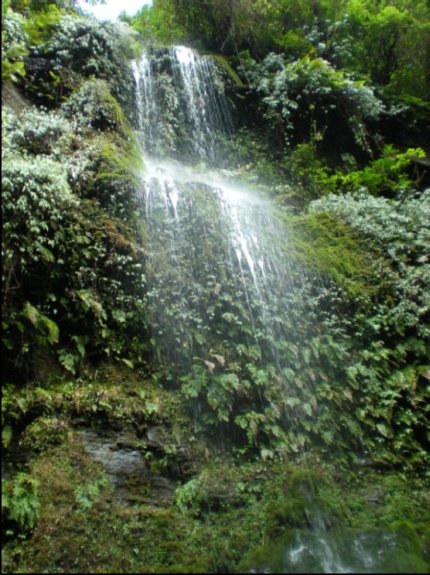 Lenchenjang Falls
Illegal logging have almost depleted the old growth forest, the centuries old trees can now be found only in the most inaccessible terrains and in a forest where buffaloes are used to haul timber, such terrains are increasingly rare and indeed, the buffalo-trails have led to almost every nook and corner.
Timber is not the only resource that is fast depleted, on a trek a few years ago to a waterfall called Lenchenjang, high up the mountains; I was appalled to see it bare. The cliff walls of the fall were stripped of the hanging vines of rattan cane, which was in stark contrast to my previous visit, when they adorned it so beautifully.
Illegal poaching and trapping have also depleted the fauna. Where once you could sight a wild animal easily in any trek and the forest echoed with the hooting of monkeys, now you'd be so lucky to spot a hoof-print and some moldy droppings.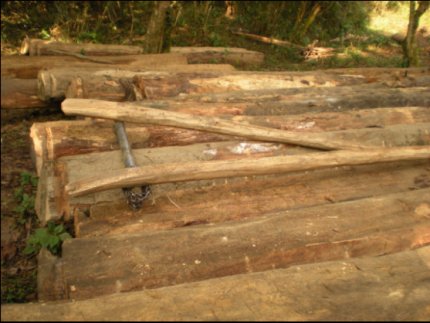 Illegal timber yard with a buffalo sled used to haul them from the mountains
To add to the woes of the Koubru, the tribal communities inhabiting it practice Jhumming. Some slopes have been cleared to the crown; this caused the Keithelmanbi-Gopibung mudslide in the monsoon of 2005.
Some villages do make efforts to preserve the forest by prohibiting logging and allowing only dead trees and branches for firewood, restricting hunting and fishing at specific seasons but when neighbouring villages don't adhere to the same rules, the incentives for conservation diminish and it is hard for them to enforce their rules even in their own villages.
Since, the forests are under the protection of the government and don't come under the premise of the village authority or the chief, there is not much they can do to stop other villages even if they can control their own.
The insurgency problem has also not made it easy for the government to exercise strict control. Ironically, a few years ago, alarmed at the fast disappearing forest cover, a local insurgent group prohibited felling of trees.
Last winter, I trekked to see the waterfall at Lenchenjang again, perhaps to mourn for beauty lost but nature had a surprise in store for me, instead of the bare waterfall I expected, I saw the cliff walls re-adorned with ferns and overhanging vines of young cane shoots, it looked good again though certainly not as beautiful as its pristine glory.
So, can Koubru be saved? I say, there is hope, for nature heals itself given a chance; we need only find ways to let it.
---
* Luminlal Kipgen wrote this article for "Ecotone" - A joint publication of Environ, Guwahati (Assam) and NECEER, Imphal (Manipur) - Vol.1 Issue 1 Oct. 2009.
Luminlal Kipgen is a Research Scholar at School of Biotechnology, GGS Indraprastha University, Delhi . This article was webcasted on October 21st, 2009.
---
* Comments posted by users in this discussion thread and other parts of this site are opinions of the individuals posting them (whose user ID is displayed alongside) and not the views of e-pao.net. We strongly recommend that users exercise responsibility, sensitivity and caution over language while writing your opinions which will be seen and read by other users. Please read a complete Guideline on using comments on this website.