Now Showing – MATAMGI MANIPUR!!


By: Kshetrimayum Vimol *



Where? Usha Hall? Friends Talkies? Imphal Talkies?

NO !! It's to be shown at place far away from home, in a place called PUNE.

Title: MATAMGI MANIPUR
Venue: National Film Archive of India, Pune.
Date: August 14, 2007
Time: 6 pm.
Organise by: Manipur Student Associations Pune – MSAP.

Pune witnessed every year a variety of events, programs, quizzes or sports to keep the people of Manipur intact and their spirit high towards the brotherhood and motherland. Behind the scene, it's the constant hard work and selfless endeavor of Manipur Student Associations Pune (MSAP).

The newly elected young and talented executive members of MSAP meet every Sunday and do the brain storming session to bring up innovative ideas. Every meeting ended up with handful of ideas from each executive.

For this year, they are coming up with a completely different outlook and vision.



Yengkhom Roma



As we all know, 13th August is observed as patriotic day of Manipur. In the remembrance of our beloved patriots, MSAP is organising an event "ATHOUBA SING-GEE NUMIT" on 14th August, Tuesday 6 pm, at National Film Archive of India, Pune. As part of the event, for the 1st time in the history of Pune, they are presenting the 1st Manipuri feature film, MATAMGI MANIPUR (Today's Manipur).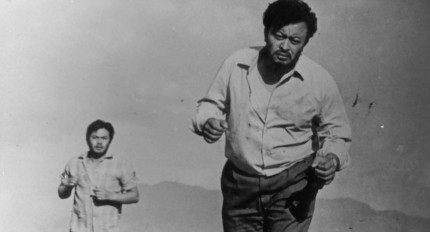 A scene from MATAMGI MANIPUR



MATAMGI MANIPUR was released in 1972 as a black and white 35 mm celluloid film. Yengkhom Roma and G. Ravindra Sharma were lead actress and actor. The film was directed by Debkumar Bose and written by Arambam Samendra.

This Film won the president's Medal in 20th National Film Festival in 1972. Well known classical Manipuri dancer, Elam Indira won "Nritya Rani-Indira" the prestigious national Film Award 1975, for her performance in this feature film.

Arambam Samarendra



After the success of MATAMGI MANIPUR, producers, directors and artists with theatrical backgrounds strove at making film. At that time they might had faced lots of technical problems while making it. It would be challenging too making the films with limited technical knowledge and resources.

Manipur entered the race of film making in India very lately. Although our film makers joined the race very late, they strode ahead of the rest of the country to earn the coveted GRAND PRIX at Nantes (France) for the first time from India. The film was IMAGI NINGTHEM, based on a radio play written by M.K Binodini. There are many more Manipuri films, which won many awards.

Though for years, miscreants have been trying to break the peace of Manipur. MSAP has united the Manipuris at Pune, like a wall - thereby giving the world a new dimension of 'Unity in Diversity'.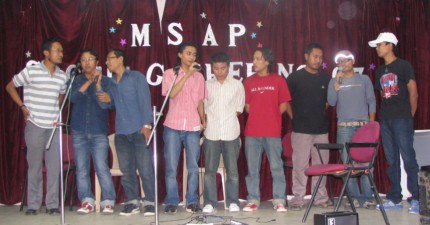 MSAP Executive Members – 2007-2008



So, if you are in and around Pune on 14th August, be there at the National Film Archive of India, Pune and catch up with this classic Manipuri Movie. We ensure that you will have a great evening.

To know more about coming up events of MSAP, please visit http://www.orkut.com/Community.aspx?cmm=18687610 . Or search for MSAP in www.orkut.com.


Title:
MATAMGI MANIPUR
Produced by:
Karam Monomohon for K.T films Private Ltd.
Written by:
Arambam Samarendra
Direction by:
Debkumar Bose
Music:
Aribam Shyam Sharma.
Lyric:
Phulendra and M.K.Binodini.
Editing:
Madhu Banerjee.
Sound recording:
Bani Dutta.
Playback Singers:
A. kamala,Arambam Jamuna and A. Budhichandra.
Cast:
G. Ravindra Sharma,Yengkhom Roma, Kangbam Birababu,Rashi,
Indira, Beda, kangbam Tomba, Arambam Lokendra,
Aribam Shyam Sharma, Amujao, Baby Aneeta with Joshi,
Dr. Nara, Mangibabu, Bishwambhar, Landhon, Imo,
Ibohanbi,Ashok kumar,Boinao,Binodkumar,
B.N Patnaik, P.Banerjee, kanonbala, Bimola,
T.Tamani, Memma and Purnabala.


THANKS – Tayenjam Biswajit and Pebam Ringo for helping me out while editing the article. Guna Meitei and Mongshatabam Yoimayai for gathering those antique black and white pictures.


---
* Kshetrimayum Vimol (not an Executive member of MSAP) provided this information to e-pao.net . You can contact him at kvimol(at)gmail(dot)com
This article was webcasted on August 07th, 2007



* Comments posted by users in this discussion thread and other parts of this site are opinions of the individuals posting them (whose user ID is displayed alongside) and not the views of e-pao.net. We strongly recommend that users exercise responsibility, sensitivity and caution over language while writing your opinions which will be seen and read by other users. Please read a complete Guideline on using comments on this website.