Violence Against Women In Manipur
Longjam Tony Angom *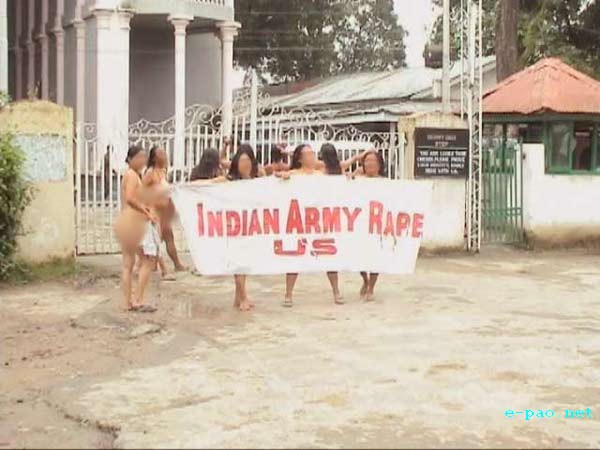 Naked Womenfolk protesting against the brutal killing of Manorama at the gate of 17 Assam Rifles in July 2004 :: Pix - David Mayum


In the new code of laws which I suppose it will be necessary for us to understand is the equality for women demanding a change in the human psyche which is more profound than anything else. The only point on which all women are in the furious movement against the existing law is the saddling of the right to a woman with the obligation to become the tool for men's sexual satisfaction. The highest they could do is to slam their phanek ( wrap around) & mourn at their loudest.

No policy makers have ever thought that feminism for its true nature is the highest form of agitation against injustice that has ever been. Some people say women can't have as much rights as men because Christ wasn't a woman but where did the Christ come from, from heaven? Yes it is true that the son of god came to earth from heaven however he was a son of a god & a woman. If all men are born free then how is it that all women are born as an asset for rape? Touching a woman without her consent doesn't make a man, it makes him a coward.

The women's market of Manipur (khwairamband bazar) where only women are allowed to sit serves a very important role for the secondary bread earner. The NUPI LAL of 1912 & 1939 wherein all the women of Manipur stood against the mighty British power is the one of the historical event that sowed the new seeds of economic & political reforms for a new Manipur in the early 40's. The kind of sacrifice made by Rani Gaidinglu of Manipur who was detained (for supporting Gandhi's non-co-operative movement) the longest in the Indian freedom struggle at the age of 13 by the British is considered the highest contribution so far.

The MEIRA PAIBI (Women torch bearer), a unique social setup is known for its local self-government & also for their legitimate support in bringing peace in Manipur. Therefore, women are in fact given the highest respect by the indigenous societies of Manipur. The event of rape, molestation, sexual harassment or gender based violence is accorded zero tolerance among the people of Manipur.

However, women & girls have been raped, sexually mutilated or even later killed or left to die by the government forces & border guards (non-state actors). They are also been subjected to humiliating strip searches, forced to parade or dance in naked in front of the soldiers or in public & to perform domestic chores while nude. If the army personnel who are meant to be protecting the country's integrity indulges into some of the dirty instances of rape, molestation, sexual harassment, etc then the country is not culturally developed.

The following statistical report published by the memorandum called Manipur: Perils of war & womanhood submitted to Rashida Manjoo (United Nations) by Human rights alert Manipur shows how brutally the Indian forces have been consistently raping our sisters in the last 4 decades.

VIOLENCE AGAINST WOMEN IN MANIPUR & ITS STATISTICS


| Sl. No. | Date of incident | Name of the victim | Place of incident | Accused | Nature of cases |
| --- | --- | --- | --- | --- | --- |
| 1 | 3rd march 1974 | Ngashingla (23 years) | Ukhrul, Manipur | 95th BSF | Tortured & raped |
| 2 | 4th March 1974 | Miss Rose (19 years) | Ukhrul, Manipur | 95th BSF | Rape, victim commited suicide after the rape |
| 3 | 1st May 1981 | KS Martha | Ukhrul, Manipur | Ganesh Prasad of 4th Assam rifles | Rape |
| 4 | 24th January 1986 | Luingamla (19 years) | Ukhrul, Manipur | Indian Army | Killed for resisting rape |
| 5 | July-October 1987 | 3 women | Oinam & Senapati district,Manipur | Assam Riffles | Rape |
| 6 | 19th September 1995 | Mrs.Torhing Anal (25 years) | Chandel district, Manipur | J&K Light Infantry | Rape |
| 7 | 4th April 1998 | Ningthoujam (o) Pramo | Bishenpur district, Manipur | 6th batallion J&K rifles | Rape |
| 8 | 27th June 1998 | Naorem (o) Thoinu | Kakching, Manipur | Rifleman N Pratap Singh of 5/5 Gurkha rifle | Rape |
| 9 | 19th July 2000 | Mrs. Mercy Kabui (25 years) | In her own house in Churachandpur district, Manipur | 112 Batallion CRPF | Rape |
| 10 | 6th October 2001 | Meinam (o) Bina | Luwangsangbam, Manipur | 25th Batallion CRPF | Rape |
| 11 | 4th October 2003 | Miss N. Sanjita (15 years) | Jiribam, Manipur | 12th Gurkha Rifles | Rape, victim committed suicide after the rape |
| 12 | 11th July 2004 | Thangjam Manorama (32 years) | Imphal East, Manipur | 17th Assam Rifles | Rape & murder |
| 13 | 13th March 2007 | Miss Nengneikim Haokip (18 years) | Senapati district, Manipur | 32th Assam Rifles | Rape |
| 14 | 9th November 2010 | 36 years old woman | Thoubal district, Manipur | Indian Army | Rape |
| 15 | 20th January 2011 | Ronjana ( 3 years) | Churachandpur district, Manipur | Border Road Transport Force | Rape & murder |
**
The statistical records are taken from the memorandum called "Manipur: Perils of War & Womenhood which was submitted to Rashida Manjoo (Special Rapportuer on violence against women, its causes & consequences UNITED NATIONS) by The Civil Society Coalition on Human Rights in Manipur & the UN on 28th April 2013.
ISBN 978-81-905939-6-0
humanrightsmanipur.wordpress.com
| Cases | 2005-08 | 2009 | 2010 | 2011 | 2012 | FIR | No FIR | Total | Percentage | Percentage |
| --- | --- | --- | --- | --- | --- | --- | --- | --- | --- | --- |
| Molestation | 17 | 9 | 8 | 4 | 8 | 24 | 22 | 46 | 35.11% | 35.11% |
| Rape | 2 | 1 | 1 | 2 | 1 | 7 | 0 | 7 | 5.34% | 5.34% |
| Girls beaten up | 2 | 3 | 1 | 1 | 2 | 6 | 3 | 9 | 6.87% | 6.87% |
| Girls traficked | 5 | not disclosed | 4 | 1 | 2 | 4 | 8 | 12 | 9.16% | 9.16% |
| Attemted rape | 1 | not disclosed | 1 | 1 | not disclosed | 2 | 1 | 3 | 2.29% | 2.29% |
| Total crime against women | 27 | 13 | 15 | 9 | 13 | 43 | 34 | 77 | 58.58% | 58.78% |
**
The statistical records are taken from the memorandum called "Manipur: Perils of War & Womenhood which was submitted to Rashida Manjoo (Special Rapportuer on violence against women, its causes & consequences UNITED NATIONS) by The Civil Society Coalition on Human Rights in Manipur & the UN on 28th April 2013.
ISBN 978-81-905939-6-0
humanrightsmanipur.wordpress.com
These are some of the well borne out evidences from the north east, Manipur in particular. This concern about the growing numbers of reports of rape & other sexual abuse committed by the forces & persons associated with military bases & units in the north east is a real & immediate one.
It is on high record that many forms of state perpetrated or condoned human violations & brutalities target women specifically. Therefore violence against women is one phenomenon of deepest social concern in the growing wave of alarm. The wheel of faith will one day compel the Indian forces to stop whatever they have been doing so far but I wonder what sort of Manipur, will they leave behind eventually?
"Women are not a potted plant to have their leaves trimmed by the merciless owners."
Achumbana yaiphare!
---
* Longjam Tony Angom wrote this article for e-pao.net
The writer can be contacted at longjamtony(at)gmail(dot)com
This article was posted on May 17, 2014.
---
* Comments posted by users in this discussion thread and other parts of this site are opinions of the individuals posting them (whose user ID is displayed alongside) and not the views of e-pao.net. We strongly recommend that users exercise responsibility, sensitivity and caution over language while writing your opinions which will be seen and read by other users. Please read a complete Guideline on using comments on this website.