Under the shadow of - Ceasefire

Anil *
Ceasefire is in place between the two parties in Nagaland, where people have witnessed enough of bloodshed since many decades. Ceasefire with one of the factions was concluded in 1997 and with other insurgent group in 2001. The agreement clearly states a few ground rules for both the parties who are State or Non-state actors.

The party which is abided by the law is forced to follow the Cease Fire Ground Rules (CFGR) but other parties who consider themselves as War Lords or so called mentor of peace in the state have shown little respect for such rules. The author having gone into a lot of details of CFGR, could assimilate the following:-
No showcasing of weapons publically by any of the factions.
No move of cadres from one place to another with weapons openly without informing the Cease Fire Monitoring Cell.
No enrolment of new cadres.
No killing, extortion, abduction or tax collections from general public.
No establishment of camps in civil populated areas or near NHs.
No training or weapons support to any of the other militants or insurgent groups.
No increase in their weapon strength or forceful enrolment etc.
Similarly, there are few rules which are to be abided by the security forces; if they don't abide then, serious note to be taken against them by MHA or by an appropriate authority. But, after the ceasefire in 1997 the factional fight has shown an increasing trend.
Now it is The Nagas versus The Nagas. Reasons are many - turf wars, tax collection, tribalism, land issues, vengeance etc. In between, the factional killings and kidnappings, threats, intimidations, extortions and what not !
Anti-social elements (with active support of lower rank cadres of various factions) thugs, goons, mafia like gangs have sprouted all over Nagaland particularly in commercial and state capitals. They have taken advantage of the fragile situation and are making hay, while the sun shines.
Recent episodes of cease-fire violations in Nagaland and in Manipur at Sirohi, where the situation have become volatile are of great concern for common citizens like us. The village and villagers of Sirohi are under tremendous pressure of the faction. Their own village is being used by War Lords under the pretext of cease fire agreement which may have forced security forces to lay the seize.
Facts may not be told to us by both the parties but God and people of the Shirohi village are better known to the situation ! The author was shocked while surfing the internet (SATP) where events are given in a chronological order.
One gets confused to think that if cease fire is in place then why these events and eventualities have taken place in Nagaland? Why in Manipur women folks and common men are used as a shield? Why people are forced to flee their homeland? Why their inhabited areas are being used as shelter?
Readers would be more clearer after going through the following sequence of events from Jan 2008 - till date and would also know that what is the sanctity of ceasefire and who are the people to be blamed as violators?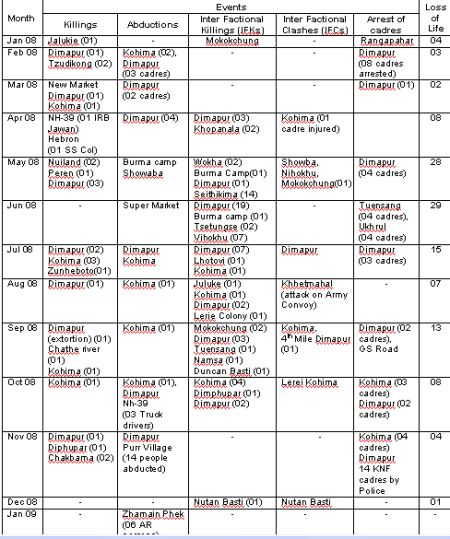 * Source of Data : South Asian Terrorists Portal
Recent episode in Manipur where
stand-off between AR and NSCN (IM)
is on since 19th of January is an example of clear cut violation of CFGR where people are in great pain.
Their own brothers, Friends of the Hill People and so called propagators of Nagalim are in head on tussle. In Shirohi village's women folk are forced to stand in the line of fire. Common man is finding himself helpless.
Friends of the Hill People (Assam Rifles) have been praised up to some extent for restraining them selves from getting into bloody clash. The author having gone through the various reports being published in the vernacular press and in local dailies of Manipur, Nagaland and also the SATP finds himself in great agony to note that 'Meaning of ceasefire has become useless to the common man'.
Both parties are supposed to maintain the sanctity of the CFGR and law enforcement machineries are responsible to ensure the peace in the state, but condition is totally different. All the data can be read in conjunction to understand the current situation in the State.
It is now left to the people of the state and the valued readers to decide; who is doing what - "Under the Shadow of Ceasefire".
---
* Anil contributes to e-pao.net regularly. Your views are welcome to anil(dot)tripsy(at)gmail(dot)com
This article was webcasted on February 02 2009.
---
* Comments posted by users in this discussion thread and other parts of this site are opinions of the individuals posting them (whose user ID is displayed alongside) and not the views of e-pao.net. We strongly recommend that users exercise responsibility, sensitivity and caution over language while writing your opinions which will be seen and read by other users. Please read a complete Guideline on using comments on this website.