Myths Of Five
Robert Lanky *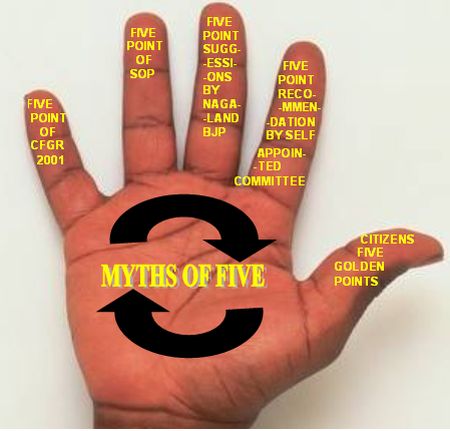 The oldest & largest insurgent organization in the North East - the National Socialist Council of Nagalim led by Thuingaleng Muviah and Isac Chisi Swu, NSCN (IM) has been engaging in peace negotiations with the govt since 1997. However, despite a long drawn negotiating process involving several rounds of intense negotiations, the two sides are not clearly on the same page.
The government's stand is that it can not compromise the territorial integrity and sovereignty of India : undo the territorial state boundaries without antagonizing the states of Manipur, Assam and Arunachal Pradesh vis-à-vis territories claimed by the Nagas and involved in any unification of all Naga claimed areas.
Recent incidents (Standoff between Security Forces and NSCN (IM) at Shirui and Pfutsero) and the statement given by Union Home Minister Mr P Chidambaram : "Future arrangement would be possible only within the contours of the Indian Constitutions". It has lead both parties to clarify their stands and strict adherence to the CFGRs.
The recent episode have also forced Th Muviah to react during his interview to Frans Welham (Published in local daily on 19th Mar) to say that : "Mr P Chidambaram does not know anything about the Nagas and about the talks. So, the Govt of India would have to correct him". He further said that, if they go on like that then it will go derailed.
Government of India, NSCN and Other State and Non State Actors are now a days exhibiting their Agendas, Demands, SOPs, Revised version of CFGR and other documentary evidences for the consumption of local people of both Manipur and Nagaland. Every party is trying to put forward its point.
Recently, 'Revised Text of Agreed Ground Rules for Ceasefire finalized between GOI and NSCN on 13th January 2001' was published by local daily on 06 Mar 09.
In the agreed text of Ceasefire Ground Rules 'FIVE POINTS' were highlighted:
(i) Ground Rules will be valid only for State of Nagaland.
(ii) Responsibility to enforce this is of GOI.
(iii) No offensive operations, No blockade of roads, No extension of support to any other militant organizations.
(iv) No movement of NSCN cadres from designated camps without informing CFSB. No forcible collection of money, extortion, recruitment of armed cadres.
(v) Protection of convoys and patrolling for roads would continue to be undertaken by Indian Army, PMFs and Police.
Security Forces will retain the right to enforce measures necessary to uphold the laws of the land. Was this published to enlighten locals, Security Forces, Para Military Forces or Police is not known?
On the similar line, gist of Standard Operating Procedures (SOPs) for SFs (including State Police) for enforcement of ceasefire in Nagaland was also published on 07 Mar 09 (Nagaland Page). The SOP once again, highlighted mainly 'FIVE POINTS'.
(i) Ceasefire Ground Rules Violation.
(ii) Principle to be adopted for handling CFGR. Unbiased actions by SFs, PMFs and Police. Use of force for self defence only and actions against the violators of CFGR by CFMG/CFSB.
(iii) Defusing Inter-Factional Clashes. Frisking and checking by Assam Rifles & CPMF. Police forces available in the area to stop unlawful activities.
(iv) Verification of Identity Cards. Formation of Quick Reaction Teams in sensitive areas.
(v) Effective Interstate border management to stop movement and mutual coordination of various militant groups of neighbouring states.
Also the involvement of NGOs to smoothen the tempers of the factions. This was published for consumption of security forces, factions and people of Manipur & Nagaland. But what needs to be understood is that situation differ from place to place and each one of them have to be dealt with according to prevailing conditions.
Another "FIVE POINTS" suggestions towards reconciliation of Nagas (Published on 17th Mar 09) has been given by Bhartiya Janata Party, Nagaland.
The BJP Nagaland while reiterating support and commitment towards. Indo - Naga Peace Talks, expressed their views as followings:
(i) Ceasefire Without Boundary Limits.
(ii) Bringing together of all leaders.
(iii) Financial package/support by GON/GOI.
(iv) Lifting of all forms of taxes.
(v) BJP's commitment towards Nagas Issue in the event of BJP and NDA assuming power at the centre.
Last but not the least is the, much hyped self appointed 'Fact Finding Team' consisting of few NGOs, Lawyers and Human Right's Activists. Incidentally they have also come out with a recommendations of FIVE POINTS for Ceasefire Monitoring Mechanism in Nagaland and Manipur :
(i) Ceasefire monitoring mechanism should be made more transparent and records of decisions of the CFMG should be kept. All guidelines, rules and regulations must be signed by parties concerned and be made available in the public domain.
(ii) Ceasefire be officially extended without territorial limits purely a administrative measure with no political connotations or implications.
(iii) Declaration of ceasefire between different UGs groups "so that the IFCs are not used as justification for either further militarization of the region or for a tool for divide and rule policy".
(iv) CFMG has to decide better ways for effective enforcement of CFGR.
(v) The media is advised to evolve guidelines for itself so that it is not used as an instrument for counter insurgency or for spreading disinformation.
While every organization or party have propagated a 'Five Point Agenda/Recommendations' and not to be left behind in the race. I, as a conscientious citizen of this Region would like to appeal to fellow citizens and governments of Assam, Nagaland and Manipur and enunciated coincidentally 'Five Golden Point' which if acted upon will override the 'Myths of Five' propagated above:
(i) Good Governence
(ii) Employment
(iii) Peace
(iv) Tranquility
(v) Infrastructural Development.
If at all we want to live in peace and harmony and also to keep a pace with fast developing society then, we will have to really adhere to above golden points and not to get perturbed by 'Myths Of Five'.
---
* Robert Lanky is freelancer based in North East India and writes on generic topics, which pertains to social issues of various states of the region. He contributes regularly to e-pao.net. All views are the author's and He can be contacted at www [dot] robertlanky [AT] gmail [DOT] com. This article was webcasted on April 10th, 2009.
---
* Comments posted by users in this discussion thread and other parts of this site are opinions of the individuals posting them (whose user ID is displayed alongside) and not the views of e-pao.net. We strongly recommend that users exercise responsibility, sensitivity and caution over language while writing your opinions which will be seen and read by other users. Please read a complete Guideline on using comments on this website.