Mass Rape of Hmar Women: An Insight

By: Elf Hmar *


I have to give due justice to the doubt and reservation of the majority valley-concentrated Meitei people in Manipur on the case of the rape of more than 21 Hmar women in Tipaimukh. It clearly shows how extensive the mistrust and suspicion that the Meitei people have on the tribal populace who inhabit the hills of Manipur ever since the no-mans land days.

It clearly mirrors how they eye and blindly judge their fellow citizens in the hills. It shows that Meitei chauvinism inhabits a strong importance in their ego-centric world. Lets face it, it would be hard to absorb, but the truth is that the Meiteis are communal than what it looks and that, strengthened with a very narrow-mindedness, disturb the fabric of their sane reasonings.

How much one tries to ignore this negative attitude that the Meitei boast on the other communities in Manipur, as it is deep-rooted, it would take time to have it completely uprooted. Well of course, if the world turns upside down right at this very minute, it would be a different matter.

And that precious minute is what we prized today. An overtone on the rape case taking a communal colour is a thing that matters very much for the state of Manipur and for the Meiteis. It deeply concerns the integrity of Manipur as a state.

And it is very fortunate that the heinous and barbaric crimes have been committed on the Hmar people instead of others. It is a guarantee that if these monstrous abuses of human rights had befallen on others, Manipur would have been bathing red.

Instead of trying to give communalism a chance and alleging that the Hmars are communal, the Meitei people should bow their heads, get down on their knees and thank the Hmar leaders for their cool headedness in trying to shamelessly seek justice democratically, and for not compromising the integrity of Manipur. If there are any who truly love Manipur, be it the revolutionaries, the irresponsible Manipur government or the civil societies, this is a very good suggestion to do, to publicly apologise and show deep respect and gratefulness to the whole of Hmar people in the world. Let not Meitei chauvinism inflicts and transgress more toll to what it has already infested and destroyed.

A protest rally being held at Haflong, NC Hills district of Assam on April 17, 2006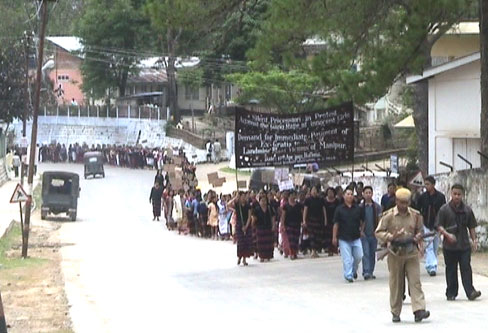 Picture Courtesy : S.Lalthansang Pulamte ( sakeilal_hmar@yahoo.com)

Never in the history of the Hmars have they mercilessly been shamed. This dishonorable blot in their history will ever remain so with them. It can never be ever cleansed because the damage has already been done against them. This horrible crime against the Hmar people is indeed an image tarnishing design to rid them of their rights and identity as human beings and rightful citizens of Manipur.

There is a need to put in some words of cautions at this crucial and volatile junction, never underestimate the Hmar people. Their patience, their peacefulness, their non-violent ways of dealing with their problems should never be an assessment for their rightful existence as a people lest the sleeping giant in them awakens.The Gospel which they embraced in the year 1910 has soften them. Otherwise, it can be disastrous for all. No, I am not joking at all.

Then there is that big question. What if the victims were Meiteis, and the perpetrators - the Jawans of the Indian Army? The whole of Imphal valleys would have stripped naked in the streets for the entire world to see, many Ranjans would be running in flames, many thumbs would have piled up, and what not.

Between the rape case of Manorama Devi and the Hmar women, the former by Indian security forces and the latter by armed militants of the United National Liberation Front (UNLF) and Kangleipak Communist Party (KCP), the unhealthy approach and stand taken up by the majority people in Imphal thus poses a mountainous question on the making of a hue and cry against women discriminations in Manipur by the Meira Paibis and others on the forefront. This is but the biggest insult to womanhood, a crime of crime, and injustice of injustice.

To mention evidences, witnesses and differences between the two, does the Meitei society in Imphal and surrounding valleys ever doubt that Manorama was rape by the Indian Jawans? How many have actually seen or heard her cry for help when she was molested, tortured and raped? Her dad, mom, brothers, sisters, relatives, friends, neighbours? Who? And the verdict given unanimously by those (including myself) who have not seen or heard her sufferings was one - that the Indian Jawans raped her! Nothing more, nothing less. Just that single conviction. Then what about now on the mass rape of more than 21 Hmar women?

Lets compare our convictions on the insult and discrimination against womanhood between the two. In the case of the Hmar women who were fortunately not killed, the witnesses are the victims themselves, their mothers and fathers, their neighbours and fellow villagers, their rapists and God if there is. The challenging stands that the Meitei civil societies and the medias in Imphal valley continuously make till today in their mouthpieces is shamefully a double injustice done to the rape victims and the Hmar people.

And then the most important of all, have we ever put ourselves in the shoes of these ill-fated rape victims? Do we understand the shame and humiliation they might have faced for coming of their now small closets? Cannot we understand the trauma they may have to go through bearing and carrying their painful experiences in the hands of those modern barbarians? What about their outlook in the society? Whether they want it or not, they need to live through it till the end of their days.

No, we never give a chance to our righteous thoughts. Our thoughts and reasoning are filled with evil, and it is a pity we never realized that. We are instead busy empathising with the rapists and their affiliated outlawed groups. No, we need to give them more of our valued spaces of understanding. Give them back their lost dignity. Give them a chance to live normally like us. Lets keep our prejudice thinking for ourselves only and not for them. Lets not be bigots.

And this is not to mention the equally serious crimes of torture, forced displacement and landmine issues too. And yes the forced displacement; can this not be part of a larger game plan of the involved so-called armed Meitei revolutionary organisations going haywire? What were these groups doing in the Tipaimukh areas at the first place? What may be their interests?

Cannot the people of this region decide their own future course of action? What are these rebel groups who are fighting India doing in the lands of the Hmars anyway? What rights have they to come over leaving their valleys? They should fight their battles and wars in their areas of domicile, in the Imphal and Bishenpur valleys. This is an illegal infiltration of the hills of Manipur. A whitepaper of whitepaper of whitepaper of the involved insurgent groups is what that is called for!


---
Elf Hmar writes regularly to e-pao.net
The writer can be contacted at elfhmar@yahoo.com
This article was webcasted on April 20th, 2006
* Comments posted by users in this discussion thread and other parts of this site are opinions of the individuals posting them (whose user ID is displayed alongside) and not the views of e-pao.net. We strongly recommend that users exercise responsibility, sensitivity and caution over language while writing your opinions which will be seen and read by other users. Please read a complete Guideline on using comments on this website.