Is the Cat in (the bag) or Out ?

Robert Lanky *
Lots of furore and speculations in North Eastern region about the arrests of top leaders of the dreaded terrorist organisations of National Liberation Front of Tripura (NLFT), United Liberation Front of Assam (ULFA) & NDFB viz Bishwamohan Dev Verman, Arbind Rajkhowa & Raju Baruah as also arrest of the National Democratic Front of Bodoland's Chairman Ranjan Daimray. With the speculations of arrest and deportation rife, arrest of two more LeT cadres have also been reported from Meghalaya border and have been handed over to Banglore Police on remand.

While the electronic media has specially been vociferous about their arrest in Bangladesh and handing them over to Indian Government, the security agencies, state governments and even central government have been tight lipped about the arrest of these men who have been responsible for thousands of innocent killings, number of bomb blasts, abductions & extortions in the states of North-East.

Biswamohan Deb Verma of NLFT who has been crusading his outfit and jeopardising peace & development in Tripura and Arbind Rajkhowa - the co-founder of ULFA alongwith Paresh Baruah, if reports are true, are in the net! Earlier too, there have been reports about the arrests of these leaders but remained more of a 'gossip' and speculation.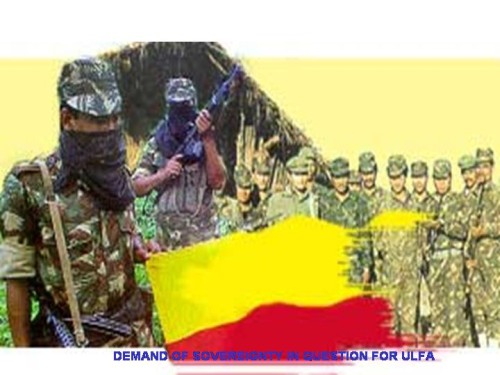 Demand for sovereignty in question for ULFA
For the last 30 years Rajkhowa has remained elusive since the ULFA leadership shifted their base to Bangladesh in 1990s and has stayed the better part of his underground life in Bhutan, Bangladesh, Pakistan and Myanmar under various fictitious names.
It may be recalled that on April 7, 1979, Rajkhowa and four others, including the outfit's self-styled Commander in-Chief Paresh Baruah, met at the historic Rang Ghar - an amphitheatre of the Ahom royalty in Assam's Shivasagar town and founded the ULFA. It was then Rajkhowa was made the Chairman of ULFA to spearhead the liberation in the formation of an independent homeland.
Rumours were afloat about the arrest and deportation of these 'top terrorists' of NLFT, NDFB, ULFA since 28th of Nov 09. Since then security agencies in Tripura, (Gokul Nagar) was flooded with enquires from both print and electronic media. But, there has been no confirmation or otherwise.
On 2nd Dec 09 when the Home Secretary of Bangladesh who is in India as a prelude to Sheikh Hasina's visit, when queried by the media nonchalantly replied, "I am not aware about any such arrests since I am away from my country". Even our own Home Secretary, Mr GK Pillai on 02 Dec 09, expressed his unawareness of any such development or arrest other than arrest of two terrorists of LeT who masterminded the Bangalore serial blasts.
Rajkhowa has been on Interpol Red Alert notice and is one of the most wanted terrorist for having masterminded every attack in the past 30 years in the NE region. Ironically, this dreaded terrorist is a son of a freedom fighter!! The serial blasts at Guwahati on 30 Oct last year killing 91 people and injuring more than 200 and the blast on 06 Apr 09 prior to the visit of Finance Minister Mr Pranab Mukharjee in which six people were killed have been master minded by Rajkhowa and carried out with close cooperation of NDFB.
Reacting to the speculated arrest of Rajkhowa and other top leaders of NDFB, ULFA & NLFT, security experts of NE like Wabir Hussain and Dr Mahroof Raza have said, "Bangladesh has surely stepped up the heat against anti India militants based in that country and it is not surprising to hear about Rajkhowa's arrest".
Another security analyst, Indira Goswami, who acted as a go-between ULFA and the Central leaders is not too optimistic after the arrests of these leaders and stated, "Rajkhowa & Raju Baruah's arrest cannot bring permanent peace to the region until the elusive Commander-in-Chief (Paresh Barua) is brought to India for negotiation'.
Significantly on 2nd Dec 09, Mr P Chidambaram in the Rajya Sabha said, "we can talk peace to the insurgents but not to the terrorists". On being further querried about peace talks with ULFA, he stated 'we are ready to talk but only when they (ULFA) abjure violence'. He also added that he will be giving a political statement about peace talk very soon. All these statements are significant development and a precursor to a new political relationship between Mr Manmohan Singh's and Sheikh Hasina's govts.
The arrest of top leadership of ULFA, NLFT & NDFB by Bangladesh Govt and handing over to the Indian Govt is certainly a significant development in the foreign relationship between the two neighbouring countries. There are compulsions for Bangla Desh for taking pro-active actions against anti- India militant outfits camping in that country. With the arrest of these leaders, ULFA, NLFT & NDFB may be forced to come to the negotiating table and 'talk peace'.
This development is without a doubt will be a harbinger of peace in the North East region and Assam in particular. But the action of BanglaDesh government of handing over such leaders to India is not only a welcome step but will surely make other militant outfits taking sanctuary in other neighbouring countries think about their future in alien land.
---
* Robert Lanky writes to e-pao.net regularly. The writer is a freelancer based in North East India and can be contacted at robertlanky(at)gmail(dot)com
This was webcasted on December 07th, 2009.
---
* Comments posted by users in this discussion thread and other parts of this site are opinions of the individuals posting them (whose user ID is displayed alongside) and not the views of e-pao.net. We strongly recommend that users exercise responsibility, sensitivity and caution over language while writing your opinions which will be seen and read by other users. Please read a complete Guideline on using comments on this website.