Humanity During Crisis

Anil *
If there is one thing I have learned from my studies in social work, it is that: "Injustice any where is a threat to justice every where." (Said by : Dr Martin Luther King Jr.). We live in an age of crisis.

One crisis follows another, and even when there is some kind of peace, it is a troubled peace with fear of war and preparation for war. Presently we are all entangled in the mesh of history and can not escape the consequences of past evil.

The current situation in Siroy has brought about many emotions from both sides of the conflict, but one question is critical: whom are we arguing for?

While political debates most often get us nowhere but deeper into the sea of hatred and are no more than a blame game, it becomes increasingly important to shift the discussion on to the most important issue : humanity.

In the context of North East many innocent lives have been lost to a battle which is presently Nagas versus Nagas. Even though the cease fire is in effect, very little has changed for the Nagas. Our top political leadership of the state is thanking the Warlords for keeping quite and not shedding blood since last two months.

But the latest situation in Siroy, where approximately 30-40 NSCN (IM) cadres are holed up, and security forces have laid a siege since 19th Jan, is of great concern. Many organizations are making a hue and cry over the situation and are also worried about the plight of the people.

It seems that the senior leadership of NSCN (IM) is not bothered about the cadres who are confined in Siroy. They have been left at the Mercy of God and probably in the name of sacrifice.

Reports published in various national and local dailies elaborates that : Even after the truce with the centre that was limited to Nagaland state, the NSCN (IM) maintained three camps in Manipur.

The NSCN (IM) camp at Siroy, best known for the exotic lily despite opposition from the security forces. It also seems that Abduction of Assam Rifles Jawans, a month ago, and the outfit's unwillingness to admit its mistakes led to the stalemate.

The author while going through the various media reports and digging out reports from Siroy finds that situation is becoming worse day by day, even though the head of the CFMG and senior leadership of NSCN (IM) are telling that it is likely to be resolved very soon.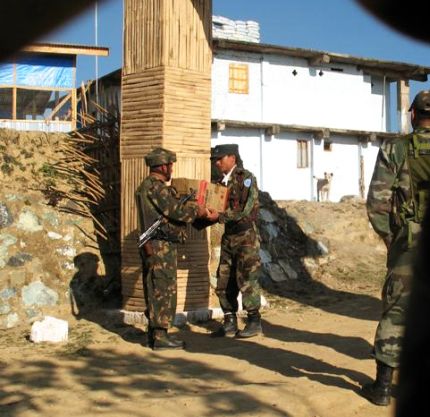 Picture Courtesy: Anil
It has come to the light that when the organization was celebrating its 29th Raising Day on 31st Jan, the cadres who are holed up in Sirohi were given food and water by the Assam Rifle Jawans on the name of humanity, in the crisis. The gesture of restraining them selves from getting into a bloody clash and serving food to the poor, low rung cadres who are under the siege was well appreciated by the people.
Assam Rifles have already made it clear that there are no camp other than those three camps which are taken to be note of in Manipur. Hence they will not let NSCN (IM) establish any other camp as per ceasefire grand rules.
In fact, the building occupied by the NSCN (IM) cadres is a State Tourist Bungalow under construction. Mr P Chidambaram, the Union Home Minister, who is considered as no nonsense man, has made it very clear and has taken a tough stand, stating that the cease fire with NSCN (Isak –Muivah) had gone on for too long.
His ministry officials has also said that the outfit has a tendency to blow small issues out of proportion. "In Siroy they were allowed to leave with their weapons but now asking us to provide them a camp". (Report published in one of the local dailies on 31st Jan 09).
Having gone through various reports we should appeal to both parties top leadership and their actual people who are on ground to maintain peace and tranquility in the state.
Political mileage/personal ego should not come in the way of peace and tranquility of the area and the interest of populace should be of paramount importance.
Finally, in the light of Dr Martin Luther King Jr. we all must see the suffering of people at Siroy and make an effort to help them by convincing both the parties especially to the cadres who are made sufferer at Siroy as well and not blaming only the authorities who have put the siege as their duty but still having courage to show humanity even during crisis.
---
* Anil contributes to e-pao.net regularly. Your views are welcome to anil(dot)tripsy(at)gmail(dot)com
This article was webcasted on February 10 2009.
---
* Comments posted by users in this discussion thread and other parts of this site are opinions of the individuals posting them (whose user ID is displayed alongside) and not the views of e-pao.net. We strongly recommend that users exercise responsibility, sensitivity and caution over language while writing your opinions which will be seen and read by other users. Please read a complete Guideline on using comments on this website.