Fire the Cease Fire



Geoffery *



"Whenever a separation is made between Liberty and Justice,
Neither in my opinion, is safe." - 'Edmund Burke'

Ceasefire means 'Truce' to end violence. The sequence of ceasefires commenced with NSCN (IM) entering into an agreement with GoI in 1997. Number of such agreements with various other outfits (NSCN (K), UPDS, ANVC, DHD etc.) followed the suite. NDFB has entered into a more akin agreement i.e. Soo (Suspension of operations).

Literally speaking these agreements mean that these outfits shun the use of weapon, stay in designated camps and stay away from factional fights, kidnapping, extortion, societal violence etc and contribute positively to the society. Not withstanding the negative contribution of the outfits that have not entered into such agreement those who have are no less.

Despite initial hesitation, Manipur Govt. has also decided to go in for ceasefire agreement with UG outfits operating in the state. Perpetual efforts of ceasefire agreement with ULFA have failed.

To a thinking person; these agreements mean UG outfits have come over ground. It means peace, development, prosperity and end of violence. But, has it been achieved? Is the self feeding spiral of mis-governance fuelling violence or vice versa? All and sundry need to find an answer to fire the ceasefire.

First question is partially answered by the facts. After these agreements, there is semblance of peace and prosperity but far from satisfaction. Statistics by institute of conflict management reveal that overall violence related fatalities are on decline in the NE.

Now the second question, former part is more true then the latter. What do we expect? When there is an established political & UG nexus for mutual convenience? When a chief Minister of a state, during budget speech (2006) resignedly says "It is not possible for any government to prevent extortion completely"?

When erstwhile surrendered cadres BPPF (H) hold the key to power in Assam? When NSCN (IM) has issued diktats to bureaucrats and local tribes with impunity and made the affected parties kneel & plead? When elections in South Assam are postponed due to well established nexus?

Numbers of voices in the media call these states as failed states. Responses of the people to unending violence are a futuristic warning of desperation. Lynching of ULFA caders in Sivasagar (Jun 07), Jorhat (01 Oct 07) and NSCN (IM) cadres in Tuensang (Sep 07), people's vehement voice against the violence and absurd acts of judgment by the over ground out fits (Jalukie Jangdi and Intagaki Reserve Forest case) in Nagaland, Truckers & Education staff in Manipur going an strike against unethical demands of outfits etc are recent examples Readers can draw their own conclusions.

To make the ceasefire more productive the players who can contribute are; Centre Govt, State Govt and the common man. Out of the three, state Govt has to play big. The leaders need to leave exclusivist tribal leanings behind. The leaders need to stop dividing the society for power games they play.

The leaders need to stop looking to wards the mainland for everything that goes wrong and start identifying their own responsibilities. The leaders need to make a paradigm shift from rhetoric to action. The leaders need to synthesize history with contemporary needs. There is need to improve the response capacities of law and order machine and also reduce their response time (Tripura has achieved to some degree).

Lack of development is one reason for the existing state of affairs. But as per union minister of commerce, Jairam Ramesh "On a per capita basis, each state of NE gets much more than any other state in the country but nothing is visible on ground". What happens to the funds or the fund flow is a pollution of democracy?

People are not wrong who go on Blockades, Strikes and Dharnas either on developmental issues that they so well deserve or corruption of state machinery that needs reining. Losses due to these should not be mere statistics but taken note of.

To quote figures in Manipur, there had been 42 days of Bandh & 77 days of Blockade in 2006-07 till 31-1-07. Each day of bandh and blockade has costed the exchequer, Rs 6.88 crores and Rs 3.01 crores respectively totalling to whooping Rs 520.73 crores.

One thought to fire the ceasefire is: Include a clause for cadres to deposit weapons for the tenure of agreement and assign some productive unit to be manned & managed by the outfit (not linked to rehabilitation of surrendered). Let them contribute to the society economically rather weaning away the same.

Let them contribute to the positive thinking of the youth. Let them contribute to the saving of lives of young cadres who are used as cannon fodders or die of malnutrition or sickness in jungles etc. As per statistics from 2001 to 31 Mar 2007 there had been 5373 violence related fatalities. Out of these 2943(55%) are militants (obviously the younger cadres). Let these outfits not be above the law of land.

Exclusivist tribal identities and attendant insecurities of various tribes need to be impartially understood by the elected leaders of the state and represented at the centre cohesively.

Ceasefire Meeting at Dimapur on 31 Jul 07 is a historical signpost lending the talks an inclusive dimension. It will not be wrong to quote ex governor of Nagaland H.E. Shymal Dutta who said "Though I dealt with North East desk before my retirement but my understanding of Nagaland and neighbouring states is more realistic and better now than it was earlier".

Now the society. More is required from energetic & adventurous youth who need to explore their stamina & enterprise. Youth here does not lack anything but guidance & moral support of elders and NGOs. It was very encouraging to read in Sangai Express (23 Sept 07) about Kanglei Economic Development Organisaiton (KEDO) in Manipur. Its mission is to spread the message of self dignity & dignity of labour amongst the youth?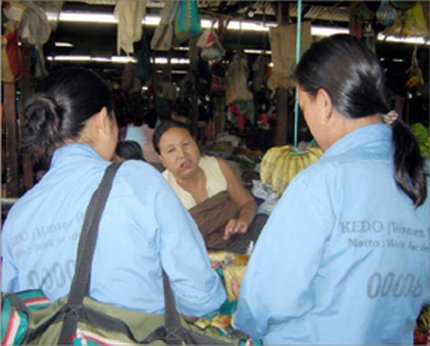 KEDO girls doing a round of the market place



Following KEDO Boys, Girls have also started the work, who sell items of daily use to the women vendors in famous Khawairamband Bazar. Each girl earns upto Rs 200/- every day. These girls deposit rupees ten every day for something big in future. Remember! small opportunities are often the beginning of big enterprise. Some of these girls are educated, some are pursuing studies and some are sports persons of national level.

One of the girls told the media "We have come out to work, not because we do not have anything to do at home. But to show; that there are lot of works that can be done and earn money outside the home if one is determined". She further added "In order to bring development in our society, we the youth should work tirelessly. Only then we should be able to make decision of our own".

Wow! What a positive and adventurous outlook to emulate and stop lamenting? Positively engaged youth will be idolized and bring lasting development.

To make cease fire deliver results everyone need to identify his onus to fire the ceasefire lest it's too late.


---
* Geoffery contributes regularly to e-pao.net The writer can be contacted at jaey_geoffery(at)yahoo(dot)co(dot)in . This article was webcasted on 10th October 2007.



* Comments posted by users in this discussion thread and other parts of this site are opinions of the individuals posting them (whose user ID is displayed alongside) and not the views of e-pao.net. We strongly recommend that users exercise responsibility, sensitivity and caution over language while writing your opinions which will be seen and read by other users. Please read a complete Guideline on using comments on this website.