Child Choose to go Home

Joy Shaikhom *
"It's the well-behaved children ... that make the most formidable revolutionaries. They don't say a word, they don't hide under the table, they eat only one piece of chocolate at a time. But later on they make society pay dearly."
- JEAN-PAUL SARTRE, Dirty Hands

Every child put their ear open for the last bell of the school so that they came out of the class and went to home to play. Every child want to go home after school, some narrate the story to their parents what has happen in the class and some may go to play without even bothering to eat anything.

In fact these are also call the life of parents. I remember my childhood and nursery rhythm. I always ask for one Rupee note or coin whenever I go to school. I never take two Rupees even though my parents give sometime by mistake.

The only thing I know about currency is that I can buy something to eat by that one rupee. I never know I would get more by two rupee until I learn my counting of currency in 1st Standard, so like wise every child are innocent. I even forget to eat after school, I run out with my school uniform to play, I used my uniform as towel or hanky, sometime I do forget to wear by thrill to go to play.

My school bag is bigger then me, how much effort I take to carry, sometime I thought my height is not so good must be due to that school bag. I had no fear on the way, my parents will only wait me in front door of my home, so that they can at least take off my uniform before I run for play, but this is not the situation at present scenario. Their arise the fear in the minds of both parents and child until the child reach home.

Trafficking a child in the name of war is an act of coward. A soldier is pride word to be term but its practice in recent days is an act of self defeated inhumane, weakness of that particular organization. The world after so many convention on child right like Geneva Protocol of 1977, International Convention On Child Right of 1989, Rome convention on Child Right of 1998 all have given minimum 15 years even to recruit child soldier who are willing to join the armed forces. But the present lifting of children against the children will is nothing then acts of terrorism. A soldier must be saluted not to be fear but the recent practice is hated to every individual.

Who ever may concern, the practice is going to lead them an impression of self defeated, an act of coward, not educated, and a decision of illiterate, a vision of narrow minded, a team of coward, a group of failure. Work like human being not like an animal is the echo of every corner of the house.

The world today is fast, acting like going back to past will definitely leads a place of hell. The Information revolution and its fast outdated before we could response make a world taking into different way from humanities. A new technology came up before we could response the existing.

Many a time a technology is outdated even without knowing what is that tecnology. The building are taller day by day but the human temper are shortened day by day. The road are widen but our view are narrowed down, time has come for fast food but of slow digestion, we have faster way of transport but we never reach on time, we have better communication facilities but we never had the time for each of us, science take us to the moon & space but we hardly visit our next door.

The medical science is wonderful but newer diseases growth everyday. The number of security personnel intake increase, the fear rises.

The recent practice of Government by hiring of special police force to protect the villages is also a wrong step and is a part of adding oxygen to already burning fire. It only increases the number of gun men operating in the state where every individual get one gun men for protecting and the said gun men get another gun men to protect him.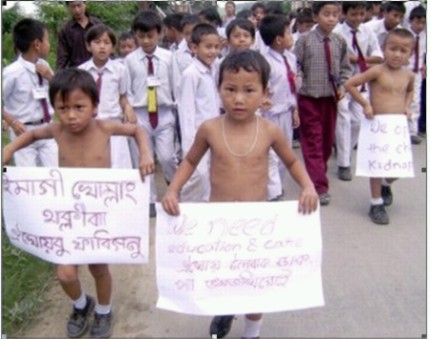 Kids protesting against Child trafficking
Life has started rotating on its axis, every child get feared that anytime they may be kidnap by our so call social responsibility or social organization group. The parents were panic to send their child to school or colleges.
The world is at 3G revolution, so making revolutionize by force means without the will for it, may lead no where. Though Gun is a part of technologies revolution, it doesn't help for any peace restoration or in educating the masses. The history has proved that proper education is also participation of war for the country.
Take the example of Vietnam War, where Vietnamese even given importance to education during the war itself which lead to win against USA. So revolution will automatically arise when people have well educated. Revolution doesn't mean weaponization of guns and bombs. Revolution is getting better then today. So any action which may not lead a good result then today is not a part of revolution.
Uplifting an innocent child, for the unwanted service of the social organization is not a right step. Organization is part of the society and we exist in human society. Today is the era where human being even protects the right of the animal which is part of our ecosystem.
So any organization who did not even understand the protection of child right is no longer a human organization, it's a part of insane, dirty or cruel practice. This organization would only bring the cannibals way of life.
It's the duty of any social organization to protect every right of a child, the right to life, the right to be with family and community, the right to health, the right to the development of the personality and the right to be nurtured."
"
The revolution you dream of is not ours. You don't want to change the world; you want to blow it up
." -
JEAN-PAUL SARTRE, Dirty Hands
---
* Joy Shaikhom writes to e-pao.net regularly. The writer can be contacted at j_shaikhom(at)rediffmail(dot)com . This article was webcasted on September 18, 2008.
---
* Comments posted by users in this discussion thread and other parts of this site are opinions of the individuals posting them (whose user ID is displayed alongside) and not the views of e-pao.net. We strongly recommend that users exercise responsibility, sensitivity and caution over language while writing your opinions which will be seen and read by other users. Please read a complete Guideline on using comments on this website.