Biblical God and Violence in the context of Naga National Movement
- Part 2 -
ZK Pahru Pou *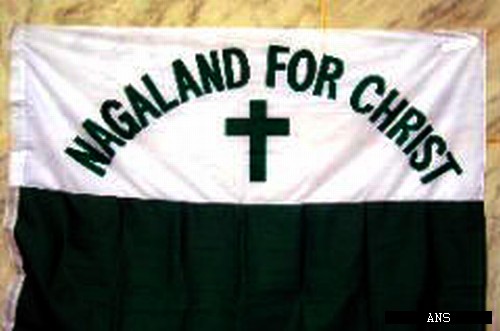 IV. Achan Syndrome (Joshua 7) : In the Book of Joshua we read that the people of Israel were able to defeat and capture Jericho without any difficulties. But when they attack the city of Ai, they were defeated with 36 of their warriors killed. The defeat was contributed to the disobedience (sin) of the man called Achan.

And Joshua and all the Israel with him took Achan the son of Zerah, and all the silver and the mantle and the bar of gold, and his sons and daughters, and his oxen and assess and sheep, and his tent, and all that he had; and they brought them up to the Valley of Achor. And Joshua said, "Why did you bring trouble on us? The LORD brings trouble on you today."

And all Israel stoned him to death with stones; they burned him with fire, and stoned them with stones (Joshua 7: 24,25). After murdering Achan and all his family members (Wife included?) and all their properties destroyed, Israel captured the city of Ai. What a great relief! The lesson is clear: it is better for a bad woman or a few bad people die rather than the whole society suffers because of them. I am sure that this is a great lesson that the Nagas have learnt from the Bible. For instance, a tape recorder cassette called "My Blood For the Nation" produced by one Naga underground group, repeatedly justifies factional killings on the basis of Achan's sin—whose sin blocked Israel to achieve their goal. This is happening in the world even today.

We see USA (Bush group)—coming to Afghanistan to kill Talibans and to Iraq to kill Saddam Hussein and his associates because they are bad people in the eyes of the US. The US portrayed the Talibans, Osama Bin Laden, Saddam Hussein and the like as 'Devils' or 'Satans' to the world and justified their killing activities.

Friends, let us go back to Achan story again and search the indisputable sin of Achan that cost him his life, his children and all his properties. Achan's sin is very clear as he himself confessed: it is the sin of accumulation of wealth: the silver, the mantle and the bar of gold. He was a rich man with oxen, asses and sheep in his property. Probably he acquired his wealth through unfair means. That is the sin of Achan. Accumulation of wealth at the expense of others is against the will of God. One cannot serve both God and mammon. Today, materialism is a great threat not only to our spiritual life but also to the world peace and security.

When Noam Chomsky was asked what he thinks about the US going to war against Iraq. Without any hesitation he replied, "Iraq has the second largest oil reserves in the world; it is right in the midst of the major energy reserves in the world. The primary goal of US policy since world war II is to control what the State Department called "stupendous source of strategic power" and one of the greatest material prizes in history" (See "Chat with Noamsky" in The Morung Express, Dimapur, Sunday 26 July 2006). The US intervention in Libya (2011) is another glaring example of how imperial powers try to control over other resources. Libya has the finest crude oil resource in the world which does not require intensive refine process.

Materialism has lured many countries and people into war. Achan was murdered because of this disease. But today Achans are prospering and killing and murdering the innocents in our society. Devilish-look Saddam Hussein was hanged by self-professed born again US President George Bush. Is this US President having an angelic face with a satanic heart? Our society is no different. Our political leaders are living a luxurious life at the expense of the public. Some of our underground leaders have amassed wealth in the name of bringing freedom. We have many Achans in our society in the form of corrupt contractors, Government officials who enjoyed their lives by sucking funds meant for the poor. If Achan was stoned to death because of his sin and if his sin is the accumulation of wealth, and if accumulation of wealth displeases God, then we need to challenge the top order of our society today. Until people repent from materialism there will be violence.

V. Revenge Syndrome: "Your eye shall not pity, it shall be life for life, eye for eye, tooth for tooth, hand for hand, foot for foot" (Deuteronomy 19:21). This notion has often been denigrated as the law of revenge or retaliation. This is unfortunate. The main purpose of this law is to protect the weak in society because obviously the strong do not need protection from the weak. In the absence of such restraining law, antagonists would fight to the death, in a never-ending spiral killing and destruction (See "An Eye for an Eye" in The Morung Express, Dimapur, 22 July 2006). Many of our people failed to see the importance of life. This law shows that life is very precious and must be protected at any cost. It is a stern warning sent out to those who are trying to harm life or destroy life. This law, therefore, cannot be used by any country or militant group to justify killing.

VI. A Search for better understanding of biblical messages: It is disappointing that many of us have the tendency to interpret biblical teachings in negative sense and use them to justify in destroying life. We must dismantle this mentality because our God is not a God of destruction and death but of life. In our quest for God of life, I suggest the following points to re-read in the light of the syndromes that we have discussed above:

(a). We need to be very clear that the God of Abraham is not only the God of Abraham's progeny—the nation of Israel tribes. Rather, God is God of all people those who are willing to give up their oppressive ways of life. God call Abraham to uproot himself from a comfortable life in the city and asked him to become a nomad. His faith is to be seen in that renunciation of oppressive and exploitative ways of urban life and in the choosing of a less oppressive nomadic life style (See Dhyanchand Carr., op.cit., p 13). And through his faith, Abraham will become a blessing for all nations (See Genesis 12:1-3; 22:17,18). Thus, the God of Abraham is a universal God and not the God of a particular tribe or nation.

The God of Abraham is the God of the Nagas as much as She is the God of the Israel and other nations. The Gentiles don't have to become Jews in order to receive God's blessing. Likewise the Nagas don't have to become Israel to receive God's blessing. It's a pity to see many Naga preachers desperately trying to portray Nagas as the Second Israel and reform our society within this exclusive claim. We feel we are more special in the sight of God than others. We are wrong. While trying to do so, the Nagas have isolated themselves from other communities (for instance the Meiteis, Kukis, Assamese, Mizos, Indians, etc). We must recognise that all people are children of God and work for peaceful co-existence of all communities.

(b). The biblical story of Exodus needs to be re-read in our Churches today. The fleeing Hapiru (Hebrews) have been replaced by the idea of the Chosen People: first by the Israel and later by the Church. And now by people like the Nagas! The idea that the people of Israel should be regarded as a model community of the oppressed is long forgotten. Many biblical scholars were of the opinion that Israel was born from the fusion of various groups into a tribal covenant with Yahweh. These groups of "Hebrews" included escaped slaves from Egypt (probably forming the majority) as well as exploited peasants in Canaan itself who rose in rebellion against oppressive Canaanite city-States.

The twelve tribes are not bound together by ethnic ties of kinship and blood. The various ethnic tribes came from different ethnic origins (See Joshua 2, Joshua 8: 30-35; 24: 15). They were united into a tribal league, which then uses kinship ideology, by the covenant with Yahweh. They made a conscious attempt to form an alternative society, without king and court and capital and standing army, a decentralised federation of tribes. God helped them in their fight against injustices and liberated them from the oppressive power of the Canaanite Kings. (Bastian Wielenga, Choose Life (Ban-galore: SCMI, 1994), pp 74-76; Also see Bastian Wiele-nga, It's a Long Road to Freedom (Madurai: TTS, 1978, 2nd edition), pp 141 ff. Norman Gottwald, The Tribes of Yahweh (California: SCM Press, 1975), pp 191-233; and Dhyanchand Carr, "The Poor God, "op.cit., p 14).

(c). Rainbow is a Symbol of Life (Genesis 6-9). The flood story tells us that human sin escalates to a point of no return. The possibility of repentance and forgiveness of sin became remote. God feels regret and becomes frustrated with her own creation. This frustration led to the destruction of life by flood. Immediately after the flood, She seems to realise that evil is part of human nature (John Samuel, "Towards the Fullness of Life: Between the Flood and the rainbow", A Seminar Paper presented at TTS, Madurai 2004).

This realisation made Her to make a covenant of life, "I will never again curse the ground because of man's heart is evil from his youth; neither will I ever again destroy every living creature as I have done…. When the bow is in the clouds, I will look upon it and remember the everlasting covenant between God and every living creature of all flesh that is upon the earth (Genesis 8: 21; 9:16).

Noah story describes the possibility of a thin thread of continuity, the continuity between life and death. Flood brought death. But the rainbow brings life. Although God has made a covenant through Rainbow that She will never destroy life again, the Nagas are using this symbol in their Flag and killing each other. This is an insult to the God of life.

God created humans with intelligence and free will and enlisted them as Her partners in caring for one another and tending creation. However, this opportunity and freedom has been misused and wantonly abused many times over. In spite of that, God seeks to have fellowship with humankind, to be in constant companion, to inspire and empower them to live in accordance with principles of justice and love so that life flows towards its fullness. Jesus reaffirms this commitment when he said: the thief comes only to steal and to kill and destroy; I came that they may have life, and have it abundantly ( John 10:10).

Conclusion : Killing continues in our land although we called it Nagaland for Christ. The Naga Churches have failed to hold back violence. The God of life has been defeated by the God of destruction and death in our land. We must be very careful with our preaching/teaching in our Churches today. We must not preach an exclusive message that divides people into "WE" and "THEY". We must give up presenting God as the One who works only for a particular tribe/nation. God loves everyone without favouritism and particularism. God always stood with the oppressed and the down trodden.

If our understanding and presentation of God as King, Ruler, Almighty, or Lord who rules the world with power from above is resulting to increase violence and domination, then we may dismantle those military images of God and replace with the images of suffering Messiah or Servant or the Human One. We may also try to understand God as Mother, Friend and Lover as suggested by Sally McFague—that brings God nearer and more intimate in our daily lives. This may at least help our people to understand God in our daily lives and love one another. Or if our people will not listen to the still small voice of God and be good, they need to listen to the Wisdom of Serpent, which helped Adam and Eve to know what is good and evil, because without any sense of good and evil, humans will continue to destroy life.

- concluded ...


---
* ZK Pahru Pou wrote this article for The Sangai Express. The writer can be reached via zkpahr(at)gmail(dot)com
This article was posted on August 07, 2011.
---
* Comments posted by users in this discussion thread and other parts of this site are opinions of the individuals posting them (whose user ID is displayed alongside) and not the views of e-pao.net. We strongly recommend that users exercise responsibility, sensitivity and caution over language while writing your opinions which will be seen and read by other users. Please read a complete Guideline on using comments on this website.