Biblical God and Violence in the context of Naga National Movement
- Part 1 -
ZK Pahru Pou *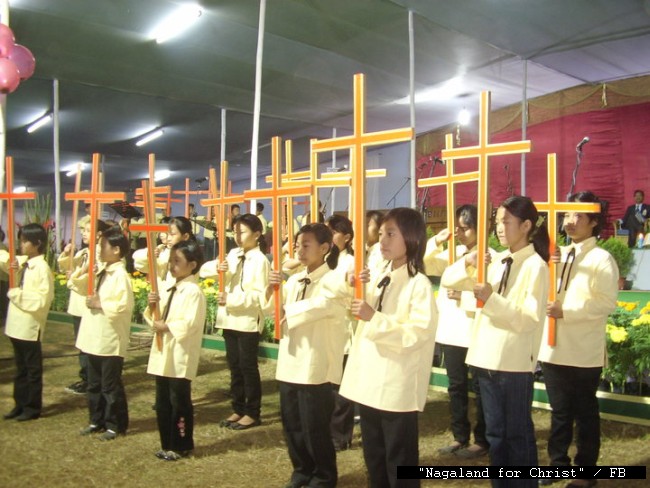 Introduction:

We are living in a world of increasing violence where life seems to have little or no value at all. Those who destroy life ought to be condemned but they appear most often and most gloriously in the history books. Although Nagas do not have written record of the past history, our traditional folksong and folklore has a great deal of praise for warriors who had killed a great number of people. They were praised for their act of skillfulness and bravery in killing others.

Many of our traditional dances and games came into existence in accordance with the tactics of headhunting. People have not yet really learnt to live a civilized life if civilization means anything that enhance life or making life possible to live to the fullest. If you visit Commonwealth War Cemetery such as the one we have in Kohima and Imphal, the carefully composed words inscribe in epitaphs and stone-slabs will deceive you to think that all people who died in wars were great people who sacrificed their life for the betterment of a society.

Prime Ministers, Presidents, Ministers, and other Dignitaries visit these Cemeteries and pay great homage to the death person as Great Heroes although in fact they have been killed while trying to kill others! Is this not an act of glorification of killing? It is unfortunate that ours is a society where the blood of killers (men) shed at wars/conflict is sanctified and glorified, whereas the blood of life (women) shed for reproduction is looked upon as a thing of shame, impure and even polluting.

Then Christianity made headway into the Naga country with all the dominant images of God developed during the imperial power such as Ruler, Lord, Master, Supreme and great Warrior. They are all patriarchal, political and military images. These images have made Christianity a religion of, and for the ruler, elite and the upper class (See editorial note of Wati Longchar, in The Journal of Theologies and Cultures in Asia, 2006, Vol. 5, ETC, Jorhat, 2006.) The existing patriarchal structure of the then Naga society was thus strengthened.

Christianity seems to have justified the Social Darwinism ideology "survival of the fittest" where the poor, the downtrodden, the weak, and women are marginalized in the society. Sadly, now, the Naga people found something valuable in Christian teaching - the biblical images of God to justify killing other people and to dominate nature as well. The Naga Churches/Preachers are answerable for spiral violence taking place in Nagalim to a great extent because they are providing ideological basis that justifies violence. This has come through wrong understanding of biblical text/message (misrepresentation of God) which leads to wrong action.

The effect of Christian teachings on the ongoing violence.

In a way, the teaching of Christianity failed to produce a favorable upshot on the Nagas. The early missionaries probably entered Naga country with good intention: to give them God of life or in other words to save the lost souls to Christ. With the introduction of Christianity, the culture of headhunting was abolished. The Gospel in those days seemed to be very simple in its presentation: Jesus is coming soon. If you believe Him, you will go to Heaven (a place of forever joy), if not, you will go to Hell (a place of eternal torment).

By preaching like this, the early missionaries might have thought to themselves that they are saving lost souls to Christ. This simple yet somewhat threatening message became the easiest way to convert the Nagas to Christian faith. Indeed, this teaching pacified the once fiercest headhunter tribes of the Nagas and became their guiding force for many years. But what was lacking is the message of the love of God which binds all people together and make possible to live together in harmony and peace.

Good intention is not enough. To achieve the desired goal, social analysis is a must, and without that it is like a gold ring decked in a pig's nose. Since love message was missed out from the presentation of the Gospel, it is prone to misuse. With the changing of time, Naga nationalism emerges. The Nagas found it ineffective the message of Heaven and Hell to achieve their political goal. Now the message of Heaven and Hell gave way to a political message: God as the Political Liberator. The Nagas brought down the otherworldly messages of the early missionaries down to earth and interpreted it in terms of political freedom here on earth. Using various biblical passages, the Nagas have effectively justified killings be it Indian Armies or their own brothers or sisters.

The Exodus story of the Israelites was taken as a valid paradigm for and by the Nagas to assert their right to political freedom. Many preachers and prophecies speak of the Nagas as the "Second Israel", "Chosen People", "Holy Nation", "Called out from darkness" and so on. Rainbow – the covenantal symbol between God and the whole creation – was chosen as the emblem of Naga National Flag.

The Naga National Council commented that "the Rainbow Flag of Nagaland is the great manifestation of God choosing the Nagas by Himself and leading the Nation". (See "Sectarian leaders should accept the Divine truth says NNC" in The Morung Express, Dimapur, 24 July 2006). The Naga Christians have proclaimed Nagaland For Christ probably to seek God's help in their struggle for political liberation. Today in the land of God's Chosen, there are 30 Theological colleges, 2606 Churches and 700,000 baptized members. 90% of its population is Christian and it has a commitment of sending out 10,000 missionaries. (See V.K.Nuh, 165 Years of Naga Baptist Churches (Kohima:CNBC' 2006), pp 121, 221,226.)

In this Christian country (Nagalim) (Nagalim is used to mean the whole Naga inhabited areas inclusive of outside Nagaland State), there was and is incessant bloodshed and killings. Those who perpetrate violence continuously justified themselves or its act by using biblical texts—dragging God and Her name unmindfully to suit their action. Our local Newspapers are filled daily with statements and counter-statements from our underground groups. Our Churches are unable to rein in the militants.

Many of our people thought that whatever is done is done on behalf of the people and would ultimately lead to freedom. Sadly, it does not work out as desired. The militants invariably become totally insensitive to human suffering. The way they exercised power was through terrorising the people. We have freedom to open our mouths only to eat and not to speak. Indeed many of the so-called freedom fighters who are supposed to be our protectors become our own oppressors.

Many Christians have supported this type of violence to continue by condemning jihad (just war) of the Muslims but finding no reason to condemn crusade (holy war) of the Christians. Why this malaise of spiral violence continues? The unabated violence taking in our place, I feel, has a great deal with our people's understanding of Biblical God as the One who permits Her (Here God is identified with the terms "Her", "She", "Herself", instead of "He", "Him" or "Himself") followers to use violence to achieve their goal. If that hypothesis is correct, then we need to challenge and change it, because our God whom we worship is the God of life and not of destruction.

Syndromes

Let us see some of the Biblical passages which are frequently idealised by many Naga Christians and Underground groups to justify killings. I called those romanticised biblical passages as syndromes because they are being used as an ideology to kill one another and thus spoiling our society today.

I. Chosen Race Syndrome : This syndrome believes that Yahweh support particularism of Israel. She was identified as the God of the tribe—the God of Abraham, Isaac and Jacob. She fought for Israel and entered into a marriage covenant with Israel on Mount Sinai. According to John Hagee (Founder and Pastor of the Cornerstone Church in Texas, USA), "God watches over Israel as a protective parent hovers over an only child…The nation of Israel was created by sovereign act of God…Prosperity or punishment depends on how we treat Israel, because the Jews, as descendants of Abraham, enjoy heavenly favour" (Quoted by Yoginder Sikand "Hell's Angels" in Communalism Combat, Dec. 2005, pp 31).

Pastor Hagee also believed that Christians must defend, by every possible means, the Jews and Israel, and wage war against the armies of those who are opposed to God's Chosen Race. Only then can they be saved. This acute statement of Pastor Hagee is prone to receive criticism as it allows killing and bloodshed. Yoginder Sikand commented thus: "Christian Zionism is a recipe for global war and Christian imperialism. Moreover, it reflects a total lack of genuine spirituality, seeking to reduce the notion of God into a petty whimsical and racist dictator who willingly urges the slaughter of innocents in order to protect the expansionist designs of his supposedly "Chosen Race" (Yoginder Sikand …Communalism Combat, Dec. 2005, pp 31,32)

The idea of the Chosen Race was first replaced by Israel and later by the Church. The Church remains pro-Zionist. The syndrome of Chosen Race continues to entertain the idea that God will not hesitate to use strong-arm to help God's chosen people. The Nagas, claiming themselves to be the Second Israel, believe in this Chosen Race syndrome. Hence, many Nagas see nothing wrong in killing others to fulfill their dream.

II. Exodus paradigm Syndrome : The Nagas, with majority of them as Christians, have chosen the biblical story of Exodus and conquest of Canaan as a valid paradigm for their political liberation movement. This syndrome also believed God as the One who authorised the use of violence. This endorsement is derived from the instance where God strikes down the first-born of all Egyptians and Egyptian livestock. Later, regular wars were fought with God leading the battles. Dhyanchand Carr, an Indian Theologian, said that Exodus model was a disaster and is theologically very defective for its Zionist moorings and it supposedly endorsed the use of violence, albeit legitimate violence of the oppressed, against the oppressors (See Dhyanchand Carr "The Poor God and the Poor of the World" in Religion and Society, Vol. 51, No.23, June-Sept, (Bangalore:CISRS, 2006), p 11). Without much reasoning the Nagas have bluntly used this model creating lots of problem today.

III. Sarah Syndrome (Genesis 16; 21:8-14) : Here we were told that Sarah took her Egyptian maid-Hagar and gave her to Abraham as a wife so that they can have children through her. But when she saw that Hagar was pregnant, she was deeply distressed. Problem arises between her and Hagar. Sarah blamed Abraham and invokes God judgment, "May the wrong done to me be on you! I gave my maid to your embrace, and when she saw that she had conceived, she looked at me with contempt. May the LORD judge between you and me (Genesis 16:5).As far as the narration is concerned, there is no reason to blame Abraham and Hagar for they did only what Sarah told them to do.

But when Hagar conceives a child, Sarah feels insecure. Sarah had committed a mistake. But instead of repenting she charged her husband and invoked God's judgment—expecting that God will be on her side. This syndrome reflects of appropriating God and using God's name anytime at one's own disposal. Whether we are right or wrong we want God to be in our side and be our supporter. For instance, during the Naga-Kuki ethnic conflict (1991-1992) in Manipur, I was told that many Poumai Naga women were crying and praying to God to strengthen the force of the Nagas and their weapons, so that the Nagas can shoot straight at the Kuki force without a bullet went missing the target.

The Kuki people might be saying the same prayer! What kind of faith do we have today? Do we believe that God will be on our side all the time? Is God whose God? Only of Sarah or also of Hagar? Only of particular factional group? OR a tribe? Or a nation? Is it right to invoke God's name to serve our own interest? Can we expect peace and reconciliation when the wrong doers use God's name to pronounce judgment on the innocents?

- to be contd ...


---
* ZK Pahru Pou wrote this article for The Sangai Express. The writer can be reached via zkpahr(at)gmail(dot)com
This article was posted on August 02, 2011.
---
* Comments posted by users in this discussion thread and other parts of this site are opinions of the individuals posting them (whose user ID is displayed alongside) and not the views of e-pao.net. We strongly recommend that users exercise responsibility, sensitivity and caution over language while writing your opinions which will be seen and read by other users. Please read a complete Guideline on using comments on this website.