NORTH EAST FESTIVAL BHOOMI
Dear Editor,

This is a personal account of the recently concluded NE festival in Mumbai. Tandem an NGO organized itís first North-East Festival "Bhoomi" at Cross Maidan, Churchgate from 5th Jan to 11th Jan, 2002.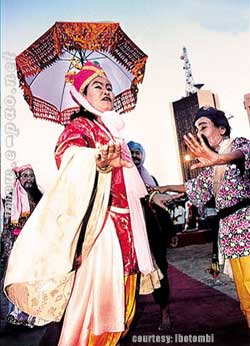 The representatives of the Seven sisters set-up stalls in thatched makeshifts. Me, my brothers Ben, Jim and friends all from Manipur were delighted that weíd see our state being represented in a city, where North-East means either Assam (for itís tea, Bodo and Ulfa) or Nagaland (for NSCN) the better known states from the NE. Somehow, the NE states have been prejudiced as a Jungle land with the inhabitants believed to be staying on tree tops and the markets and roads infested with prowling wild animals like Tigers and elephants?!! At first I couldnít believe my ears when an Editor of a well known IT magazine asked me in what type of houses people stay or whether people lived in houses at all!

Hence I believe that to reach out to the rest of the World, festivals are an important event, a window for the World to view our culture, art, food, customs and lifestyle. But Bhoomi was an insignificant event. It was rather disappointing to see how shabbily NE states were presented. The festival seemed to have been conceived in haste. First of all the entry fee (Rs.10) was very high and hence the attendance was very low hardly 1000 people must have visited in the weeklong event. And to think that Mumbai has a population of over a crore. ENTRY should have been free or nominal charge of Re.1. Secondly, there were far too few stuffs on display which I think was a waste. The handicrafts and handloom products were too expensive for the Mumbaiites to pick up stuffs of their liking. What is the use of such festival if our products is beyond the reach of the local people. It defeats the very purpose of the festival. Mere presentation and exhibition is not enough. Complete and correct representation is vital in a sensitive case which involves showcasing the entire state in a capsule.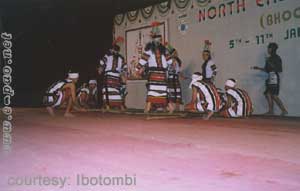 Visitors were greeted at the gate by two statues attired in traditional Manipuri danseuse. My chest swelled with pride. I looked around and decided to visit the stalls first. The first one I entered was obviously, Manipur. My reaction was that of utter disappointment. As I mentioned earlier the products were few and very expensive. I think we should not consider such festivals as a business venture, atleast of now. Since , what we need right now is a recognition. People from other parts of the country should know about Manipur, itís products and itís culture. Secondly, we need smart people to represent us at the stalls. We need people who can converse in English and Hindi, and explain to the visitors what each product is, how it is made, what is the significance of a particular outfit and also about the lifestyle and food habits. I could see the visitors confused since they couldnít make out a "Phanek" from a "Wangkheiphi". I could see the hunger in their eyes for information about this mystic land. Yet, they were faced by an indifferent, passive and reticent representatives. The stalls should have put up India map and pointed out Manipurís location. Photographs depicting our history, custom and tradition, wildlife, tourist spots, and achievements (as in sports and dance) should have been on display.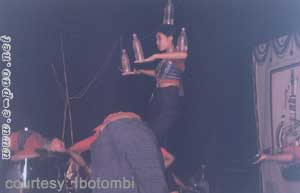 Then came the cultural dance programmes. Each state presented one folk /tradtional dance. The Riyang tribe from Tripura presented the most interesting and beautiful dance. The young and nubile maids brought out beauty in a simple dance. Kudos to them. I waited with bated breath for Manipuri dance. My heart skipped a beat when I heard the announcement of Manipuri dance. How excited I was! Not until a heavily made up mediocre (sorry but itís a fact) dancer presented a "Ras Leela". More disappointment came up when Sumang Leela group presented their act. First of all they were all atrociously dressed and their make-up made them look like wizards and witches. Their dialogues was inaudible since the mikes were placed high up. No efforts were make to rectify this on stage. Only ill-informed Mumbaiites could have tolerated such mediocrity. All of us Manipuris were fuming with anger as from where these jokers were picked up to represent our state. I could hear visitors commenting the festival as a "Faltu". Also, except Nagaland none of the states had a food stall. Here again, the festival failed since it would have been such an enlightenment to showcase our food habits. Afterall people here wonder what we eat. It would have such a wonderfull chance to show our healthy and down to earth cuisines.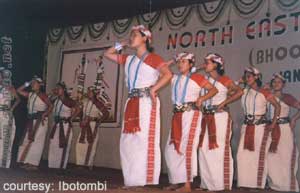 I would like to request the editor to please write a column in the local newspaper and request the cultural groups to regard festivals as an important event. I would also like them to screen the participants afterall people are going to judge the entire state by their representation. Whether it's the dances or the handlooms and handicrafts each category has to properly researched and packaged. Also we should not allow even NGO's to abuse their authority while organizing cultural events. They should show some sensitivity while trying to present NE states to other parts of the country. NGO' s just cannot show anything which according to them represents us. It is the people to decide what they want to show and not them. They should just be facilitator and not the ultimate authority.

Looking forward to more cultural festivals of NE and Manipur especially.

Thank you,

Emotionally and culturally
Mary Touthang
* Comments posted by users in this discussion thread and other parts of this site are opinions of the individuals posting them (whose user ID is displayed alongside) and not the views of e-pao.net. We strongly recommend that users exercise responsibility, sensitivity and caution over language while writing your opinions which will be seen and read by other users. Please read a complete Guideline on using comments on this website.