BSNL's Poor Service: Satisfaction of Customers or the Provider ?

Thanreingam Muivah *


BSNL tower inside the premises of a tourist house at Monkot Chepu village in Ukhrul District. To get a simple message delivered, how many times do you counter with the irritating reply, 'Message Sending Failed?'.

How often do you witness the text message, 'No Network Coverage' on your mobile screen whenever you try making a call?

To speak to the Customer Care Officer, how long are you put on hold despite the answering machine in a pleasing voice saying, 'Your call is important to us, you will be attended shortly?' Leave them for BSNL users to answer.

It was as late as the time when mobile had already been used by vegetable vendors in the mainland India to make a pity calculation that BSNL, the only State-owned mobile service invaded the region of North East.

In Manipur too, the introduction of mobile service was regarded as a great revolution in the world of communication. People ran pillar to post just to obtain BSNL SIM which was not entitled to everyone who was desirous of the same.

This happened not so long ago when SIMs were limitedly allotted area-wise in the State. That was also interestingly a time when people did not hesitate to pull out 1500 to 2000 bucks from their pocket for a black SIM in view of limited availability and lengthy period consumed in the process of application.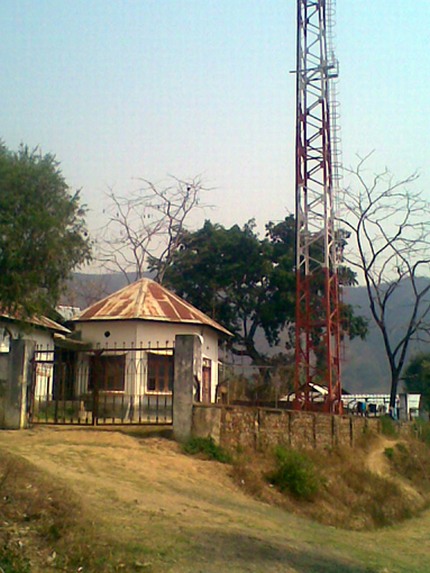 A BSNL tower inside the premises of a tourist house at Monkot Chepu village in Ukhrul district
But today with the emergence of many private mobile service providers like Aircel, Airtel, Reliance, Vodafone and what-not, the effort to get mobile connection has become much easier. Thanks for the cut-throat competition in the field of communication system that we are now left with certain choices.
Such customer-friendly option is also seen to be expanding gradually to many secluded areas of the State from the Capital City. Hope sooner or latter life in the State becomes completely mobiled.
Such an era of a 'total mobiled world' may stand out to be what people at the moment expect to occur in the near future but what should not be buried alive is the grievances that customers of BSNL have been enduring with all this while because of the poor service.
Being one of the victims, on many occasions, I too had felt being cheated by the service provider who had come along with a great promise that it would ensure 'customer's satisfaction.'
Two years back, during a short stay at my hometown, just 40 km away from Imphal where BSNL was the sole means of mobile communication, I had lost a few close friends who were stationed outside the State due to communication gap.
And I know, it would also be hard to spare that amount of time required to retrieve all those friends'who kept on changing their numbers as frequent as a week or a month's time'from www.orkut.co.in when I am in a situation that constantly warns me with a deadline each day I work at the desk.
Much before the introduction of mobile service, life used to be so simple; a hand-written letter sent to someone once in a year had meant a lot. But today, when you are out of contact for a week or two, it simply means you have turned your back to those whom you had once shared the joy and sorrow of life. It is in this light that people in the remote region which is not at par with other 'mainland areas' still feel the pangs as far as communication system is concerned.
Standing tall in many parts of the State where other mobile service providers are yet to arrive, BSNL towers have become nothing more than a laughingstock today with a paltry two to three hours of service provided to its customers in a day. It is also too awkward to learn that here and there very often the fuel/oil meant for running the network during power failure is being misappropriated.
Recently, I was called up by someone informing that the tower erected at Monkot Chepu village in Ukhrul district covering around ten villages has become so disgusting that people especially the BSNL users sometimes feel like burning it down. Such comment amounted to a silly idea but if the wrath of users upon the measly supply of network is anything to go by, there is in itself a great danger, the possible cause of which may not be too far to seek.
Thanks to those influential few in the area who have learnt to take the menace of BSNL's poor service in their strides and even ready to mask it for known and unknown reasons.
For that tower that stands inside the premises of a tourist house we may first need to question the silent observance of village authorities, students' bodies, youth councils and other civil society organisations in the area if at all, BSNL users intend to retrieve or retain their numbers.
Else, have the penchant to gracefully condone the money 'whichever amount' spent in getting connection and the same value lost during validity period due to unavailability of network, and hail the visit of other mobile service providers.
---
* Thanreingam Muivah contributes to e-pao.net regularly . The writer is also a regular columnist for The Sangai Express and can be contacted at athan4you(at)yahoo(dot)com
This article was webcasted on May 24th, 2009.
---
* Comments posted by users in this discussion thread and other parts of this site are opinions of the individuals posting them (whose user ID is displayed alongside) and not the views of e-pao.net. We strongly recommend that users exercise responsibility, sensitivity and caution over language while writing your opinions which will be seen and read by other users. Please read a complete Guideline on using comments on this website.