Washington demonstration on Karen people attacks
By: KukiForum News *


Washington, DC, May 16: In the backdrop of the Burmese military regime's targeted attacks on the Karen ethnic people in the eastern part of Burma, demonstrations were held around the world in dozen countries.

The attacks, which many analysts call the largest in ten years' history, have resulted in the displacement of approximately 15,500 people.

Demanding an immediate end to the brutal and inhumane acts of the Burmese State Peace and Development Council, a demonstration was held in front of the Burmese military junta's embassy here in Washington today.

Demonstrators emphatically urged the United Nations Security Council to intervene promptly for maintaining peace and security.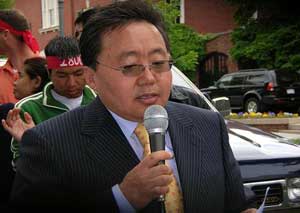 Prime Minister of Mongolia Elbegdorj Tsakhia (1998 and 2004 - 2006) speaking at the demonstration

"Burma is a threat that we cannot ignore. Two most important weapons are truth and yearning for peace and the Burmese people have them," said the two time former Prime Minister of Mongolia Elbegdorj Tsakhia (1998 and 2004 - 2006). Dr. Sein Win, the Prime Minister of National Coalition Government of the Union of Burma, said, It is very painful that this attack is on ethnic Karen people.

Talking to Radio Free Asia news reporter, Nehginpao Kipgen, a.k.a. Papao stressed that in order to establish a federal union in future Burma, equality of rights and importance should be given to the different ethnic groups of the country.

Activists and politicians joined the event. Among others, the Washington, DC based Chin Freedom Coalition (CFC) leaders turned up to show their solidarity to the Karen people.

Making statements and sending envoys is not enough to bring a solution to Burma's political problems, said the general secretary of CFC Dong Khup.

Several placards and posters displaying pictures of the fleeing victims were displayed. Leaders of the organizer, United States Campaign for Burma (USCB), led with several slogans such as "Out of the country, refugees pourů..What's the UN waiting for?"

USCB claimed that over 2800 villages have been destroyed or forcibly abandoned by the ruling military junta since 1996.


---
* Kukiforum News supplied this news information
They can be reached at kukiforumnews@yahoo.com
This news article was webcasted on 19th May 2006
* Comments posted by users in this discussion thread and other parts of this site are opinions of the individuals posting them (whose user ID is displayed alongside) and not the views of e-pao.net. We strongly recommend that users exercise responsibility, sensitivity and caution over language while writing your opinions which will be seen and read by other users. Please read a complete Guideline on using comments on this website.