Manipur is a "human and humanitarian tragedy"
- A report on a panel discussion at United Nations -
- Organised by Manipur Women Gun Survivor Network -
- on 10th October 2008 -

15 October 2008, New York
In October of every year, United Nations member countries meet to discuss issues related to Disarmament and other matters. Coinciding with this meeting, on 10th October 2008, Manipur Women Gun Survivors Network held its first ever meeting at the United Nations.

The theme of the meeting was "Women and Micro-Disarmament" where it highlighted the work of Manipur Women Gun Survivors Network. Chief of the United Nations Office of Disarmament Affairs, New York based women groups, academia, distinguished members of New York society, media and several others participated in the meeting.

A meeting started with a panel discussion on the concept of women and micro-disarmament and went on to understanding the origins of conflict in Manipur, the massive arms proliferation in the region and the efforts undertaking by women in Manipur and others in search for solutions to bring an end to the decades old problem.

The panelists who spoke on the occasion constituted of Mr L. Somi Roy, New York based film curator who was a guest presenter invited to give an introduction to Manipur and Dr Walter Dorn, Consultant to the United Nations Department of Peace Keeping and Ms Binalakshmi Nepram, author and founder, Manipur Women Gun Survivor Network.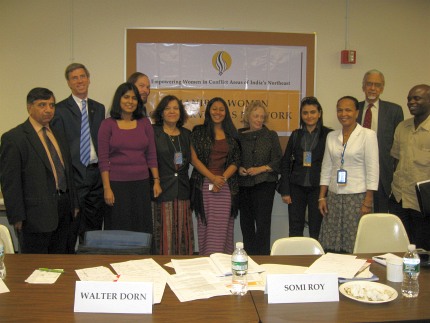 A group photo after the event
Mr L Somi Roy gave a historical and cultural background of Manipur wherein he described Manipur as a 2000 year old civilization; a former kingdom ruled by an unbroken line of Ningthouja kings; a birthplace of modern polo and a state having more than 150 modern theater companies.
He also spoke about Manipur being closed-off because of armed secessionism and mentioned that it is now one of the world's most inaccessible civilizations and is now India's emerging gateway to Southeast Asia; Ms Binalakshmi Nepram spoke on the origins of armed conflict in Manipur and parts of Northeast India and the present prevalence of over 32 armed groups in the region, making it one of South Asia's most disturbed regions.
She spoke of the non-violent responses of women in Manipur as the conflict such as efforts of Meira Paibis and that of
Irom Sharmila
's historic effort to repeal the
Armed Forces Special Powers Act
.
Dr Walter Dorn called the happening in Manipur as a "human and humanitarian tragedy" and mentioned that India is a sovereign state and an emerging global power , however as a part of the international community, it cannot be immune to the decades long violence which are happening in the state.
Dr Dorn suggested the need for Government of India and the United Nations to look into resolving the crisis in Manipur so that no further humanitarian crisis happens. He concluded by saying, "When humanitarian tragedies happen in any part of the world, how can the international community choose to ignore".
---
This information is courtesy of Binalakshmi Nepram (founder of Manipur Women Gun Survivors Network) . She can be contacted at BNepram(at)Yahoo(dot)co(dot)in
This was webcasted on October 20th 2008
---
* Comments posted by users in this discussion thread and other parts of this site are opinions of the individuals posting them (whose user ID is displayed alongside) and not the views of e-pao.net. We strongly recommend that users exercise responsibility, sensitivity and caution over language while writing your opinions which will be seen and read by other users. Please read a complete Guideline on using comments on this website.