Suu Kyi's 60th birthday celebration in Washington, DC
By: Kukiforum News Service *


Washington, DC, June 17: A well noted pro-democracy figure of the 21st century, Aung San Suu Kyi turning 60 years on June 19, is celebrating her birthday under house arrest in her Rangoon residence.

Her relentless strive for building a democratic society in Burma has earned respect from different walks of life who rally behind her political ethos of justice and non-violence.

Suu Kyi's fame steadily penetrate the barriers of ethno-cultural diversity. She, now the only Nobel Peace laureate detained, has become an icon for many social reformers and political activists around the globe.

In a solidarity campaign to acknowledge the sacrifices of the lady, her 60th birthday was celebrated by sympathizers and friends around the world.

In a similar gesture, the democracy activists of Washington, D.C. area in the United States of America also remembered her on this day. In conjunction with the U.S. Congressional Human Rights Caucus, a grand reception was held at the Capitol building on June 16 evening with the theme "Free The Lady: Aung San Suu Kyi At 60."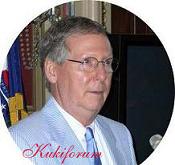 US Senator Mitch McConnell speaking on Suu Kyi's 60th birthday in D.C



The reception program, which was mastered by Carl Gershman of the National Endowment for Democracy was, among others, attended by several dignitaries including ambassadors to the United States from Georgia, Czech Republic, Hungary and Charge d' affaires of Norway Embassy.

Officials from the U.S. State Department and Immigration also came to show their solidarity to the 1991 Nobel peace prize recipient. U.S. House Representative from the state of Texas, Ted Poe and Senator Mitch McConnell from Kentucky were among the main speakers of the occasion.

The message from the Prime Minister of Mongolia, which was read by Carl Gershman said, "Freedom in the face of tyranny will triumph; I will light a candle and place at the window of my residence in honor of Aung San Suu Kyi."

The world is a better place when all nations are free, said Andras Simonyi, Hungary's ambassador to the United States. On behalf of the Burmese democratic forces, Dr. Sein Win, the Prime Minister of the exile National Coalition Government of the Union of Burma (NCGUB) articulated how the military junta will use any available force to prolong their domination.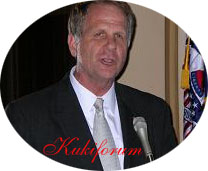 US Congressman from Texas, Ted Poe speaking on Suu Kyi's 60th birthday in D.C

In honor of Suu Kyi, brief videos of Nobel Peace Prize Recipient Desmond Tutu's message and music of Irish musician Damien Rice "Unplayed Piano" were screened.

Representing the global Kuki Forum at the event, Nehginpao @ Papao commented, "The support of the international community, particularly the United States government and its people is incredibly wonderful."

The two hour event, which was jointly sponsored by the U.S. Campaign for Burma and NCGUB, was closed with the audience singing "Happy birthday to you Aung San Suu Kyi."


---
*Submitted by Kukiforum News Service - available online at www.kukiforum.com
This article was webcasted on 18th June 2005
* Comments posted by users in this discussion thread and other parts of this site are opinions of the individuals posting them (whose user ID is displayed alongside) and not the views of e-pao.net. We strongly recommend that users exercise responsibility, sensitivity and caution over language while writing your opinions which will be seen and read by other users. Please read a complete Guideline on using comments on this website.