Scientist from Manipur climbs Mt. Fuji
A. Surjalal Sharma
An international team of scientists from Solar Terrestrial Environment Laboratory (STEL) of Nagoya University, Japan climbed Mt. Fuji, the most reverred and highest peak in Japan. The peak of Mt. Fuji, well known in Japan as Fuji-san, is 3776 meters high, and is an inactive volcano. The team of five included Adhikarimayum Surjalal Sharma, who grew up in Imphal. The hike and the subsequent climb reminded one of Baruni Ching Kaba, with a much higher level of challenge and skill. The event took place on 10-11 August 2002 during the peak of the Japanese climbing season. More details of the hike is at the STEL website
(http://stesun8.stelab.nagoya-u.ac.jp/event-e.html).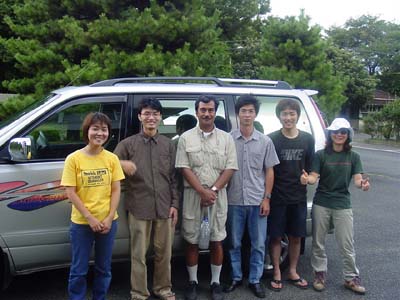 A. Surjalal Sharma is a research professor at the University of Maryland in USA and is currently a visiting professor at STEL, Nagoya University. He grew up in Imphal and attended Johnstone Higher Secondary School. He completed his studies at University of Delhi, Delhi and Physical Research Laboratory, Ahmedabad, and has worked at many institutes and universities around the world.


* Comments posted by users in this discussion thread and other parts of this site are opinions of the individuals posting them (whose user ID is displayed alongside) and not the views of e-pao.net. We strongly recommend that users exercise responsibility, sensitivity and caution over language while writing your opinions which will be seen and read by other users. Please read a complete Guideline on using comments on this website.