Bal Shree Award 2005 and list of Manipuri Bal Shree Awardees
By: Aheibam Dinamani Singh *


Sir,

Please see that this news is published

On 21st May 2005 22 children from different parts of India have been honoured with Bal Shree Award 2005 by the President of India at a function held at the Ashoka Hall.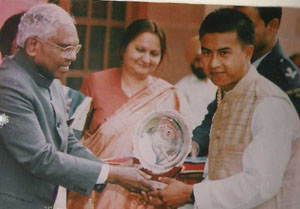 Aheibam Dinamani Singh receiving Creative Scientific Innovation in 1997 from the President of India



There are four different categories of the award namely Creative Arts, Creative Performance, Creative Writing and Creative Scientific Innovation. The children were carefully selected for the award be a team of juries of the respective fields during a camp held in the National Bal Bhavan New Delhi.

Here is a brief excerpts from President of India website given at the National Bal Shree Award function 2005.

Creativity enriches human life

I am indeed delighted to participate in the National Bal Shree Honour Function 2005 organized by National Bal Bhavan. I congratulate all the children who are getting the awards in creative arts, creative writing, creative performance and creative innovation in science. I greet the organizers, artists, poets, creative writers, art lovers and the distinguished guests.

I am happy to note that this National Bal Shree Honour scheme, selects the best children dispersed in different parts of the country through a three-tier selection process including a psychological test for assessing the creative ability of the child. This selection, I am sure, will definitely enable the early recognition and nurturing of our children in multi-dimensional creative activities which is vital for promoting the growth of the youth. I would like to talk on the topic "Creativity enriches human life".

Till now Manipur has produced 11 Bal Shree Awardees since its launched in the year 1995, they are

1) Jalena Laishram - Creative Wirtting 1995
2) Gyatri yambem - Creative Writting 1996
3) Aheibam Dinamani Singh - Creative Scientific Innovation 1997
4) Tensubam Satyakamala - Creative Performance 1997


5) Piyaibala Ayam - Creative Writting 1998
6) Moirangthem Jotin Singh - Creative Scientific Innovation 1999
7) jackson Khumuhcham - Creative Performance 2000
8) Millan Laishram - Creative Arts 2001


10) Deepika Gurumayum - Creative Preformance 2003
11) Raj Kumari Sanathoi Chanu - Creative Preformance 2004


Please publish this news, it is a move to popularise the award of high honour.

Thanking you,


---
*Contributed by Aheibam Dinamani Singh
This article was webcasted on 26th April 2005
* Comments posted by users in this discussion thread and other parts of this site are opinions of the individuals posting them (whose user ID is displayed alongside) and not the views of e-pao.net. We strongly recommend that users exercise responsibility, sensitivity and caution over language while writing your opinions which will be seen and read by other users. Please read a complete Guideline on using comments on this website.