Nehginpao Kipgen chosen for "ECO Award 2006"

Provided By:- Kukiforum News *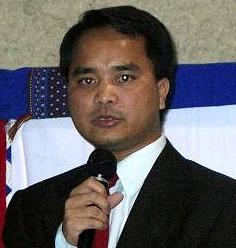 Nehginpao Kipgen

Nehginpao Kipgen, editor of www.kukiforum.com and General Secretary of the US-based Kuki International Forum (KIF) and a researcher on the rise of political conflicts in modern Burma (1947-2004) was chosen by a Canada based, The Global Community, as one of the recipients of "ECO Award 2006" under its category "A new emerging democracy" with his November 22, 2006 article titled "Attempting democracy in ethnically diverse Burma."
The article can be read here.

He is listed in serial no. 128 of the ECO's website at:
List Of Recipients - 2006

More information on the Earth Community Organization (ECO) can be found at:

Earth Community Organization (ECO)
ECO Awards


---
* Kukiforum News provided this information. They can be contacted at kukiforumnews@yahoo.com . This news release was webcasted on 05th January 2007.


* Comments posted by users in this discussion thread and other parts of this site are opinions of the individuals posting them (whose user ID is displayed alongside) and not the views of e-pao.net. We strongly recommend that users exercise responsibility, sensitivity and caution over language while writing your opinions which will be seen and read by other users. Please read a complete Guideline on using comments on this website.