Manipuri singer goes southern spice
Atom Samarendra
Having conquered the hearts of music lovers of Manipur, Salam Sophia, who has been compared for her resemblance to the voice of Nightingale of India, Lata Mangeskar, is all set to enrapture the South Indian film and music industries with her melody.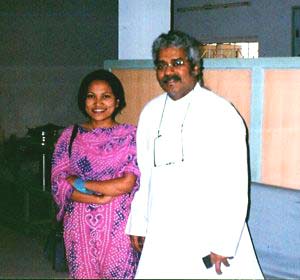 Shopia with Hariharan at Chennai

26-year old Salam Sophia would be lending her voice in a forthcoming Tamil film in a duet song with the famous South Indian singer cum composer Hariharan who was once famous for Colonial Cousin.

She has recorded the song, 'Arjuna... Arjuna...' of the action film 'Hay' at the studio, SASI, Chennai, owned by South Indian music sensation, music director and singer AR Rehman on February 25 last. Kalai Kumar pens the lyric of the song and Shrikant Dev, who was an assistant to AR Rehman, scores the music.

The film, which is being directed, by actor and director Venkatesh (of Anari fame) and producer is Tiru Alluwar. The main cast of the film, which is nearing completion, includes Saratkumar and Nimita.

Talking to The E-Pao! at her Sagolband Salam Leikai (in Imphal) residence, the soft spoken singer, who has just arrived from Chennai informed that she got the chance of singing for the Tamil film through one of her friends. Her friend who is with the AR Rehman team as a keyboard player introduced Sophia. She disclosed that after having sung for 'Hay', she has also got offers from some of the Tamil film producers/directors to sing for their films.

Salam Sophia is the second daughter of Salam Ibomcha and Salam Ongbi Nganbitonleima and has completed Geography Honours from GP Women's College. Her mother informed that Sophia had interest in singing and music since childhood and had been much influenced by her maternal grandfather Huirem Gouramani was a renowned Nat Sanskirtan singer of his time.

But it was her uncle Salam Khamba who recognized her talent and encouraged her to take up singing seriously. Sophia had her formal training to hone her music talent under the guidance and watchful eyes of her Guru Arambam Dorendra.

Sophia is the second Manipuri singer who has earned the credit of being playback singer for a non-Manipuri film. Manipur's 'melody queen' Laishram Mema , who had sung a song in the Hindi film entitled 'Dilwar' in the early eighties. It is worthwhile to mention that underground Revolutionary People's Front (RPF) had banned Hindi films and music in the state since 2000.
* Comments posted by users in this discussion thread and other parts of this site are opinions of the individuals posting them (whose user ID is displayed alongside) and not the views of e-pao.net. We strongly recommend that users exercise responsibility, sensitivity and caution over language while writing your opinions which will be seen and read by other users. Please read a complete Guideline on using comments on this website.