Manipuri scientist at Antarctica expedition
By: Atom Samarendro *
Imphal, January 16, 2007: In yet another pride for the people of Manipur one young scientist from Manipur has left India on January 10 for 26th Indian Scientific Expedition to Antarctica to explore one of the east Antarctic coastal areas known as Larsemann Hills.

Dr. Kh. Gajananda who is presently as Scientist (Environment) at the prestigious Shriram Institute for Industrial Research, Delhi University, Delhi was among the 34 members from different Organisations and Universities in India for the expedition to the harshest continent of the world, Antartica.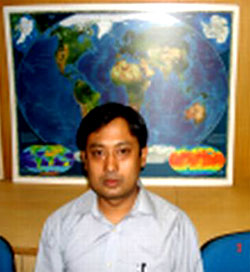 Dr. Khwairakpam Gajananda

The 26th Indian Scientific Expedition to Antarctica was launched from Vasco-da-Gama, Mormugao Harbour, Goa on 10th January embarking on a ship MV Emerald Sea, 2007. The vessel sailed to Port Louis, Mauritius en-route to Antarctica. The expedition was led by Mr. Jayapaul D., Director, Geological Survey of India, Antarctic Division, Faridabad.

According to Dr. Gajananda who talked to this correspondent just before their departure said the expedition team will carry out different scientific activities at Maitri, India's permanent station in Antarctica and explore one of the east Antarctic coastal areas known as Larsemann Hills.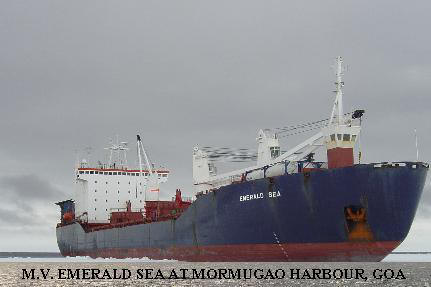 MV Emerald Sea - The ship docked at Mormugao Harbour, Goa

This exploration is mainly for setting up of the third Indian Scientific Station at Larsemann Hills. Govt. of India, Ministry of Earth Sciences decided to establish an Indian Research base at Larsemann Hills of east Antarctica. A state of the art Indian research base at Larsemann Hills east Antarctica will be set-up within the 3-4 years.

The members assembled at Goa from 31st December, 2006 for the final briefings before proceeding to Antarctica. The members attended fire fighting and prevention training and different briefing lectures on medical, physiological aspects and scientific mandates organized by National Centre for Antarctic Research NCAOR.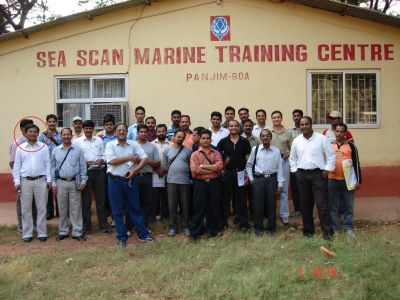 Group of Scientist at Sea Scan Marine Training Centre, Goa.

Dr. Khwairakpam Gajananda who was born in a lower middle class family of Ningthoukhong in Bishenpur District of Manipur is participating in the expedition to Antarctica for the second time. He participated in the 18th Indian Scientific Expedition to Antarctica (ISEA) during December 1998 to April 2000 while he was in National Physical Laboratory (NPL), New Delhi as CSIR Senior Research Fellow.

Today, in recognition of his achievement in the field of science and technology, he was recognized by the Marquis Who's Who 2007 in the field of Engineering and Science and Who's Who in Asia. He was nominated from the Shriram Institute for Industrial Research, Delhi and sponsored by the (NCAOR), Vasco-da-Gama, Goa.

In the present expedition his main scientific research are to carry out Environmental Impact Assessment baseline data collection and long-term ecosystem study of east Antarctica.

At the same time study of soil and biological entities for 14 Carbon dating will also be carried out with his collaborators. The winter component of the team consists of 10 members in the present batch.

They will stay back at Maitri and the summer component in which Dr. Gajananda belong to will come back to India by March/April 2007.

Related Article on Gajananda
---
Atom Samarendro contributest to e-pao.net regularly. This release was webcasted on January 18th, 2007


* Comments posted by users in this discussion thread and other parts of this site are opinions of the individuals posting them (whose user ID is displayed alongside) and not the views of e-pao.net. We strongly recommend that users exercise responsibility, sensitivity and caution over language while writing your opinions which will be seen and read by other users. Please read a complete Guideline on using comments on this website.