Sanjenbam Ashwin a Manipuri @ Berlin inline skating marathon

Provided By:- Dr. Elangbam Bishwajeet *


Dear E-pao Team,

Greetings from UK!

I would like to share a good news of one of our Manipuri collegue Mr Sanjenbam Ashwin, who had recently partcipated in the Berlin inline skating marathon.

Under the motto "More than a race", skaters from around the world partcipated in the get-together of the year, the World Inline Cup finals and the best party of the year.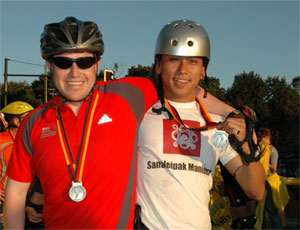 Mr Sanjenbam Ashwin with a fellow skater



The BERLIN MARATHON of the skaters is describe as a very special emotional experience. Professional and amateur skaters start off together in the largest race of its kind in the world.

Mr Ashwin Sanjenbam competed against hundreds of skaters in the world inline cup and zoom to complete the 42 km marathon in 1 hour 30 mins 14 seconds!

In keeping with the Moto of "more than a Race' , Ashwin wore a sport gear printed 'Sanaleipak Manipur' along with the image of Ipudhou Pakhangba Paphal, once used as a flag of Manipur.

He mentions that it was a proud moment, a personal achievement to carry the image of Manipur at an international event. He added that it was a uplifting moment to experience a spiritual belonginess and to be describe as a unique skater by his fellow competitors, gving a real sense of 'more than a race'!

I would be really grateful if you could share this wonderful news of him representing Manipur in a world cup championship, and promoting Manipur in an very innovative and inspiring manner.

Lets hope his innovative sportmanship would serve as a huge encouragement to the many sport loving people of Manipur.





regards

Dr. Elangbam Bishwajeet
coventry UK
---
* Dr. Elangbam Bishwajeet, contributes regularly to e-pao.net
This news release was webcasted on 29th September 2006.


* Comments posted by users in this discussion thread and other parts of this site are opinions of the individuals posting them (whose user ID is displayed alongside) and not the views of e-pao.net. We strongly recommend that users exercise responsibility, sensitivity and caution over language while writing your opinions which will be seen and read by other users. Please read a complete Guideline on using comments on this website.