Light the world with a beautiful smile
- Institute of Child & Woman Health Care Hospital -
- Guwahati -

The birth of a child in a family is a joyous occasion. But it turns into a tragedy when a deformed child is born. Most often the family curses the mother for bringing bad omen to the family. The friends and relatives shun away such children.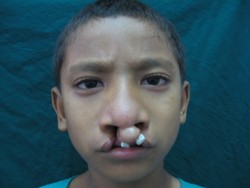 A cleft defomred child



And when these children grow up they cannot play around normally as they are being teased and ridiculed. They silently shed their tears, almost always develops inferiorly complex and fail to face the world.

More so when the child also has a cleft palate i.e. a hole in his mouth for he is unable to speak normally and hence cannot communicate normally with his friends and goes into a state of depression. Can we expect a better future for these children?

Now there is hope for these children too as the 'Institute of Child & Woman Health Care Hospital' (a unit of Dr. Kuntal Goswami Memorial Public Charitable Trust) at Mother Teresa (Zoo Narengi) Road in collaboration with Smile Train Organization of New York is offering yeomen service by providing totally free treatment to all these unfortunate children under the leadership of its Project Director Dr. Seema Rekha Devi.

The Smile Train organization, the world's largest charitable organization working for Cleft children chooses out experienced Plastic Surgeons and a team chosen by the Plastic Surgeon in a hospital having a good infra structure for all round care of these children.
A cleft defomred child



Safety of these children is the first priority of Smile Train Project. Dr. S. R. Devi, the renowned Plastic Surgeon introduced for the first time this International Charitable organization in Eastern India for benefit of these poor unfortunate children 4 years back and has rendered free selfless services to thousands of children in this region so far.

These patients living in the remotest corners of the North East are unaware of the facilities and a number of N.G.O. including Swabalambi, Rotary, Lions, Sarba Siksha etc. are helping to trace these needy children and bring them for treatment.

There are more than 60 centres all over India and hundreds of centres all over the world specially in developing countries including in China. The Smile Train Project also helps in research work and training programes by providing grant to the centres which are providing outstanding services to the community by rendering selfless services.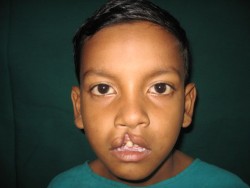 A cleft defomred child



All the patients with cleft lip and palate are admitted, examined by a team of specialist headed by a Plastic Surgeon (who is the Project Director) investigated and operated totally free of cost.

The team always maintains a high safety protocol and an experienced Anesthesiologist and a Pediatrician are very important members of the team. This dedicated team of nurses and specialist doctors headed by Dr. S. R. Devi has been able to bring smile and hope to hundreds and thousands of children in last 4 years.

This train of smiling children will definitely upgrade the quality of life of their families by becoming responsible and confident citizens of the country.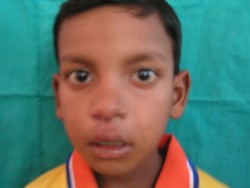 A cleft defomred child



The world's most renowned plastic surgeons comprise the medical advisory board at the head office at New York who scrutinize all the patient's pre and post operative photographs and offer help by providing training and research grant to improve the quality of care all over the world.

The president of China and 41st president of USA George Bush including many U.S. Senators and world renowned singers are in the board of Smile Train as founder members.

Several local N.G.O.'s including Rotary, Lions Club, Swabalambi, Sarba Siksha etc. are helping to spread the information and training the poorest of poor children from the remotest corners of whole North East to this hospital for this free service.

The patients can also directly contact the hospital.
Institute of Child & Woman Health Care,
Mother Teresa (Zoo Narengi) Road,
Opposite Geeta Nagar Police Station,
Guwahati – 781024,
Ph. No. 0361-2412033 / 2410732/98640 37118]


---
Sri Dayal Krishna Nath, Public Relation Officer for "Institute of Child & Woman Health Care" provided this information . He can be contacted at dayalkrishnanath(at)rediffmail(dot)com . This was webcasted on November 01st, 2007


* Comments posted by users in this discussion thread and other parts of this site are opinions of the individuals posting them (whose user ID is displayed alongside) and not the views of e-pao.net. We strongly recommend that users exercise responsibility, sensitivity and caution over language while writing your opinions which will be seen and read by other users. Please read a complete Guideline on using comments on this website.