Life Inspires Art
- Song on Sharmila released-

Provided By:- Bachaspatimayum Sunzu *


27th September 2006, Imphal: In a classic case of reality inspiring art, a music album was released in Manipur with its title track dedicated to the 38 year old Manipuri hunger-striker Irom Sharmila who refused to eat in protest against the enforcement of the Armed Forces Special Powers Act, 1958 in Manipur.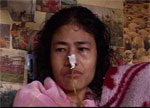 Irom Sharmila nosed-fed in the Hospital
Picture Courtesy : Kavita Joshi



Sharmila went on her fast on 5th November 2000 shock at the shooting down of 10 innocent bystanders at Malom by security forces and remains imprisoned at a govt hospital ward were she is force-fed till today.

On 5th November 2006, Irom Sharmila's hunger-strike, launched in protest against the Armed Forces Special Powers Act would have completed 6 years. Not a single human being has abstained from food in protest for so long.

Although Sharmila's protest has not have any effect on the Government, her unwavering determination and living spirit has inspired many. like this title track of the music album Nura Temshingnabi Sharmila.
(Lyric goes like this..
'Awakening the Awake..
did never tire you.
Oh Maiden.
Inspire others to sprout...
Beaconing others to awake...
Your courage, your promise.
Shall never be forgotten... Sharmila.')

Speaking to this correspondent, Yumnam Gopachandra, the producer of the audio tape and the person who penned the songs himself said the musical production is his way of showing solidarity with Sharmila and not for commercial gains.

"My venture is inspired by the Sharmila's protest and through this media I'm expressing my solidarity with her and also hope to propagation her cause.

The unique musical album which has Sharmila's picture on its cover was released by eminent filmmaker and renowned music director Aribam Syam Sharma who lauded the effort of the young producer whose venture isn't commercial.

Sharmila's elder brother, Irom Singhajit and Kakchingtabam Bijoy, the President of the All Manipur Working Journalists' Union was present at the release function held at the Manipur Press Club.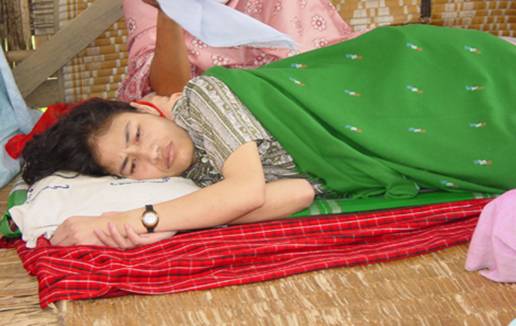 Related Article about Ms. Irom Sharmila:
---
* Bachaspatimayum Sunzu, Independent filmmaker, contributes regularly to e-pao.net
He can be reached at effectivetelevision@rediffmail.com
This news release was webcasted on 27th September 2006.


* Comments posted by users in this discussion thread and other parts of this site are opinions of the individuals posting them (whose user ID is displayed alongside) and not the views of e-pao.net. We strongly recommend that users exercise responsibility, sensitivity and caution over language while writing your opinions which will be seen and read by other users. Please read a complete Guideline on using comments on this website.