KIF General Secretary talks on VOA and BBC

24 October 2008, Washington DC
Nehginpao Kipgen, a researcher on the Rise of Political Conflicts in Modern Burma (1947-2004) and the General Secretary of Kuki International Forum was interviewed by the Washington,DC-based Voice of America(VOA) on his most recent article entitled "The Intricacies of Ban's Role in Burma."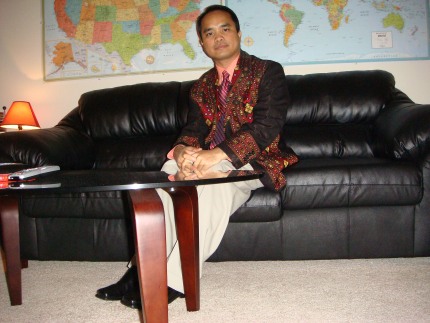 Nehginpao Kipgen
The article hit some news media headlines in Asia, including the
China Post
and
Asian Tribune
.
The interview
Audio Clip
was aired on October 19, 2008, Sunday morning 5:30 program. While discussing the role of United Nations in Burma, Nehginpao Kipgen said, "At this juncture, even if the UN Secretary General Ban Ki-moon chooses to visit Burma, not much should be expected out of it. However, the UN's continued engagement is very essential."
The author was interviewed earlier by the London-based British Broadcasting Corporation (BBC) on the same subject. Nehginpao Kipgen had also spoken to Radio Free Asia (RFA) on a number of issues pertaining to the political conflicts in Burma.
Kipgen is an international award winner in writing. In 2006, a Canada-based The Earth Community Organization, also known as the Global Community, awarded him "
ECO Award 2006
" with his November 22, 2006 article entitled "
An Attempt to Build Democracy in Ethnically Diverse Burma
."
Not only is he a prolific writer, but Kipgen has also spoken at some prestigious institutions in the United States of America. He was an invited panelist on Burma at Georgetown University, Johns Hopkins University School of Advanced International Studies and George Mason University.
Kipgen was the founding President of Kuki International Forum and has been the editor of the organization's website since its inception.
---
This information is courtesy of Kukiforum News . They can be contacted at kukiforumnews(at)yahoo(dot)com
This was webcasted on October 24th 2008
---
* Comments posted by users in this discussion thread and other parts of this site are opinions of the individuals posting them (whose user ID is displayed alongside) and not the views of e-pao.net. We strongly recommend that users exercise responsibility, sensitivity and caution over language while writing your opinions which will be seen and read by other users. Please read a complete Guideline on using comments on this website.