Manipuri in Sequencing of Genome for Zebrafish
- Angom Ramcharan Singh, Institute of Genomics and Integrative Biology(IGIB) -
26th April, 2009
I am happy to inform that Indian Scientist has completed the Sequencing of Genome for the first time. A team of scientist at IGIB Delhi has done the sequencing of Fish genome thus marking the beginning of sequencing era in indian science history!

I would like to request that this news should spread throughout the Manipuri Communities also so that all the young minds could understand the advancement in this field.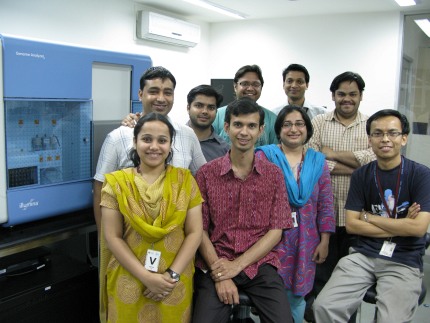 The proud young scientists from IGIB including Angom Ramcharan
Please find the attatchments as a proof (National news papers).
Thanking You
Yours sincerely
Angom Ramcharan Singh
Kakching Khunou Hijam Leikai, Manipur)
Institute of Genomics and Integrative Biology (IGIB)
CSIR-New Delhi-110028
Zebrafish is native to Indian rivers. Taking advantage of this, scientists from the Institute of Genomics and Integrative Biology (IGIB) in Delhi picked up a wild strain of zebrafish from somewhere in Assam and sequenced its genome. This is a great achievement, but the genome of mere one fish is not going to help. In order to understand disease mechanisms, one needs to see the variation in the genomes of different members of the same species.

To address this problem, scientists decided to raise a large colony of zebrafish from the one whose genome was sequenced. Now they have a zebrafish parent and over 100 of its offspring. After sequencing the genomes of all these offspring over the next three years, scientists will be able to tell how offspring differ from their parents as well as from each other, and why some traits are different in different siblings.

This kind of study is simply not possible in humans or even in animal models like mice. The mega effort has been dubbed "Project Kaurava". The zebrafish genome was mapped by IGIB scientists in a record period of two months. This was possible due to the combination of three things — availability of a highly advanced sequencing technology in the form of a machine called genome analyser, a super computer and a young team of scientists.
- Quantum Leap :: by Dinesh C. Sharma - Mail Today - Tuesday 21st April 2009
See the full article from Mail Today
here (PDF - 1303 KB)
.
A striped fish native to Indian rivers, popular in household aquariums and hailed as an ideal organism to study human genes has become India's first vertebrate to have its whole genome sequenced. Scientists at the Institute of Genomics and Integrative Biology, New Delhi, have sequenced about 1.7 billion genetic alphabets that make up the full genome of a zebrafish picked up from a rivulet in Assam.

The researchers who used high-speed sequencers and computers to complete the zebrafish sequence in less than 60 days have now launched the world's first effort to compare genetic variations in 100 siblings from a single parent zebrafish.

Scientists are calling this next phase of the research Project Kaurava — named after the 100 Kaurava brothers in the epic Mahabharata.
- India earns genome stripes :: by G.S. MUDUR - The Telegraph, Wednesday 15th April 2009
See the full article from The Telegraph
here (PDF - 652 KB)
.
---
This information is courtesy of Angom Ramcharan Singh, Institute of Genomics and Integrative Biology . He can be contacted at angom(dot)ramcharan(at)gmail(dot)com
This was webcasted on April 26th 2009
---
* Comments posted by users in this discussion thread and other parts of this site are opinions of the individuals posting them (whose user ID is displayed alongside) and not the views of e-pao.net. We strongly recommend that users exercise responsibility, sensitivity and caution over language while writing your opinions which will be seen and read by other users. Please read a complete Guideline on using comments on this website.