EMA's meeting with Dr. Moirangthem Nara in UK
By: European Manipuri Association *


Date: 12th March, 2006
London, United Kingdom

The European Manipuri Association expresses its sheer delight in welcoming Dr Moirangthem Nara, MLA and convener of the ruling SPF government on his visit to the United Kingdom as Part of The Commonwealth Parliamentary convention.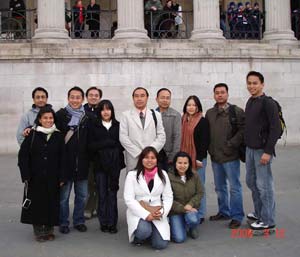 Dr Nara with EMA members in UK
Many of the Manipuris currently living in the UK had a wonderful time with the much respected public figure and social worker, who took time out of his busy schedule to share his views and ideas regarding a constructive approach towards a long lasting peace and social justice in a progressive Manipur. His emphasis on the role of culture in educating the masses through popular medium like Shumang Lila, music and poetry was much appreciated. The Association fully encourages the many gifted artists who are currently giving a different perspective to entertainment, by using it as a medium for bringing valued socio-economic reforms and spreading cultural messages.

The in-depth discussion on many of the prevailing issues relating to Manipur and Manipuris settled across the globe has served as a driving force for all those present during the discussion to work together for a better quality of life in Manipur.

EMA hopes that the respected Leader will take all the benefits of having experienced the constructive, transparent and accountable working style prevalent in the British parliamentary system, and use his experience to transform the image of Manipur assembly.

We hope that Dr. Moirangthem's strong commitment to the value of humanity and his strive for justice will prevail, and that he will continue to inspire the people of Manipur in our quest for a progressive and harmonious society.

On Behalf of EMA,

Dr. Biswajeet Elangbam,
General Secretary,
European Manipuri Association.

http://www.ema-europe.org


---
* Submitted by European Manipuri Association.
This Top Stories was webcasted on 14th March 2005
* Comments posted by users in this discussion thread and other parts of this site are opinions of the individuals posting them (whose user ID is displayed alongside) and not the views of e-pao.net. We strongly recommend that users exercise responsibility, sensitivity and caution over language while writing your opinions which will be seen and read by other users. Please read a complete Guideline on using comments on this website.