Late Dr. Laifangbam Nanda Babu Roy


(5-12-1920 to 19-01-2004)




Remembering the life and times of the Doctor


Dr. Laifangbam Nanda Babu Roy, the pioneer surgeon of Manipur has departed for heavenly abode on 19th of January, 2004, at 21:25 hour (IST), at St. John's Medical Hospital, Bangalore, in the Medical Intensive Care Unit after a prolonged ailment concerning recurrent strokes and cardiac dysfunction.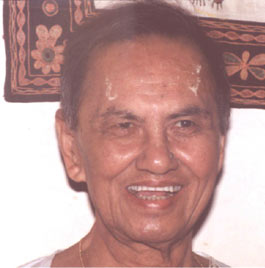 Dr. Laifangbam Nanda Babu Roy
(5-12-1920 to 19-01-2004)

Dr. Laifangbam Nanda Babu Roy was born on 5th of December, 1920, to Late Dr. Laifangbam Bharat Roy and Late Smt. Laifangbam Ongbi Nayani Devi of Lairikyengbam Leikai, Imphal (West). He did his schooling from Johnston High School and passed his matriculation examination in March 1939. He pursued Intermediate Science from Cotton College, Gauhati, Assam. He went on to complete his MBBS (formerly known as MB) from Carmichael Medical College (now known as R.G. Kar Medical College), Calcutta University in 1948, thereby becoming the first Manipuri to become a MBBS doctor. He also did his House Surgeon-ship and Registrar-ship from the same institution.

He returned to Manipur in 1950 and worked as Assistant Surgeon Grade I. In 1951, he joined Central Govt. Service and was posted in Churachandpur. Next, he was appointed CMO of Medical Services of Manipur. He was honoured and chosen by the Central Govt. to pursue further studies in Surgery at Edinburgh, UK. He cleared both the Primary and Final Examination of F.R.C.S. (Fellow of Royal College of Surgeons) in 11 months on 10th of July, 1957.

Upon returning to Manipur after F.R.C.S., he was appointed Principal Officer of Health of the Territorial Council of Manipur and later promoted to Surgical Specialist at Imphal Civil Hospital (now District Hospital, B.T. Road, Imphal). Then in 1970, he was transferred to General Hospital, Asansol, West Bengal, under The Coal Mines Commissioner, Ministry of Labour, Govt. of India.

Dr. Laifangbam Nanda Babu Roy came back to Manipur in 1974 and became the first Manipuri to be appointed as The Director of Medical, Health and Family Planning Services, Govt. of Manipur. He took voluntary retirement in 1977 and started Lakshmi Clinic & Nursing Home at M. G. Avenue, Thangal Bazaar, Imphal. After a decade of private practice, he suffered a stroke on the 3rd of June, 1987. Dr. Laifangbam Nanda Babu Roy was felicitated for distinguished services in 1998 by the Manipur Association for the Promotion of Science.

He was an outstanding surgeon and loved by one and all for his dedication and honesty in delivering his services. He is survived by his wife and six children and seven grand-children.

Achievements:
First Manipuri to clear M.B.B.S.
First Manipuri to be awarded F.R.C.S. (Edinburgh, UK).
First Manipuri Director of Medical Health & Family Planning Services, Govt. of Manipur.
---
Asthi-Chandan ceremony would be held on the 27th of Jan 2004 and followed by Shraddha ceremony on the 4th of February 2004 at his Residence mentioned below.

Lakshmi Clinic
M.G Avenue
Thangal Bazaar
Imphal Manipur
795001
Ph.220891 / 953873-203248
* Comments posted by users in this discussion thread and other parts of this site are opinions of the individuals posting them (whose user ID is displayed alongside) and not the views of e-pao.net. We strongly recommend that users exercise responsibility, sensitivity and caution over language while writing your opinions which will be seen and read by other users. Please read a complete Guideline on using comments on this website.