Baichung and his fiancee Madhuri Tipnis's sojourn journey at Ukhrul
Atom Samarendra


Imphal, August 22: Taking time off from his hectic schedule, ace footballer and captain of the Indian football team, Baichung Bhutia was seen at Lunghar in Ukhrul district of Manipur. The trip down here away from the Salt Lake Stadium at Kolkatta was not for any football assignment but for meeting his fiancée Madhuri Tipnis's mother (Ngam Tipnis), who is a Tangkhul women.

The couple left Imphal this afternoon for Kolkota after staying four days at Lunghar, the native village of Madhuri Tipnis's mother. They had arrived at Imphal on August 18.

During their stay at Lunghar and Imphal they enjoyed the company of Captain (Retd) Ashok Tipnis, father of Madhuri Tipnis, who is a Imphal based social worker and chairman of Village Volunteer Development, VVD.

It may be remembered that the name of VVD hit the media when a German national and social worker Henry Wolfgang was kidnapped by militants few months back. Wolfgang had visited Imphal to supervise the project taken up by VVD.

Just before leaving for Kolkota this reporter caught up with the couple at the office of Village Volunteer Development at Chingmeirong.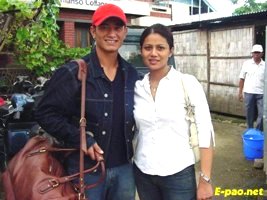 As their visit was not made public the highest paid footballer was surprised when this reporter showed up at their place. Their visit was just for personal matter. Even though Baichung agreed to be photographed, his fiancée vehemently denied us the oppurtunity to get both of them in the same frame. After repeated request both agrees to take for a photo-shoot.

Baichung said he and Madhuri have always kept their personal affairs away from their careers. This would be the reason why Madhuri denies to be photographed before this reporter took interview with Baichung.

Madhuri Tipnis, a hotelier with the Mumbai based ITC group, also stayed away while this reporter chated with Baichung. To a question Baichung said they would be getting married one day.

Saying he had visited Manipur on several occasions in the past, Baichung said Manipur is a nice place and people here are also very friendly.

Talking of Indian football, Baichung identified lack of developing young talents from the grass root level, lack of proper guidance and infrastructure as the main reason for the poor performance in the international level. Once these shortcomings are coped with, India will be able to do better. Lauding the contribution of footballers from northeastern states specially Manipur, the Arjun Awardee pointed out that a number of players from Manipur are playing in different renowned clubs of India.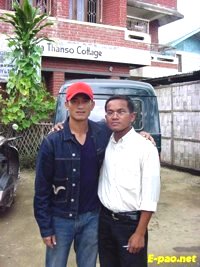 During their stay at Ukhrul, Baichung Bhutia and Madhuri paid a visit to Patkai Christian Academy, Sangshak in Ukhrul on August 20 thus marking a red letter day for students and staff members of the School.

During his few hours stay at the academy, Baichung Bhutia interacted freely with the students and the teaching faculty. He laid strong stress on the importance of sports in education, noting that sports promote health, and healthy people constitute a healthy society. Baichung Bhutia also gave a demonstration of his football skills for the benefit of the awe-struck students of the academy.

On August 18 just after arriving at Imphal Airport they went straight to VVD office at Chingmeirong and dined together with Ashok Tipnis (Madhuri's father). Then drove down to Ukhrul directly along the lush green hilly roads. Ukhrul is around 85 km from capital Imphal. They enjoyed at Lunghar (Madhuri's mother native village) with traditional Tangkhul dishes. Madhuri as a true hotelier is very fond of cooking.

The most unfortunate thing about their visit is that none of Baichung's fans here (except students of Patkai Academy) had a chance to meet Baichung as their visit was a personal one and people were not aware of their visit.


* Comments posted by users in this discussion thread and other parts of this site are opinions of the individuals posting them (whose user ID is displayed alongside) and not the views of e-pao.net. We strongly recommend that users exercise responsibility, sensitivity and caution over language while writing your opinions which will be seen and read by other users. Please read a complete Guideline on using comments on this website.