Dr. Joykumar Thokchom in Marquis Who's Who in America 2009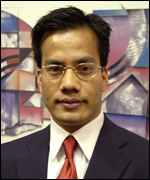 Dr. Joykumar Thokchom
Joykumar S. Thokchom, a research physicist at the University of Dayton Research Institute, Ohio (USA) has been bioghraphed in the Marquis Who's Who in America 2009.
Dr. Thokchom was selected for his scientific achievements in the areas of lithium battery and fuel cell technologies.
Also, recently he has been invited to deliver an invited talk on "Solid-state Li electrolytes" at the forthcoming Electrochemistry Gordon Research Conferences, Ventura (California) January 2010."
Personal Details:
Joykumar S. Thokchom, Ph.D.
Research Physicist, Electrochemical Power Group
Metals and Ceramics Division
University of Dayton Research Institute
300 College Park, Dayton, OH 45469-0170
Email: joykumar.th@notes.udayton.edu
Webpage:
here
---
You can contact Joykumar Thokchom at joykumar(dot)th(at)notes(dot)udayton(dot)edu
This was webcasted on August 06, 2009 .
---
* Comments posted by users in this discussion thread and other parts of this site are opinions of the individuals posting them (whose user ID is displayed alongside) and not the views of e-pao.net. We strongly recommend that users exercise responsibility, sensitivity and caution over language while writing your opinions which will be seen and read by other users. Please read a complete Guideline on using comments on this website.