Vigil and Drumming Event at Global Day of Action on Military Spending
- Control Arms Foundation of India -

New Delhi, April 12, 2011:


Global Day of Action on Military Spending, 12 April 2011
Vigil and Drumming Event successfully held today at India Gate.

With the clarion call, "Reduce Military Expenditure, Reduce Poverty", Control Arms Foundation of India and the Manipur Women Gun Survivors Network joined friends in more than 35 countries to participate in the first-ever Global Day of Action on Military Spending that was successfully held in India's capital New Delhi.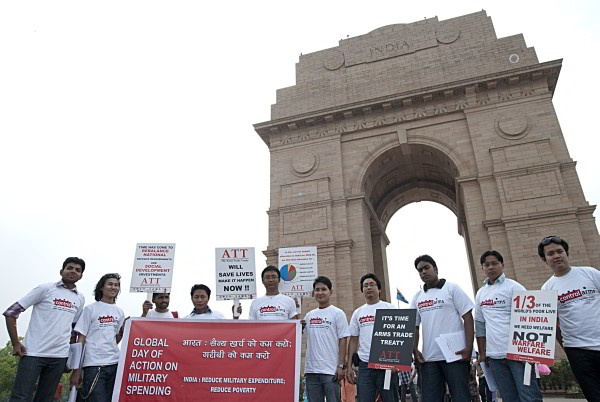 Picture Credit: Kausiki Sarma


A vigil and drumming ceremony was organised at India Gate, where fliers were distributed to the public. Later submitting a memorandum to Prime Minister and also members of Parliamentary Standing Committee on Defence.

Between 2000 and 2007 India ranked world's second largest arms importer accounting for 7.5 percent of all major weapons transfers. Now in 2011, India has now emerged as the largest arms importer in the world, overtaking China. India accounted for 9% of all international arms imports between 2006-2010, making it the world`s largest weapons importer.

We called upon our government that in a country where poverty is rampant and where there is great deal to be done in the fields of health and education, we cannot be spending so much on defence. Our battle is against starvation and deprivation, which cannot be fought with guns and missiles. In our memorandum, we call upon government of India to:

1. To cut military expenditure and the saved fund to be deployed towards combating and providing social security.
2. To support the United Nations Process for an international Arms Trade Treaty
3. Call upon governments in South Asia to support the Mine Ban Treaty and the Convention on Cluster Munitions.
4. Take the lead in international humanitarian disarmament which was the pillar of India's Foreign Policy in 1950s and 1960s
5. Inclusion of women in peace, security and disarmament issues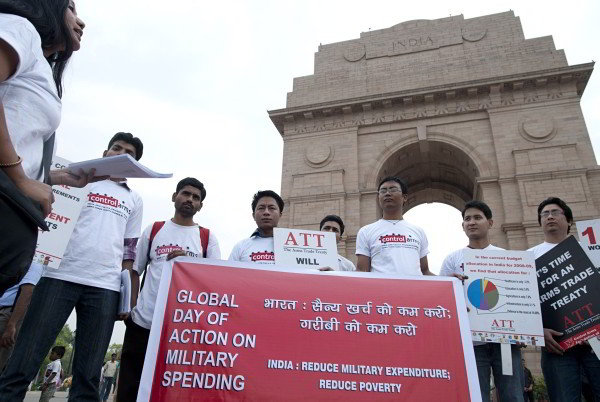 Picture Credit: Kausiki Sarma


For more information, please contact :

Control Arms Foundation of India
B 5 / 146, First Floor,
Safdarjung Enclave,
New Delhi - 110 029, India

Website : www.cafi-online.org
Fax : +91-11-26166234
---
This information is sent to e-pao.net by Mary Khuvung (CAFI) . The sender can be contacted at marycafi(at)gmail(dot)com
This PR was webcasted on April 11 2011 .
---
* Comments posted by users in this discussion thread and other parts of this site are opinions of the individuals posting them (whose user ID is displayed alongside) and not the views of e-pao.net. We strongly recommend that users exercise responsibility, sensitivity and caution over language while writing your opinions which will be seen and read by other users. Please read a complete Guideline on using comments on this website.