Thang-Ta Workshop concluded
- Thang-Ta Federation Of India -

15th May 2011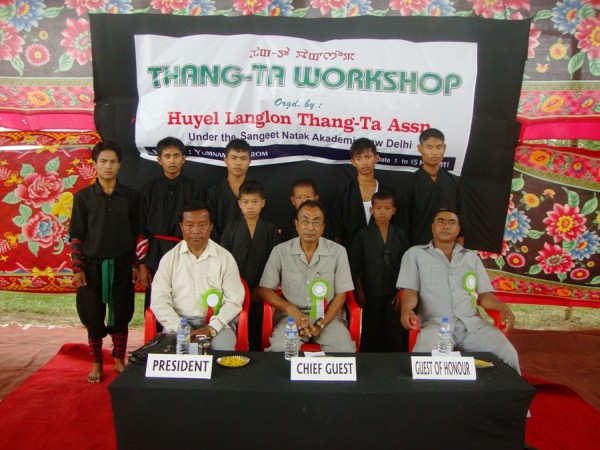 Concluded Thang-Ta Workshop today the 15th May 2011 which was started from 1st May 2011 at the Hall of the Huyel Langlon Thang-Ta Association, Manipur, Yumnam Huidrom, Imphal West, Manipur with the presence of the Shri S. Vedeshwar Sharma, Secretary, Manipur State Kala Akademi, Shri H. Premkumar Singh, President, Huyel Langlon Thang-Ta Association, Manipur and Shri H. Rajo Singh, Councillor, Thongkhong Laxmi Nagar Panchayat as Chief Guest, President & Guest of Honour respectively.

During the Workshop eminent Thang-Ta Sintakpurels (Grand Masters) from different Thang-Ta Academy of Manipur teach and train Thang-Ta Artistes from different Thang-Ta Sindamshangs of different districts of Manipur.

On the eve of the Closing Function of the Thang-Ta Workshop, Shri S. Vedeshwar Sharma, respected Secretary, Manipur State Kala Akademi mentioned the importance of expanding and setting up many Thang-Ta training centres at different countries to promote the martial arts globally.

H. Kirankumar Singh
P.R.O. Thang-ta Federation Of India
Secretary, Asian Thang-ta Federation


---
* This Press Release was sent by H. Kirankumar Singh (Secretary, Asian Thang-ta Federation)
The sender can be contacted at pa_chinglai(at)yahoo(dot)com
This PR was webcasted on May 15 2011 .
---
* Comments posted by users in this discussion thread and other parts of this site are opinions of the individuals posting them (whose user ID is displayed alongside) and not the views of e-pao.net. We strongly recommend that users exercise responsibility, sensitivity and caution over language while writing your opinions which will be seen and read by other users. Please read a complete Guideline on using comments on this website.