Riha and Thawai Condemn cabinet decision on RR for Mapithel Dam
- Riha And Thawai Village Authority -

22 September 2011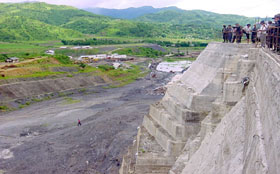 A file photo of Team led by IFCD Minister N Biren and accompanied by officials inspecting the ongoing work at the Maphou Dam in July 2007 :: Pix - TSE


Riha And Thawai Village Denounce Cabinet Approval Of Special Rehabilitation And Resettlment Package For Chadong And Lamlai Khunou

The Riha and Thawai village denounced the Government's handling of rehabilitation and resettlement program of Mapithel dam affected villages. We are witness to the government's secret moves and strategies such as instigating and forming dubious Committee and approving unfounded special packages even before the completion of the Expert Review Committee (ERC) on Rehabilitation and Resettlement.

The Mapithel Dam (a component of Thoubal Multipurpose Project) was launched on May. 1980. After 13 years, a Memorandum was reached between the government and the affected people on 19 June 1993. However, due to failures and delay in executing the Memorandum, exploitative tactics on the part of GOM in implementing within the stipulated time and acknowledging its incompleteness, the ERC was constituted on 18/01/2008.

The ERC, which comprised of more than 20 government departments and representatives of Manipur University, Central Agricultural University, had several rounds of consultative meetings, field visits and deliberated various issues and concerns of the affected people.

As per the Review reports of 3rd meeting of ERC dated 05/04/2008, 7th ERC meeting of 11/02/2011 and letter of acknowledgement from the government dated 8/3/2011 it is without doubt that both Riha and Thawai villages will be rehabilitated and resettled and additionally that "uniformity will be maintained for all the affected villages whether they are under submergence or not".

While the ERC is going on, the GOM began to play divisive strategies which is aimed at ending the Expert Review process. This is reflected in 1) Enhanced package 2008, 2) Office memorandum of 13/06/2011, 3) Recognition given to the defected Mapithel Dam Multipurpose Project Displaced Villages Committee (MDMPDVC), and 4) Special package 2011, which was approved by the cabinet on 13/09/2011 meant only for Chadong and Lamlai Khunou Village.

Why should the Government of Manipur act otherwise, conniving along with some vested group for selfish motive, thereby inviting ill-feelings, wastages and disintegration? Why can they not understand the problems of affected people? These are left for the government to respond?

We, representatives of Riha and Thawai people, earnestly beseech the concern authority for rectification and seek that the legally established Expert Review Process be made to function. We do appeal the ERC members to uphold the responsibility bestowed on you.


---
* This Press Release was sent by ram wangkheirakpam ( North East Peoples Alliance)
The sender can be contacted at wangkheilakpa(at)gmail(dot)com
This PR was webcasted on September 22 2011 .
---
* Comments posted by users in this discussion thread and other parts of this site are opinions of the individuals posting them (whose user ID is displayed alongside) and not the views of e-pao.net. We strongly recommend that users exercise responsibility, sensitivity and caution over language while writing your opinions which will be seen and read by other users. Please read a complete Guideline on using comments on this website.