Protest against India arms supply to Burma regime
- Burma Centre Delhi -

New Delhi: 22 July 2011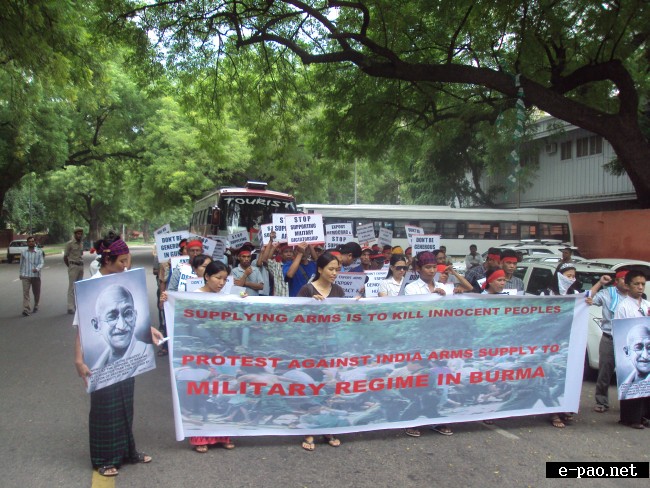 Hundred of Indian Civil Society Organizations, Individuals, and Burmese pro-democracy forces staged a peaceful protest demonstration to show disagreement and disappointment to the Government of India for recently supplying arms and ammunition fully loaded in 52 military trucks to the world most notorious Burmese military regime.

Those arms and ammunitions would be used by Burma's Army against the Kachin and other ethnic minorities in eastern Burma.

It is unacceptable for all peace-loving peoples as the Government of India knowingly supplied weapons and conducted joint military exercises leading to systematic human rights abuses and criminal hostilities against ethnic groups, political activists, journalists and civilians. These unlawful abuses are still being committed by Burma Army even after the installation of so-called civilian type government.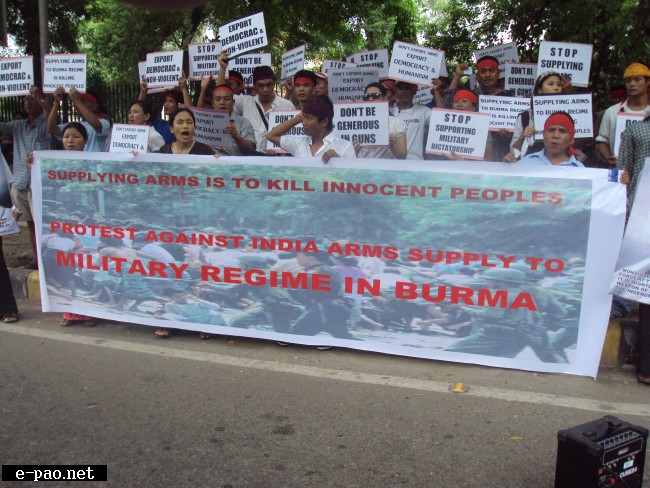 Supplying weapons to Burma military dictatorship is not only violating democratic principles but also betraying the people of Burma which will have negative impact on India's long-term interest.

We strongly and sincerely urged India to support the Burmese people's movement for restoration of peace and democracy in Burma.

Memorandum endorsed and signed by 46 Indian civil society organizations and 49 Individuals, and 24 Burmese organizations submitted to Dr.Manmohan Singh, Prime Minister, Government of India in strong condemnation of the Indian Government's supply of arms and ammunitions to Burma's military dictatorship.

For More Information – Mr. Kim,
Coordinator- Burma Centre Delhi
Burma Centre Delhi (BCD)
For more info visit us @ www.burmacentredelhi.org
BCD is a non-profit organization formed in August 2008 in New Delhi India.
The main aim of BCD is to work for the restoration of peace, justice, democracy and human rights in Burma, India and other parts of the world.

Browse/Read the memorandum to the Prime Minister of India - Part 1 (PDF - 101 KB) and Part 2 (PDF - 304 KB)




---
* This Press Release was sent by Burma Centre Delhi (BCD)
The sender can be contacted at burmacentredelhi(at)gmail(dot)com
This PR was webcasted on July 22 2011 .
---
* Comments posted by users in this discussion thread and other parts of this site are opinions of the individuals posting them (whose user ID is displayed alongside) and not the views of e-pao.net. We strongly recommend that users exercise responsibility, sensitivity and caution over language while writing your opinions which will be seen and read by other users. Please read a complete Guideline on using comments on this website.