Worldwide Save Loktak Lake Campaign in Pune
- by NECEER -

21st February 2011


With "Save Loktak Lake, lifeline of Manipur" as its slogan, the third phase of Worldwide Save Loktak Lake Campaign will kick start in Pune on February 28. The campaign will be held at the seminar hall of Nowrosjee Wadia College, Pune. It is an awareness programme initiated by NECEER (North East Centre for Environmental Education and Research), Imphal for the conservation of Loktak Lake.

NECEER is determined to conserve the lake with more than 600 volunteers and 32 city Coordinators involved in organising the campaign. Increasing number of the youth involvement is a proof to the success of the ongoing Worldwide Save Loktak Lake Campaign. It can be mentioned that the first and the second phase of the campaign have been conducted in 2010. Delhi, Guwahati, Manipur, Silchar and Shillong witnessed the first phase of the campaign. The second phase was conducted in Mumbai, Kolhapur, South Sikkim and Darjeeling. Both the phases have been a huge success with mass involvement all over India.

"To create awareness about the conservation of Loktak Lake, the largest fresh water lake in Northeast India, is the motive of this campaign, " says Khuraijam Jibankumar Singh, Founder and Managing Trustee of NECEER.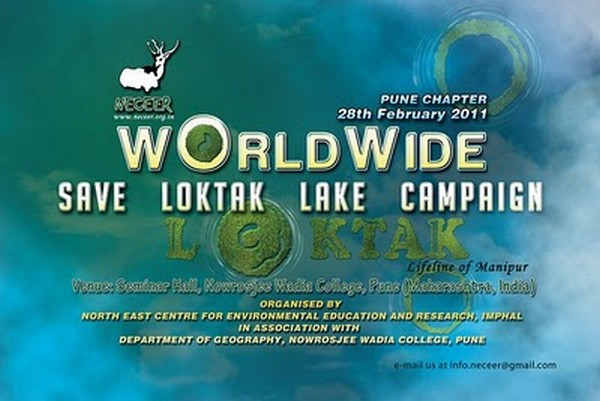 The campaign is supported by more than 20 international and national organisations. It will conclude in 2012 with a mass campaign at the vicinity of the Lake by involving the local inhabitants, local NGOs and the Government officials amongst others.

Keibul Lamjao, the only floating national park in the world is situated at the south west part of the lake. It is home to the endangered Manipur brow antlered deer 'Sangai' - Cervus eldi eldi and many other endangered species. The lake is an Important Bird Area identified by BNHS, Mumbai and Birdlife International, UK.

Anthony Moirangthem and Rajkumar Jyotin Singh are the Pune Co-ordinators of the campaign. Lulel Sagolsem, Kolhapur co-ordinator will be supporting them in organizing the campaign. The NECEER in association with Department of Geography, Nowrosjee Wadia College, Pune will organise the Pune Campaign. Pune is the 10th city hosting the Save Loktak Lake Campaign.

Visit our Pune Campaign link: [Click]

Ms. Mehnaz Nasreen
Spokesperson, NECEER, Imphal
---
This information is sent to e-pao.net by NECEER, Imphal. The sender can be contacted at info(dot)neceer(at)gmail(dot)com
This PR was webcasted on February 21 2011 .
---
* Comments posted by users in this discussion thread and other parts of this site are opinions of the individuals posting them (whose user ID is displayed alongside) and not the views of e-pao.net. We strongly recommend that users exercise responsibility, sensitivity and caution over language while writing your opinions which will be seen and read by other users. Please read a complete Guideline on using comments on this website.