Memorandum to Governor of Manipur on demands of COTA
- by BJP Manipur -

Friday, 21 February 2011


Memorandum submitted to Shri Gurubachan Jagat Singh, his Execellancy, the Governor of Manipur
on the 21st february, 2011 at Raj Bhavan cordially requesting to give directive to Secular Progressive Front Government
to take appropriate measures to check and control sky high price rise of essential commoditities and
also to bring solution to the demands of council of teachers (COTA).

His Excellency,

After district wise organization of protest rallies and dharnas, while organizing a protest rally here at Imphal today, we, the undersigned on behalf of the BJP, Manipur Pradesh with high hope and aspiration have the honour to submit you this memorandum emphasizing the need to give specific direction to check and control the price rise of essential commodities, petroleum products like petrol, diesel, kerosene and also to bring solution to the demands of school teachers.

Sir, during and after the economic blockade on the life lines of National Highway 39 and 53, people of Manipur particularly large number of day today earning people and common people are extremely suffering due to unprecedented and unabated price rise of essential commodities. The untold suffering of the common people is lamentable. Black marketers, smugglers and stock holders of essential items of daily use are playing inhuman activities in dealing with the items.

There is no check and control the sky high price rise in the Imphal market. Items of public distribution system like rice, onion, garlic, sugar, kerosene are not supplied for the benefit of the common people, BPL and APL card holders. All have gone through black marketing. Concerned Department of Consumer Affairs and Public Distribution System have become silent spectator. Black marketers and illegal hoarders are not booked and punished.SPF government in the state completely failed in this front. Price rise is a serious problem of common people.

Six times increase of petroleum products have seriously affected the people. When there is normal supply of petrol, we have occasions for non- availability of diesel and kerosene. These have been sold through black market without check and control. Even if there is adequate deployment of police force in Imphal town the activities of black marketing have been carried out openly and freely. It may be presumed that the activities of black marketers have been done in connivance with some unscrupulous police personal. BJP condemned this type of criminal activity of a few police personal. It is absolutely correct that black marketing in Imphal city can be completely stopped if there is serious drive with honest approach.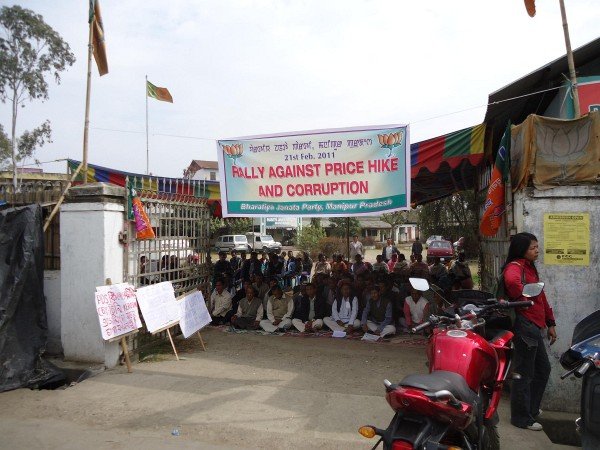 Since, 2009 Council of teachers (COTA) have been launching different form of democratic movements demanding the implementation of the provision of six pay commission recommendation for school teachers in Manipur. Number of discussions for negotiating settlement was held in between the representatives of the government of Manipur at the level of Education Minister and his officials.

Ultimately a memorandum of understanding was signed in between the chief secretary, Manipur and representatives of COTA on 10-1-2010 in which Shri DS. Poonia, chief secretary on behalf of the government of Manipur had agreed to adopt and accept the implementation of the recommendation of six pay commission for the school teachers as was done for other government employees in the state w.e.f. 2006. Orders in the name of the Governor, Manipur in this regard had been issued on 16th. January, 2010. However, it is very unfortunate and unexpected that taking some pretext the order is not yet implemented. The adamant attitude of the government is condemned.

At present, in the follow up movement of relay hunger strike, more than 150 (one hundred and fifty) teachers including female teachers now in jail are continuing hunger strike pressing the demand for implementation of six pay commission recommendation.

Besides, students have joined the movement surrendering their books to your Excellency and the chief minister. Incidents of burning schools have taken place. The movement of the teachers and their cease work strike have seriously affected the students who are now facing their examination very shortly. This is a very serious problem of the studentís community.

Therefore, Bharatiya Janata Party, Manipur Pradesh strongly demands-
1. To take prompt action to give direction to the concerned Ministry of Consumer Affairs and Public distribution system to honestly streamline the public distribution system.
2. To take action against the erring officers of the concerned department and also to advice the state chief minister to effectively take up appropriate action in public interest in this regard.
3. To take action against the illegal hoarders and black marketers.
4. To redress the demands of the teachers in the larger interest of the students community at the earliest possible time without further delay.

With regards.

SH. SHANTIKUMAR SHARMA
President
BJP, Manipur Pradesh

Released by

Laimayum Bashanta Sharma
Secretary
Media Affairs
BJP, Manipur
---
This information is sent to e-pao.net by Laimayum Bashanta Sharma ( Media Affairs , BJP, Manipur ). The sender can be contacted at bashanta_lai(at)yahoo(dot)co(dot)in
This PR was webcasted on February 21 2011 .
---
* Comments posted by users in this discussion thread and other parts of this site are opinions of the individuals posting them (whose user ID is displayed alongside) and not the views of e-pao.net. We strongly recommend that users exercise responsibility, sensitivity and caution over language while writing your opinions which will be seen and read by other users. Please read a complete Guideline on using comments on this website.