Irom Sharmila's supporter denied from entering Rajghat :: Save Sharmila Campaign at Delhi
- National Alliance of People's Movement -

New Delhi, 25 June 2011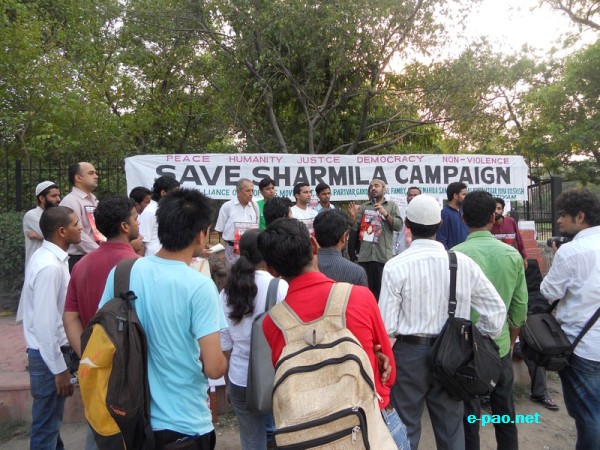 The Biggest Democracy denies Gandhians and Supporter of Irom Sharmila from entering Rajghat

"SAVE SHARMILA CAMPAIGN"
organised jointly by National Alliance of People's Movement,
Asha Parivar, Gandhi Global Family,
Jagriti Mahila Samiti,
Khudai Khidmatgar,
Yuva Kosish Mission Bhartiyam
at Rajghat, 25th June, 2011

Around 300 people gathered around the park opposite RAJGHAT, Samadhi of Mahatma Gandhi to show their support to Irom Sharmila, also known as the "Iron Lady of Manipur" or "Menghaobi" ("the fair one") who has been fasting since 2 November 2000.

Her demand is that the Indian government repeal the Armed Forces (Special Powers) Act, 1958 (AFSPA), which she blames and we all know stands for violence in Manipur and other parts of India's northeast including Kashmir. She is "the world's longest hunger striker"having refused food and water for more than ten years.

India which got her Independence through Gandhi's non-violence now respects less of the so called non-violence. Faisal Khan said, "The Manipuris had been trying hard to publicize Irom Sharmila's fight, every week, something or the other events happen in Delhi but no media gives their attention towards them. Its time we show support to our fellow Indians".

Slogans like, "Manipuris keep walking forward, we are behind you", "Justice to Irom Sharmila", "Non-Violence should not be ignored" etc were shouted together.

Akhu Chingangbam from Imphal Talkies, sang "India I see Blood in Your hands" a song which decries the injustice of Indian Government in the name of democracy. Many Delhi Police personals were stationed at the spot to guard the peaceful candle light vigil at Rajghat.

After a small programme, the people were to light candle at Gandhi's Samadhi, but unfortunately the Delhi Police did not allow the people to even cross the road. the candles were lighted opposite to Rajghat.

Hopefully many such events will keep on hapening all across the country and will spread awareness to the mass about the suffering of the people from the NE states and Lady Irom Sharmila.


---
* This PR was webcasted on June 25 2011 .
---
* Comments posted by users in this discussion thread and other parts of this site are opinions of the individuals posting them (whose user ID is displayed alongside) and not the views of e-pao.net. We strongly recommend that users exercise responsibility, sensitivity and caution over language while writing your opinions which will be seen and read by other users. Please read a complete Guideline on using comments on this website.