Inauguration of the North East Craft Museum at Guwahati
- Development of North Eastern Region (DoNER) -

New Delhi, 04th July, 2011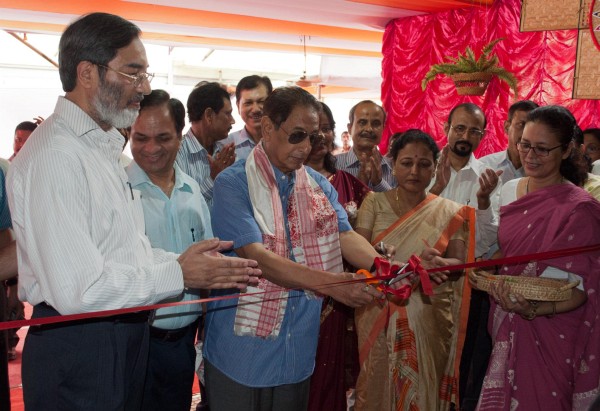 Inauguration of the North East Craft Museum by Hon'ble Minister at Guwahati




Ministry of Development of North Eastern Region
New Delhi

"While preserving traditional motifs on handicrafts, we should modernise the designs to appeal to the urban consumers across the country by proper finishing and branding. We should also involve National Institute of Design (NID) on a more long term and sustainable basis for increasing the income of artisans", said Shri. Bijoy Krishna Handique, Minister of DoNER, while inaugurating the North East Craft Museum at Guwahati today.

This is the only Handicrafts Museum in the North East which has artifacts from all the North Eastern States including Sikkim.

Under the initiative of North East Handloom & Handicrafts Development Corporation (NEHHDC), the Museum has been financed by the Office of the Development Commissioner (Handicrafts) and set up in a 10000 Sq.ft. shed. Work on the Museum started in 2009 with the disposal of the old and heavy machinery and major repair works took up almost the entire year. Thereafter the works on the interiors were taken up and it took final shape in 2011. The Museum has a unique collection of basketries some of which are decades old.

Shri.J.P Sharma, Joint Secretary, Ministry of DoNER, Dr.Ravi Kota, Private Secretary to Minister and Mr.Jagadish Borah, MD, NEHHDC was among the dignitaries present in the inaugural function.


---
* This Press Release was sent by Geetartha Darshan Barua - APS (Media Management) to Hon'ble Minister of Development of North Eastern Region, Government of India, New Delhi.
The sender can be contacted at geetartha(at)rediffmail(dot)com
This PR was webcasted on July 04 2011 .
---
* Comments posted by users in this discussion thread and other parts of this site are opinions of the individuals posting them (whose user ID is displayed alongside) and not the views of e-pao.net. We strongly recommend that users exercise responsibility, sensitivity and caution over language while writing your opinions which will be seen and read by other users. Please read a complete Guideline on using comments on this website.