Allocation of NLCPR Funds for NE states by Ministry of DoNER
- Ministry of Development of North Eastern Region -

New Delhi, April 22, 2011


Date: 22nd April, 2011
Ministry of Development of North Eastern Region
New Delhi

In view of latest population figures as per Census 2011, Shri. Bijoy Krishna Handique, Minister of Development of North Eastern Region (DoNER) has approved the revision of the allocation for distribution of Non Lapsable Pool of Resources (NLCPR) Funds among the states of the North Eastern Region. There is a budget provision of Rs 800 crores during the year 2011-12 for NLCPR for all 8 states of the region.

Shri. Handique mentioned that "It has been our priority to lend objectivity to the distribution of NLCPR funds among the eight states of the Region. The NLCPR Fund was conceived to ensure speedy development of the Region by increasing the flow of budgetary financing with a focus on physical and social infrastructure sectors. We remain committed to meeting this objective."

The NLCPR Committee of the Ministry in its 93rd Meeting held on 13th April, 2011 reviewed the existing allocation for notional distribution of NLCPR Funds among the NE states and had recommended the revision which is as follows: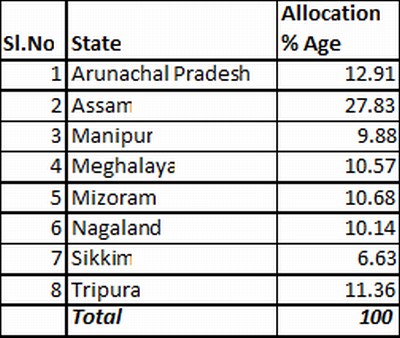 The revised allocation has been calculated on the availability of data on various parameters like Census 2011, Human Development Index 2006, Road Density 2008, Number of Beds in Hospitals (Allopathic), Electrified Villages and Completion Rate of NLCPR Projects.

The NLCPR Fund was constituted vide an approval from Parliament in the year 1998-99. The Fund is administered by the NLCPR Committee headed by Secretary, Ministry of DoNER and has representation from Ministries of Finance, Home Affairs and the Planning Commission. Since the inception of the fund, Rs.7305 Crores have been released for projects encompassing different sectors in the Region.

Contact:
G.D Barua,
APS to Minister, DoNER, Government of India.
Phone Number: 011-23022400
geetartha(at)rediffmail(dot)com


---
* This Press Release was sent by Geetartha Darshan Barua,(APS (Media Management) to DoNER) . The sender can be contacted at geetartha(at)rediffmail(dot)com
This PR was webcasted on April 21 2011 .
---
* Comments posted by users in this discussion thread and other parts of this site are opinions of the individuals posting them (whose user ID is displayed alongside) and not the views of e-pao.net. We strongly recommend that users exercise responsibility, sensitivity and caution over language while writing your opinions which will be seen and read by other users. Please read a complete Guideline on using comments on this website.