7th Imphal West District Thang-Ta Championship 2011 formally opened
- Thang-Ta Federation of India -

Imphal, April 22, 2011


It is with great pleasure to inform you that "The 7th Imphal West District Thang-Ta Championship 2011" is formally opened today the 22nd April 2011 here at Wangoi Makha Leikai Community Hall with presence of the O. Lukhoi Singh, Social Worker, Wangoi Constituency, Imphal West as Chief Guest, Srimati Kh. (O) Bala Devi, Chairperson, Wangoi Nagar Panchayat as President & H. Premkumar Singh, President, Huyel Langlon Thang-Ta Association, Manipur as Guest of Honour of the Opening Function.

This Championship is organised by the Huyel Langlon Thang-Ta Academy, Wangoi Branch under the Imphal West District Thang-Ta Association so as to promote and popularise this art form in the grass root.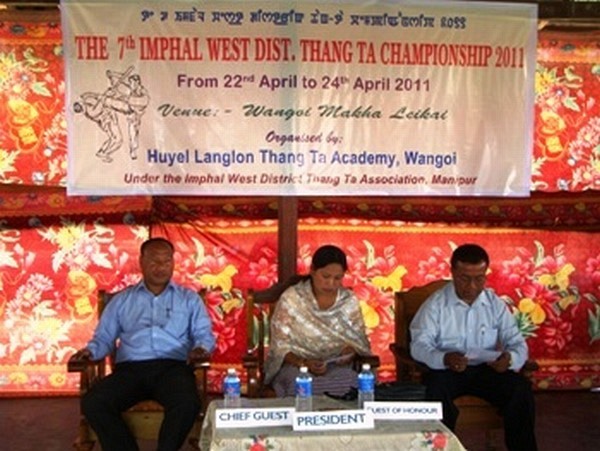 Regards,
H. Kirankumar Singh
P.R.O. Thang-Ta Federation of India
Secretary,
Asian Thang-Ta Federation


---
* This Press Release was sent by H. Kirankumar Singh (P.R.O. Thang-Ta Federation of India) . The sender can be contacted at pa_chinglai(at)yahoo(dot)com
This PR was webcasted on April 22 2011 .
---
* Comments posted by users in this discussion thread and other parts of this site are opinions of the individuals posting them (whose user ID is displayed alongside) and not the views of e-pao.net. We strongly recommend that users exercise responsibility, sensitivity and caution over language while writing your opinions which will be seen and read by other users. Please read a complete Guideline on using comments on this website.